APALACHEE RESTAURANT
10536 NW State Road 20
Bristol, Florida 32321-3440
Tel: 850-643-2264

Since Bristol is a small town of less than 1,000 people, there are not that many restaurants to pick from.  Nearby Blountstown has a few, but a good choice is the Apalachee Restaurant on the main highway through Bristol, State Road 20.
Although you can order from the menu, the buffet is usually a treat too.  North Florida is Southern in culture, and the food in this small restaurant confirms it.
Among the offerings are Southern Fried Chicken, Barbecue Beef Brisket, catfish, turnip greens (just called greens down here), corn bread and corn bread dressing, white acre peas, biscuits, and other Southern staples.
The buffet also has pork chops, beets, collards, baked chicken, green beans, potatoes (mashed and not), fried squash and okra, and plenty of bread and desserts.
Most of these offerings are also available from the menu, but you can also get hamburgers, cheeseburgers, french fries, and other standard fare.
The staff is friendly and so are the customers.  Even though you may not be from Bristol, you will feel at home.  You will enjoy being addressed as "yes sir" and "yes mam" by the young folks you might encounter.
Apalachee Restaurant is open 7 days a week from 6:00 am to 8:00 pm except they close at 3:00 pm on Sunday.
LEARN MORE ABOUT BRISTOL, FLORIDA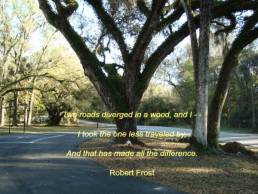 Over 65,000 followers can't be wrong. Learn about off the beaten path Old Florida, historic towns, attractions,  festivals, scenic drives and more.
Like Us On Facebook
Return to Florida Backroads Travel Home