Before "Jaws" There Was Gatorland!
by Greg May
(Orlando, Florida)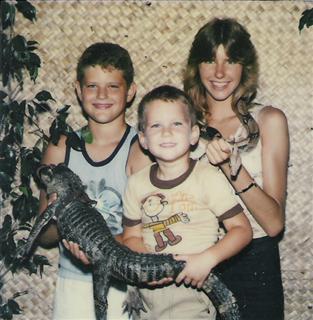 Kids At Gatorland In Kissimmee
Before Mickey Mouse came to Orlando, the only tourist attraction around to entertain our company was GATORLAND.

Walking through the immense open jaws at the entrance was big fun for a kid - and the adults got a kick out of it, too! I often wonder how many snapshots have been taken of families in those jaws?

Back in the day, GATORLAND was a free attraction - you were asked to make a donation at the exit.

The star exhibit in those days was "BoneCrusher" - a 16 ft. Florida Keys crocodile purchased by Gatorland's founder, Owen Godwin. The famous publicity photo taken of Godwin and his new acquisition was a tourist publicity icon for many years and the story goes Godwin almost lost his life posing for it!

But the photo that fascinated me the most was the one of Jayne Mansfield and Owen Godwin that hung on the wall of the original gift shop amid the alligator purses.

Read about the Jayne Mansfield photo at https://www.florida-backroads-travel.com/jayne-mansfield.html

I can still remember when my little girlfriend, Linda Higgins nee Ellis dropped her hairclip in BoneCrusher's pen and she sweetly asked my brother if he could crawl in there and get it. I can also remember when my Uncle Jimmy May - the family practical joker - stroked his finger across the back of my cousin Miriam Lee's neck while she was cringing at the snake exhibit. Cousin Miriam promptly delivered a resounding smack across her dad's face!

Since I am so nostalgic, there is a special place in my heart for GATORLAND since it is still around. When I was working in television and hosting my show, "Central Florida Spotlight", I was honored to have Owen Godwin's son, Frank, on my show a couple of times to promote GATORLAND.

Although Gatorland has expanded and improved over the years- and yes, today there is an admission charge - one thing has not changed and that it the feeling and spirit of the Golden Days of the Florida tourist industry.

See here for current admission fees: https://www.florida-backroads-travel.com/florida-tourist-attractions-admission-fees.html
---

Our Facebook page has more than 125,161 followers who love off the beaten path Florida: towns, tourist attractions, maps, lodging, food, festivals, scenic road trips, day trips, history, culture, nostalgia, and more.  We post articles every day.  Please check it out and if you like it, we would appreciate a "like" from you.
---
By Mike Miller, Copyright 2009-2023
Florida-Back-Roads-Travel.com
Florida Back Roads Travel is not affiliated with or endorsed by Backroads, a California-based tour operator which arranges and conducts travel programs throughout the world.