12 BEST VOLLEYBALL
BEACHES IN FLORIDA
Volleyball Organizations and Other Reference Information at End of Article
Volleyball is one of the most popular sports in the world, both outdoor and indoor volleyball.
Florida has a good selection of beaches that are great places to string up volleyball nets and enjoy a great way of having fun on the beach.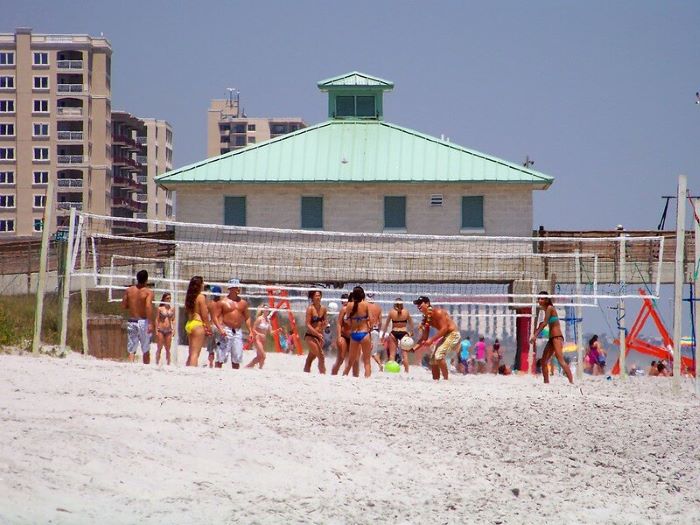 Beach Volleyball
Flickr/Jon Dawson
Beach volleyball originated in Hawaii in the early 1900's.  It's the perfect summer sport for all skill levels. It is popular all over the country as well as worldwide, and Florida is no exception.
Volleyball has been part of the Olympic Games since 1964, where both men and women compete. In addition, Beach Volleyball was added to the summer Olympic Games in 1996.
Amateurs Having Beach Volleyball Fun
Shutterstock
Some of the best beach volleyball players in the sport show up on Florida beaches. The Florida sun, clear skies and blue water are a natural draw for competitors and vacationers alike.
Many beaches allow pick-up games where you can begin playing with other beach goers at your leisure.
Many locations offer attractions and packages to encourage beach volleyball destination visits.
There are also colleges and high schools in Florida that have a long history of beach volleyball programs and well established teams for both men and women. 
Florida State University ranks high in this area for women, offering a great education and athletic scholarships.
It is consistently ranked as one of the best colleges to attend for women's beach volleyball in the United States.
Florida Gulf Coast University Women's Beach Volleyball Team
fgcu.edu
Florida State University, for example, has a great team and has produced stars such as Jordan Polo, Maddie Anderson, Morgan Chacon, Madison Fitzpatrick and many others.

It is great fun to watch the best players in women's beach volleyball compete in the sand.  They are all in great physical shape.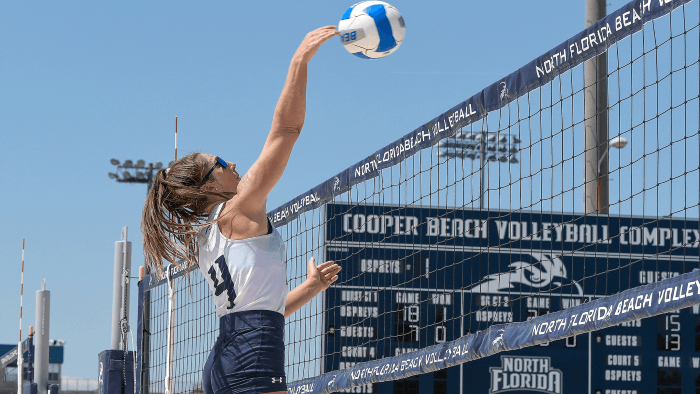 University of North Florida Volleyball Player at Net
unf.edu
The Florida Region office of USA Volleyball is in, Eustis, Florida, and they promote the sport of volleyball including beach volleyball throughout the state, offering competitions for all ages as well as educational training for team and college coaches and sport officials.
We've listed 12 of the best volleyball beaches the state of Florida has to offer, whether you're a casual player, an NCAA championship competitor, or just want to have a bit of sporty fun on your beach trip.

LIST OF BEST VOLLEYBALL BEACHES IN FLORIDA
There are many more than these 12, and you can find more information at the end of this article.

FORT LAUDERDALE BEACH PARK
1100 Seabreeze Blvd
Fort Lauderdale, FL 33316

With offerings of both competitive and friendly play, Fort Lauderdale has an extensive beach volleyball community, complete with a Facebook page.

There are approximately 12 primary courts on this beach, located at the south end of the park.
This is a beautiful place, so even if you don't have a team ready to play with, it's a great spot to join in and learn how to become a beach player.
SIESTA KEY BEACH
948 Beach Rd
Sarasota, FL 34242

Volleyball Players from Stetson University
gohatters.com
Siesta Key Beach is an iconic place for beach volleyball in Florida. The high-quality courts are often used for official tournaments and games, but it's a popular location for recreational leagues and casual play as well.
Siesta Key is noted for its beautiful Gulf of Mexico blue waters and white sand beaches.
There are numerous food offerings nearby, and the courts are adjacent to the water for a wonderful view and opportunity to cool off.
Siesta Key is also a common spot for tournament viewing, so if playing isn't really your style and you'd rather sit on the sidelines on a beautiful day and observe, you're all set.
Since it is an excellent and well-known option it can be quite busy. If you want a little bit of a quieter experience, try going south to Manasota Beach, on Manasota Key.
MIAMI BEACH
699 Ocean Dr
Miami Beach, FL 33139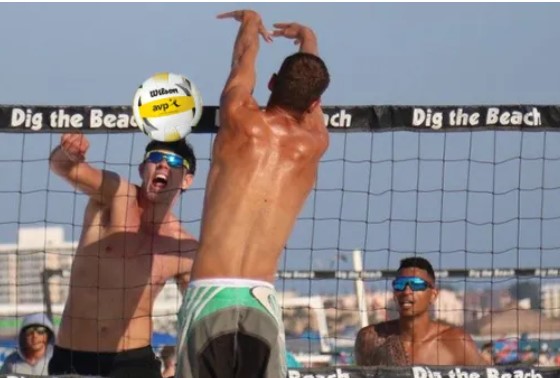 In South Beach, located on Ocean Drive and 8th, the locals have created South Beach Volley, a group that offers summer camps, tournaments and classes among casual play on the beach.
This location is perfect for beginners and more experienced players alike.
If spontaneous play is more to your liking, there are plenty of other courts and offerings along the rest of Miami Beach itself as well.
Since it is Miami Beach you'll also find plenty of other things to do, places to eat and an active nightlife.
COCOA BEACH, SEVERAL LOCATIONS
Cocoa Beach, FL 32932-2430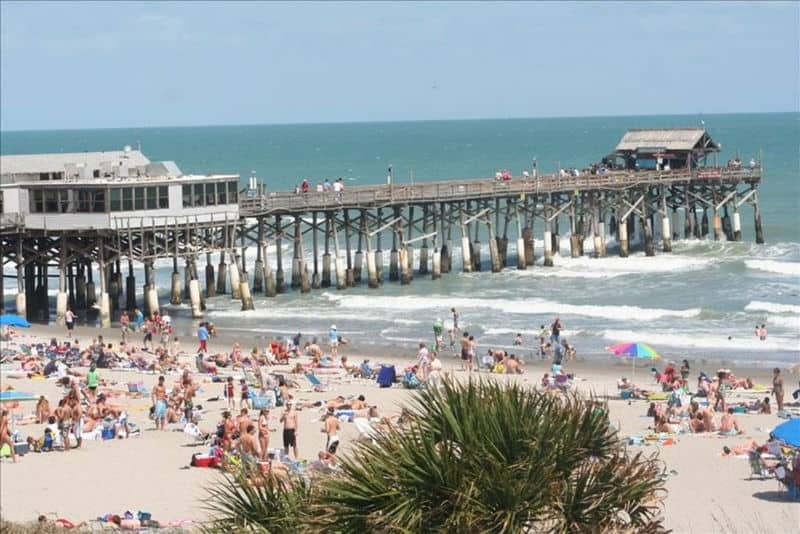 Multiple parks are located in Cocoa Beach, more than 10 of them having beach volleyball courts, so your pickings in this location certainly won't be slim.

Shepard Park hosts various competitions for adults and juniors, as do other locations along the beach.
This is a great place to watch beach volleyball, including frequent games adjacent to the famous Cocoa Beach pier.
TAVARES
Hickory Point Beach Sand Volleyball Complex
27345 FL-19, Tavares, FL 32778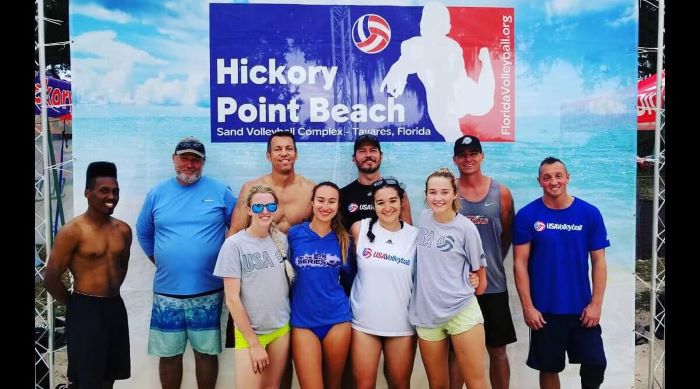 Volleyball Players at Hickory Point
usavolleyball.org
Hickory Point Beach Sand Volleyball Complex is the perfect dedicated area for any beach volleyball fan even though it is a long way from the ocean.

A member club of the Florida Region of USA Volleyball, this 68-acre complex has loads of amenities, sand courts, events and designated championships, so whether you're a player or a viewer, this is one to look into.
HOLLYWOOD BEACH
1111 N Ocean Dr
Hollywood, FL 330199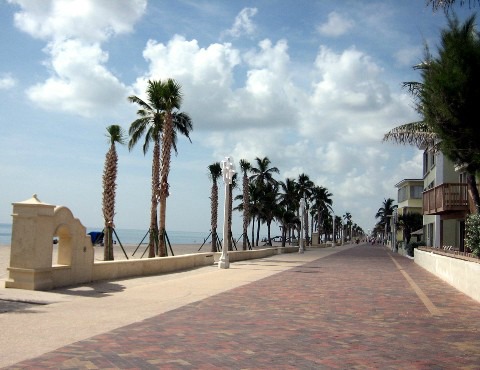 Another popular event spot, Hollywood Beach in Hollywood, Florida has a tight-knit spot of courts, waves, restaurants and more, set for a full day of play, on both land and sea.

They also have a wonderful boardwalk known to be one of the best in Florida and walking paths to admire the scenery.
In Hollywood it is known as "The Broadwalk" because it is nice and wide. It is a popular place to watch the games on the beach as well as play.
VENICE BEACH
Venice, FL 34285

A popular spot for watersports, yoga and other exercise activities, this secondary Sarasota location also offers, of course, beach volleyball.

The Venice Pier is where you can find this public spot, alongside food joints and other waterside amenities.
CLEARWATER BEACH
419 E Shore Dr
Clearwater Beach, FL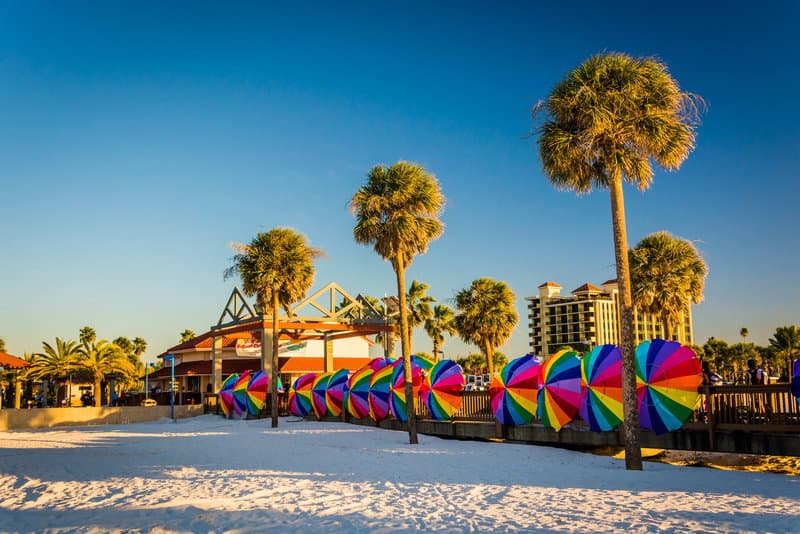 Clearwater Beach is one of the most popular in the state, and as expected, this popular strip has volleyball courts of its own.

There are many groups and pages online regarding teams and competitions in the area, but for a more casual approach as well,  you'll find friendly people on these beaches.
ST. PETE BEACH, SEVERAL LOCATIONS
St. Pete Beach, FL 33706
Don CeSar Hotel
Like Clearwater Beach, St. Pete Beach is on a barrier island and known for it's beautiful beaches and white sand, and all offer beach volleyball along the Gulf, for casual or competitive players, and of course spectators.
Upham Beach is on the northern end of the island, and moving south you'll find St. Pete Beach. Even further south you can pass the well-known Don CeSar hotel on your way to Pass-A-Grille Beach.
FORT WALTON BEACH
107 Miracle Strip Parkway SW
Fort Walton Beach, FL

Fort Walton Beach located along the panhandle of Florida is known to be one of the best beach volleyball spots in the state.
It hosts the Emerald Coast Classic, bi-annual Fudpucker tournaments that bring in hundreds of players and visitors to Fort Walton Beach and the surrounding area, which includes Okaloosa Island and Destin.

It's considered a unique place to play for its sand and scenery as well, and overall is a wonderful spot alongside the boardwalk to play at.
PENSACOLA
400 Quietwater Beach Road
Pensacola Beach, Florida 32561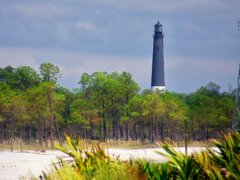 Pensacola Lighthouse
On the Gulf Coast, both Pensacola Beach, Navarre and nearby Gulf Shores offer beautiful beaches, with volleyball courts to spare.

A popular social spot for competitors, the Facebook group hosts nearly 1.5 thousand members, and is a great opportune area for players to make friends and compete, or just catch a game on your way through town.
WEST PALM BEACH
West Palm Beach, FL 33401

Palm Beach's neighbor, the city in South Florida is one of many beautiful beach spots across the Sunshine State, with a lively downtown area and beachfront.

Find volleyball courts across the sandy shores here, with its own group of tournaments and clubs for lovers of the sport to play. 
FLORIDA BEACH VOLLEYBALL RESOURCES
---

Our Facebook page has more than 129,275 followers who love off the beaten path Florida: towns, tourist attractions, maps, lodging, food, festivals, scenic road trips, day trips, history, culture, nostalgia, and more.  We post articles every day.  Please check it out and if you like it, we would appreciate a "like" from you.
---
By Mike Miller, Copyright 2009-2023
Florida-Back-Roads-Travel.com
Florida Back Roads Travel is not affiliated with or endorsed by Backroads, a California-based tour operator which arranges and conducts travel programs throughout the world.