CAPTIVA ISLAND, FLORIDA
Captiva Island is immediately north of Sanibel Island just west of Fort Myers. It fronts the Gulf of Mexico on the west and Pine Island Sound on the east.
Captiva and Sanibel used to be joined until a severe hurricane in 1926 divided them by creating a new channel to the Gulf known as Blind Pass.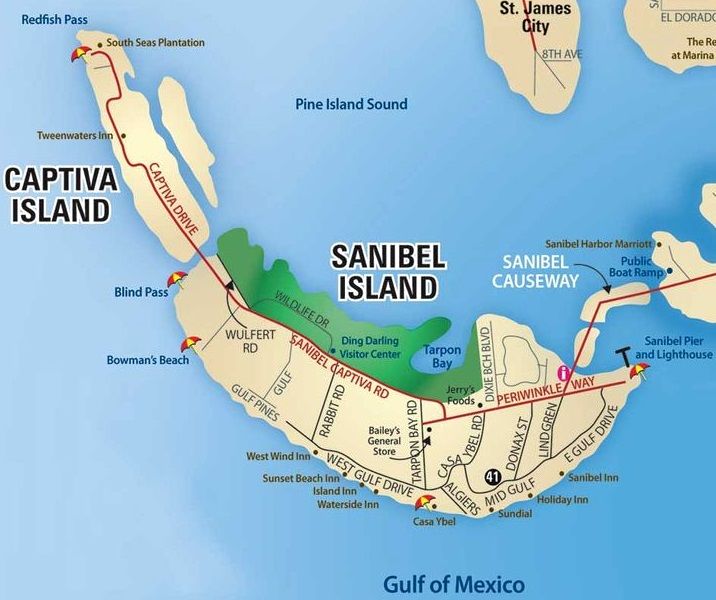 The old legends say that Captiva is named because the pirate José Gaspar, also known as Gasparilla, held his female prisoners on the island.  
Historians can't confirm that Gaspar really existed, but it makes for a colorful story.
Another interesting story is the history of the Tween Waters Inn, a resort that is on the National Register of Historic Places.
Wilbert Herbert Binder first homesteaded Captiva in 1888. His grave is in a small cemetery next to The Chapel By The Sea. The chapel is a small white wooden sided little church on the beach.
It welcomes people of all spiritual beliefs, and is open from Thanksgiving to Easter every year.  That's the time of year everybody on this island calls "season".

Captiva is accessed from Sanibel by a small bridge over Blind Pass. Sanibel is reached by a toll bridge connected to the mainland west of Fort Myers.
Until this bridge was built in the 1960s, access was by car ferry from the mainland.
Captiva Road heads north from Sanibel to the very northern end of Captiva Island. It is a canopied trail with occasional views of the beautiful blue Gulf and white sand beaches.
The luxury homes along Captiva Road are known as "Millionaire's Row". These homes are both on the Gulf of Mexico and the bay to the east.
The small area known as Captiva Village is at the north end of this road just before it enters the South Seas Island Resort and Yacht Club.
The Village is the heart of local life on the island. There are art galleries and boutiques, a small library and the chapel mentioned earlier. There are several restaurants, and quaint homes tucked away among bright tropic flowers and palm trees.
Captiva Drive runs east-west in the Village and connects the boat docks of Pine Island Sound with the Gulf of Mexico white sand beach.
Captiva Island Florida has taken its share of hurricane damage over the years.
The most recent was Hurricane Charley in 2004 that damaged or destroyed more than 300 buildings on it's way to smashing into Punta Gorda on the mainland.
The South Seas Island Resort and Yacht Harbor occupies the northern two miles of Captiva Island. It was built on the site of a large key lime plantation many years ago and suffered extreme damage from Hurricane Charley in 2004.
It is now completely restored after a $140 million renovation, and is a mainstay of the island tourism economy.
THINGS TO DO ON CAPTIVA ISLAND
There are several small businesses on Captiva that offer a wide range of adventures. Among these are kayak eco tours, day sails and boat trips to nearby Useppa Island and Cabbage Key where Jimmy Buffett allegedly got the inspiration for "Cheeseburger In Paradise".
Some of these businesses operate out of South Seas Resort, Tween Waters Inn and Captiva Village.
Shelling - both on Capitva and nearby Sanibel - is also a favorite thing for many visitors.
LODGING ON CAPTIVA ISLAND FLORIDA
Vacation Rentals By Owner and other rental agencies have listings for privately owned houses and condos on Captiva Island. There are also a few fine lodging establishments on the island.
Captiva Island Inn Bed & Breakfast, 11509 Andy Rosse Lane, Captiva Island Florida 33924. Captiva Island Inn is unique with several small cottages scattered around the Captiva Village area. Each one is close to the restaurants, entertainment and shops in the heart of the Village, and is an easy walk to the beach. Average rates $135-$207.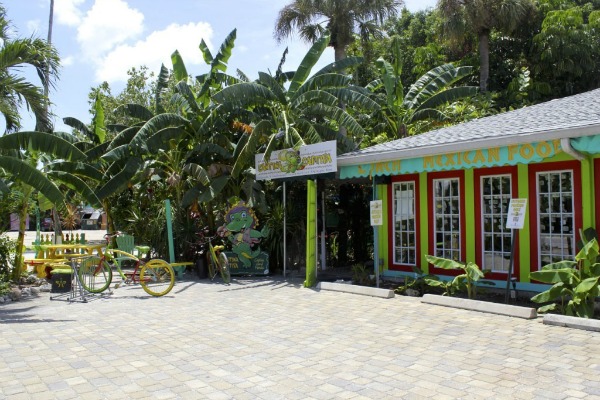 Jensen's On The Gulf", 15300 Captiva Dr, Captiva Island Florida 33924. This is a small luxurious facility with several small cottages and condos on the beach in Captiva Village. It has no pool or other resort amenties, but it is next to a wonderful beach and is a short walk from all the restaurants and other attractions in the Village. They also have Jensens Twim Palms Cottages and Marina on nearby Pine Island Sound with cottages, boat rentals and a charter fleet. Average rates at Gulfside $175-$700, at Twim Palms $120-$200.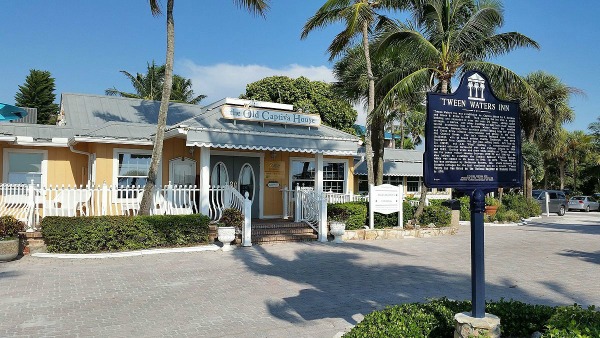 South Seas Island Resort and Yacht Harbor, 5400 Plantation Road, Captiva Island Florida 33924. South Seas is on the far north end of the island and is a self-sufficient vacation destination. It is a gated resort with rooms, villas, private homes and condos available for rent. The resort has several swimming pools, a marina, restaurants, tennis courts and a 9 holes golf course, the only golf course on the island. The resort has car rental facilities, a grocery market and deli and a fitness club. Average rates $161-$389.
Tween Waters Inn, 15951 Captiva Road, Captiva Island, FL 33924. This inn is located at the skinniest part of Captiva Island about a mile south of the village area of Captiva. It has several vintage rooms, cottages and efficiencies with views of the bay and the Gulf. It also has a swimming pool and tennis courts, a marina and a restaurant called the Capiva House. The Gulf beach across from the inn is one of the best on the island. The entire resort was placed on the National Register of Historic Places on December 15, 2011.  Average rates $130-$222. .
RESTAURANTS ON CAPTIVA ISLAND
Green Flash, 15183 Captiva Dr, Captiva Island, FL 33924. Tel: 239-472-3337. A great place for fresh seafood. They have swordfish, shrimp, grouper, sea bass and other specialities when available. Great view, and the sunsets are special. You might even see the famous "green flash" when the sun sets over the Gulf.
Old Captiva House, 15951 Captiva Drive, Captiva Island, FL 33924. Tel: 239-472-5161. This restaurant is located at the Tween Waters Inn. Upscale dining on a laid back island, but very good food. Waiters in tuxedo shirts, entrees pretty expensive. Seafood delicious and well prepared. Great place to catch a sunset.
Sunshine Seafood Cafe, 14900 Captiva Dr, Captiva Island, FL. Tel:239-472-6200. Good local seafood nicely prepared. Excellent sea bass and paella. A good wine list, and a place where the locals love to eat.
---
---
20190218-137
---
Our Facebook page has more than 73,000  followers who love off the beaten path Florida:  towns, lodging,  road maps, festivals, attractions, scenic road trips, day trips, history, and more.
Take a look and if you enjoy what you see, please give us a like.
---
---
---
SUBSCRIBE TO OUR FREE MONTHLY EZINE
The latest updates to our website and stories about people, places, and events.