CELLAR 6

6 Aviles Street
St. Augustine, Florida 32084
Tel:  904-827-9055
Although Cellar 6 is right in the middle of downtown St. Augustine, it has the advantage of being one block south of the main drag on quiet little Aviles Street. 
Not many cars rumble down cobble stoned Aviles, so it's a nice place to dine and drink outside and not have to breathe in exhaust fumes or have your quiet time disturbed by rolling boom boxes.

This charming little place is pretty new - especially by St. Augustine standards - having opened in 2009. It is a perfect example of how the Ancient City is always improving and updating itself while remaining firmly planted in our historic past.
Although it is new it already enjoys very favorable reviews from Yelp, TripAdvisor and other visitor driven review sites.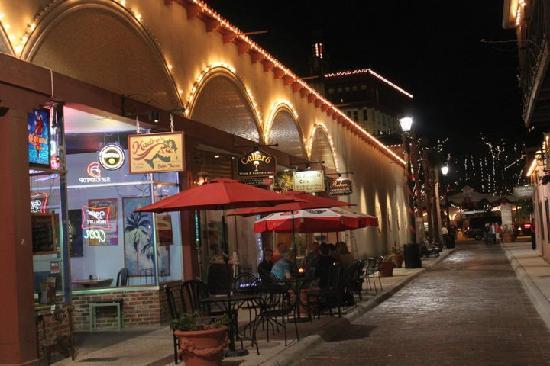 Cellar 6 has a full service bar, a lot of comfortable couch seating inside and umbrella shaded bistro tables outside. The establishment features a tapas style menu. Tapas (sounds like "top us") originated as an idea in the Spanish culture, so it's perfect for St. Augustine. Tapas are appetizer sized, and can be cold or warm. You can add them up and have a full meal. Lots of olives and cheese are usually served also.
Some of their specialities are ahi tuna, crab cakes, bruschetta, quesadilla and various other cheese boards and tasty treats. You can also get great pizzas and hamburgers. Cellar 6 boasts a wine cellar of 100 different wines and also serves 35 different beers from all over the world. Their desserts - cakes and pies - are delicious.
I love fish tacos since first having them years ago at one of my favorite places in Coral Gables. Cellar 6 uses blackened mahi mahi in their tacos, and they are delicious.
Cellar 6 is open 7 days a week. It opens at 5pm on Monday through Friday, and opens for lunch also at noon on Saturday and Sunday. They usually have various local musicians performing during the hours they are open.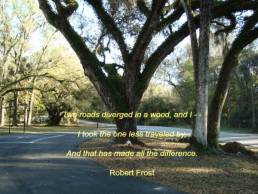 Over 65,000 followers can't be wrong. Learn about off the beaten path Old Florida, historic towns, attractions,  festivals, scenic drives and more.
Like Us On Facebook
Return From Cellar 6 To Florida Restaurants
Return To Florida Backroads Travel Home