CHINSEGUT HILL
September 17, 2020. This article is from a post on www.naturecoaster.com by Diane Bedard on July 13, 2017. Reprinted here with the permission of Diane Bedard.
Chinsegut (pronounced chin-SEE-gut) is an Alaskan Innuit word meaning, "The spirit of things lost and regained." This local treasure is an interesting piece of the Nature Coast's history, having been homesteaded by John and Susan Bishop in the 1800s.

Colonel Bird T. Pearson of South Carolina acquired 160 acres through the Armed Occupation Act in 1842, onto which he moved his family, slaves and household goods in 1847.
He had the original home constructed by a ship's carpenter and framed with hand-hewn 12-inch cypress. His slaves planted corn and sugar cane in the Indian fields.

The Ederingtons Buy Chinsegut
He sold the property in 1851 to a Colonel Ederington who added onto the house and fathered ten children while he lived there with his wife, Precious Ann.
Colonel Ederington also purchased an adjacent 160 acres and planted citrus there. He continued to add acreage and built a two-story home just southwest of the original building. This expanded and enhanced to become what we see today as Chinsegut Manor House.
At the end of the Civil War, Ederington announced to his slaves that they were free and offered them paid positions at the plantation. Most of the workers stayed on.
Unfortunately, the Ederingtons died in their forties. Their eldest daughter, Charlotte, married a South Carolina dentist named Dr. James Russell Snow and they chose to stay in Brooksville and raise her younger siblings as well as seven children of their own.
Chinsegut Was Known As Snow Hill Estate
They named the place Snow Hill estate, and expanded and enhanced the manor house. Sadly, in 1898 Charlotte died and a tornado struck their home. Dr. Russell and his children left the manor house to disrepair.

Chinsegut Purchased by Famous Actress
In 1905, a successful actress and author, Elizabeth Robins, and her brother, Colonel Raymond Robins purchased the estate and neighboring land for $5,000 and named it Chinsegut Hill.
Soon thereafter, Colonel Robins married Margaret Dreier. They used the home as a winter estate and continued to farm the land. Eventually Raymond and Margaret bought Elizabeth's share out.
1923 was the year that the Robins moved to Chinsegut Hill full time. Raymond got involved in banking and in 1929, the stock market crash took most of their fortunes.
Chinsegut Hill Sells for One Dollar
Chinsegut again went up for sale. This time there was no buyer.
On April 9, 1932, following a meeting with President Hoover, Robins deeded his 2,082 acre Chinsegut Hill estate to the U.S. Department of Agriculture. Robins accepted only one dollar for the property, then valued at 250,000 dollars.
Robins designated specific portions of this "Chinsegut Hill Sanctuary" to be for a migratory bird and wildlife refuge, forest reserve, and an agricultural experiment station.
As a boy, Raymond had been mentored by a negro farmer named Fielder Harris. Raymond hired Fielder to run the plantation for him, which was quite a shock to the local residents.
His plan was to create a "dream plantation" that would help educate youth about proper forest, wildlife and farm management without "thriftlessness and waste".
Robins' letters also indicate his desire to preserve, for the "inspiration and education of the next generation," the last remnants of virgin longleaf pine forest and restore the natural resources to the state that existed in his boyhood.
The sale included the provision that Raymond and Margaret would remain living in the house at Chinsegut until their deaths.
When Mrs. Robins told the negro workers of the gift, Aunt Lizzie said, "Miss Margaret, when you told all those men Chinsegut now belongs to United States you done stood in the same corner of the house Mr. Ederington stood when he told us we is free. I done seed two great things happen – you and Mr. Ederington."[1]
The U.S. Government started a Conservation Corps Camp on the property, they used the farmland for a sub-tropical agricultural research station and a large portion became the Chinsegut Wildlife and Environmental Area.
In 1935, Colonel Robins fell from a tree and broke his back. He was paralyzed from the waist down. His wife, Margaret, died in 1945 and he passed in 1954.
They lived in the Manor House until their last and are buried under a huge oak tree (the Altar Oak) a few hundred feet from the manor house itself.
There is another huge oak near the Altar Oak that Colonel Robins used to have breakfast in every morning. A wooden stairway gave easy access to the oaks fine platform where he could see for miles.
University of South Florida Builds Retreat at Chinsegut
In 1958, University of South Florida leased Chinsegut for educational purposes and built a conference center, dining hall and cabins. USF held many retreats there, but decided they no longer had a use for the place in 2009.
That is when the Friends of Chinsegut Hill was formed as a nonprofit group to care for this historic and beautiful plantation.
Friends of Chinsegut Hill Step In
In 2003, the Chinsegut Manor House was put on the National Register of Historic Places.
In 2013, the Friends of Chinsegut Hill were awarded $1.5 million by the State of Florida to renovate the property.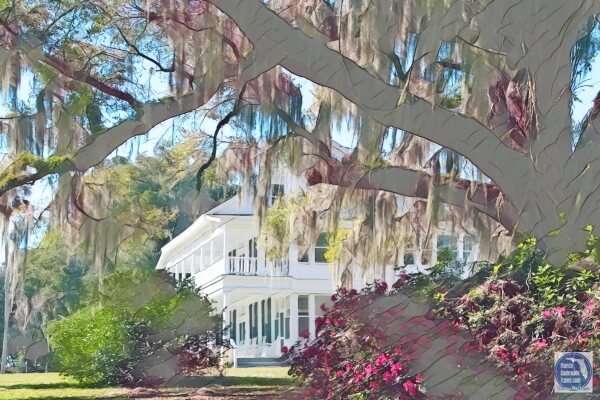 Watercolor of Chinsegut Hill
Visit Chinsegut Today and Relive the History
Now you can visit the manor house, walk the trails, see the historic outbuildings and cemetery.
Rent a room, a cabin or the entire Chinsegut Manor house property for your event or a  conference. It is still a beautiful and historic property that enhances the spirit of all who visit.  
Chinsegut Hill Retreat and Conference Center

---
---
---

Our Facebook page has more than 128,577 followers who love off the beaten path Florida: towns, tourist attractions, maps, lodging, food, festivals, scenic road trips, day trips, history, culture, nostalgia, and more.  We post articles every day.  Please check it out and if you like it, we would appreciate a "like" from you.
---
By Mike Miller, Copyright 2009-2023
Florida-Back-Roads-Travel.com
Florida Back Roads Travel is not affiliated with or endorsed by Backroads, a California-based tour operator which arranges and conducts travel programs throughout the world.