DOCTOR PHILLIPS,  FLORIDA

Doctor Phillips, Florida is  a place name that almost all Orlando citizens recognize, but many people in the rest of Florida have never heard of.
Only a generation ago, Doctor Phillips was a lonely outpost among the orange groves southwest of Orlando at the intersection of Sand Lake Road with Apopka-Vineland Road.
Most people knew that Doctor Phillips was named after a man, but didn't know much about the man.
When construction began on Walt Disney World in the late 1960s, the area was still orange groves and wetlands.  

During the construction of Walt Disney World, a group of Disney workers labored in Doctor Phillips's old citrus packing plant in fastening the artificial leaves onto the artificial limbs of the Swiss Family Robinson tree.
That was about the only game in town back then.  It was clever use of a large building that was no longer being used.
Now the unincorporated area around Doctor Phillips is as big as many Florida towns, with a population of about 10,000.  It is on the edge of Universal Studios Florida, and enjoys quick access via Sand Lake Road to I-4 and International Drive.

It is a modern place, with beautiful shopping malls, plenty of great restaurants and is surrounded by upscale residential communities.  The entire area from Apopka-Vineland Road east to I-4 is now called "Restaurant Row" by locals.
The sprawling upscale neighborhoods in this area have no trouble supporting their local Whole Foods and Trader Joes along with the familiar Publix brand.
How Did Doctor Phillips Florida Get Its Name?

The area is named for Dr. Philip Phillips, an early big-time Central Florida citrus grower.
Dr. Phillips was born in 1874 and died in 1959. 
He had a medical degree from Columbia University, and at one point owned more than 5,000 acres of citrus groves around Orlando.
Dr. Phillips developed many successful techniques for the processing and packaging of orange juice. 
His thousands of acres of groves stretched across nine Central Florida counties.
His land in the area now known as Dr. Phillips extended from Conroy Road on the north to the south end of the Sand Lake Chain of Lakes.
His holdings included what is now Arnold Palmer's Bay Hill Country Club, Orange Tree, Sand Lake Hills and Turkey Lake.
After he sold his groves in 1953, he became a benevolent philanthropist. His donations are still enjoyed and appreciated by Orlando area residents.
If you are visiting Orlando, you can stay at Dr. Phillips's house in the historic downtown area. It is now a bed and breakfast inn.  You can also enjoy a performance at the nearby Doctor Phillips Center for the Performing Arts that opened in downtown Orlando in 2014.
---
---
---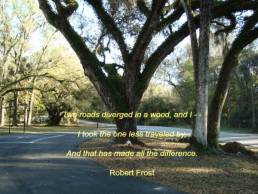 Over 65,000 followers can't be wrong. Learn about off the beaten path Old Florida, historic towns, attractions,  festivals, scenic drives and more.
Like Us On Facebook
Return From Doctor Phillips Florida To Florida Towns

Return To Free Florida Travel Guide Central Florida

Return To Florida Backroads Travel Home