10 TOP FLORIDA BEACHES FOR SHELLING
Florida has one of the longest saltwater shorelines in the United States. The Environmental Protection Agency says the state has 570 beaches with a total beach length of 902 miles. 
We don't know who can challenge that number, but it doesn't really matter.  Whatever kind of beach you are looking for, Florida probably has it.
From just sunbathing, beach combing, long walks, treasure hunting, or searching for unique sea shells – you can find it here.

---
Anna Maria Island
5313 Gulf Drive, Holmes Beach, FL 34217. Tel: 941-778-1541
https://www.annamariaislandchamber.org/
Anna Maria Island's beaches are great for walking and sunbathing.  The beaches on the Gulf of Mexico are powdery white sand, soft on your feet. 
The sand is composed of very fine quartz crystals and this keeps it from getting to hot to lie or walk on. 
The surf is rarely too rough, but just wavy enough for a boogie board or to enjoy splashing around in the shallow water. 
Another plus of these beaches is that they are not lined with high rise condos like many other Florida beaches.
---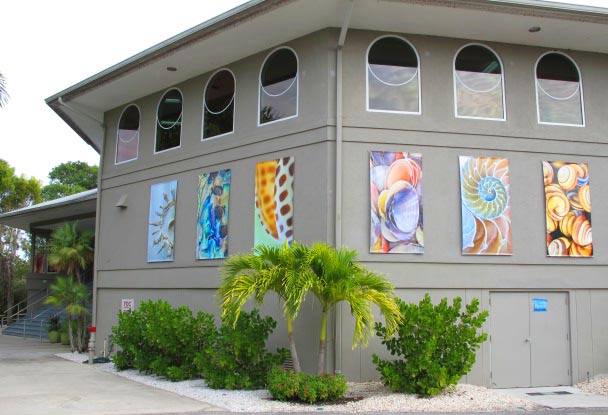 Bailey-Matthews National Shell Museum
Bailey-Matthews National Shell Museum
3075 Sanibel Captiva Rd, Sanibel, FL 33957.  Tel:239-395-2233
https://www.shellmuseum.org/
My grandmother loved to collect shells.  She died too soon to experience this museum which was founded in 1995.
The museum operates as a reference center for scientists and amateur collectors. Shells from all over the world are on display; many of them are from Sanibel and Captiva. 
The museum also has a memorial garden dedicated to actor Raymond Burr, who owned an island in Fiji and helped raise funds to build the museum. 
Scientists lead daily hour-long beach walks to teach you about local shells.
---
Caladesi Island
Offshore Island. Tel: 727-469-5918
floridastateparks.org/parks-and-trails/caladesi-island-state-park/
Caladesi is one of the few remaining untouched islands on the Florida Gulf coast.  It is accessible only by private boat or the Caladesi Island Ferry except by walking from Clearwater Beach. 
The ferry dock is on Honeymoon Island, connected by causeway to the town of Dunedin. 
The island's 3 miles of unspoiled pristine white sand beaches make it perfect for swimming, sun bathing, shelling, boating, fishing and snorkeling. 
You can also enjoy a 3-mile long nature trail and a marina with a concession stand.
---
---
Canaveral National Seashore
Visitor Center
7611 S. Atlantic Avenue
New Smyrna Beach, FL 32169. Tel: 386-428-3384 Ext 0
This beach on the Atlantic Ocean is nestled between New Smyrna Beach and Kennedy Space Center.
It has 24 miles of totally undeveloped beautiful sand beaches with adjacent parking. 
Read more at Canaveral National Seashore.
---
Destin Sand Castle Lessons
Beach Sand Sculptures, LLC,
P.O. Box 32459, Santa Rosa Beach, FL 32459.  Tel: 303-681-2631
https://beachsandsculptures.com/
Most people have tried to build a sand castle at least once in their lives.  These lessons take this skill to a whole new level. 
The beautiful sand beaches around Destin have attracted businesses that will teach you how to build your ultimate sand castle. 
You can either have a sand sculpture expert build one for you or learn how to build one yourself. 
The operation is all along the Gulf Coast from Destin east along Highway 30A to Seaside and Inlet Beach. 
The website will give you further details.
---
Fort Desoto Park
3500 Pinellas Bayway South
Tierra Verde, FL 33715.  Tel: 727-582-2267
http://www.pinellascounty.org/park/05_ft_desoto.htm
Fort De Soto Park is the largest park in the Pinellas County park system with 1,136 acres comprised of 5 interconnected islands.  
The park is reached from the mainland by County Road 679.  The islands that make up the park are among the most natural environment in Florida. 
The park has 3 miles of some of the most beautiful white sand beaches in the United States. 
Things to do include visiting the historic fort, camping, swimming, nature trail hiking, kayaking, biking, and fishing from a park pier. 
---
Little Talbot Island State Park
12157 Heckscher Dr., Jacksonville, FL 32226.  Tel: 904-251-2320
floridastateparks.org/parks-and-trails/little-talbot-island-state-park  
This park is north of Jacksonville on one of the few remaining barrier islands on Florida's east coast. 
You will enjoy nature at its finest, with maritime forests, desert like sand dunes, and pristine salt marshes. 
The streams on the west side of the park as well as the Atlantic surf provide great opportunities for beach combing and fishing. 
Catches include bluefish, striped bass, redfish, flounder, mullet, and sheepshead. 
There is also a campground in the park.  
---
Tigertail Beach
430 Hernando Dr., Marco Island, FL 34145. Tel: 239-252-4000
https://www.colliercountyfl.gov/your-government/divisions-f-r/parks-and-recreation/beaches-and-boats/marco-island-beaches
Marco Island is highly developed, but Tigertail Beach is a tranquil wild beach in the middle of it all. 
The developed part of the beach park has a parking lot, changing rooms, and a snack bar.  The park faces a shallow salt water lagoon. 
You can either use this beach, or you can wade across the lagoon.  Sometimes the water is waist-deep and more, but once you have crossed you will find a three mile long beach made of soft white sand. 
Most of the beach is wild and all of it is totally undeveloped.
---
Sanibel and Captiva Islands
1159 Causeway Rd., Sanibel Island, FL 33957.  Tel: 239-472-1080
https://sanibel-captiva.org/  
My grandmother lived in Venice and but loved to travel to Sanibel Island for the magnificent shells she would find on the beach.
She spent many joyous hours in the "Sanibel Stoop", the bent over posture assumed by shell seekers. 
There are other things to do on Sanibel, of course, including biking, fishing, bird watching, boating, golfing, and snorkeling.  But shelling remains a popular activity for thousands of visitors. 
Travel & Leisure magazine ranked Sanibel Island No. 1 of the best shelling beaches in the United States.
---
Topsail Hill Preserve State Park
7525 W. Hwy 30A, Santa Rosa Beach, FL 32459. Tel: 850-267-8330
www.floridastateparks.org/park/Topsail-Hill   
When you are offshore in a boat in the Gulf of Mexico, the beaches in this park resemble the sails of ancient sailing ships.  The tall white sand dunes stretch for 3 miles and are made of pristine white quartz sand. 
Some of the majestic dunes are more than 25 feet tall.  The beaches are among the best in Florida for swimming, fishing, sunbathing, or just beachcombing. 
The adjacent park is also a bird watching and hiking paradise.  Fishing is allowed from the shorelines of three coastal dune lakes. 
---
---

Our Facebook page has more than 128,577 followers who love off the beaten path Florida: towns, tourist attractions, maps, lodging, food, festivals, scenic road trips, day trips, history, culture, nostalgia, and more.  We post articles every day.  Please check it out and if you like it, we would appreciate a "like" from you.
---
By Mike Miller, Copyright 2009-2023
Florida-Back-Roads-Travel.com
Florida Back Roads Travel is not affiliated with or endorsed by Backroads, a California-based tour operator which arranges and conducts travel programs throughout the world.