FLORIDA BLUEGRASS FESTIVALS
Bluegrass music touches the heart and soul of people from all nations and origins.
It is based on the folk music brought to America by our earliest settlers from Northern Ireland, Scotland, Ireland and England.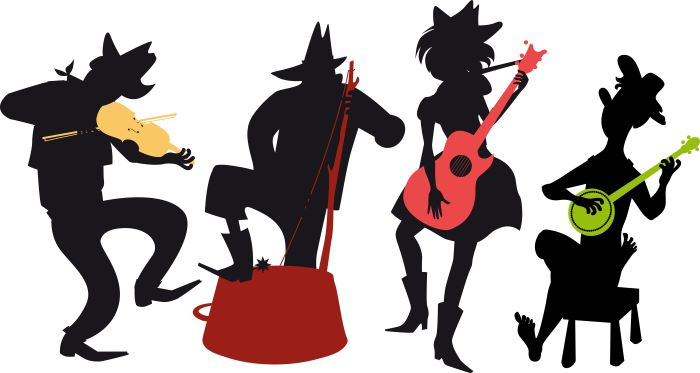 An Imaginary Bluegrass Band
Shutterstock
These settlers over the years moved into North Carolina, South Carolina, Kentucky, Tennessee, Virginia and West Virginia.
Many formed small isolated communities in the Appalachian Mountains. 
They brought songs of their heritage along with them, and created new ones as well.
The music evolved over the years to incorporate the sounds of gospel music, African blues, and folk songs from other cultures.

Mainstream America quite often derided this music as mountain music or hillbilly music.
Bill Monroe is considered the godfather of bluegrass music by most of its fans.
He first appeared on the Grand Ole Opry in 1939 and after Earl Scruggs joined his group in 1945, the music took on the distinctive sound we now call bluegrass.

Bill Monroe's instrument was the mandolin, and he was accompanied by expert banjo, guitar, and fiddle players.
For many years I have attended the annual Florida Folk Festival at Stephen Foster State Park in White Springs.  This was my introduction to bluegrass as it is enjoyed in Florida.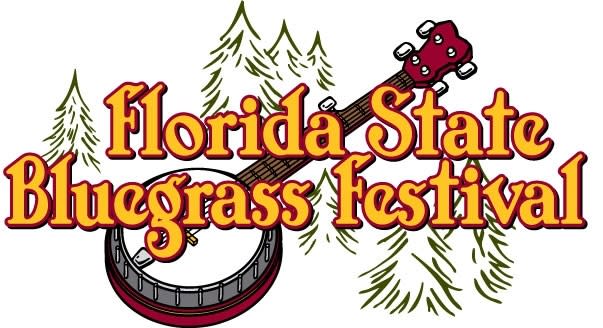 Over the years hundreds of bluegrass groups have formed in Florida and it is getting easier each year to find a place to enjoy listening to this magic music form.

When I lived in heavily urbanized South Florida some years ago I was surprised at how many weekend bluegrass events there were down there.
There are also many restaurants and bars that now feature bluegrass as their entertainment.
Many communities in Florida feature bluegrass music festivals in local parks where you can bring your lawn chairs and just sit and enjoy the music.

Many fans bring their smart phones and other mobile devices to record the music performances. A lot of these local videos show up on Youtube.
You can enjoy a local group jamming at Fort Christmas in the video below.
The Florida State Bluegrass Festival is held the last weekend of April each year in Perry, Florida.

It is a three day event that features hundreds of bluegrass groups entertaining thousands, many who bring their entire family and come as campers.
There are dozens of events in Florida that take place at scheduled times, many on an annual basis. Some examples are:
Sertoma Thanksgiving Bluegrass Festival, Dade City
Florida Bluegrass Classic, Brooksville
Everglades Bluegrass Festival, North Miami Beach
Rodeheaver Boys Ranch Festival 
Honeymoon Island State Park Bluegrass Festival
Spring Palatka Bluegrass Festival, Palatka
Withlacoochee River Spring Festival, Dunnellon
Suncoast BBQ & Bluegrass Bash, Venice
Google has done a good job of listing many Bluegrass events in Florida.  Their listing seems to be current and gives location maps and ticket purchase information.
---
Another good source for Bluegrass events is Evans Media Source.  Here are their scheduled events for the next season beginning in November 2023:
November 9, 10, 11, 2023
Palatka Fall Bluegrass Festival
Rodeheaver Boys Ranch
380 Boys Ranch Rd. Palatka, FL
www.evansmediasource.com
(386) 385-3500
November 18, 2023
BBQ & Bluegrass Festival "FREE"
Reed Canal Park
919 Reed Canal Rd South Daytona, FL
www.southdaytona.org
(386) 322-3000
November 23, 24, 25, 2023
EMS Thanksgiving Bluegrass Festival
Florida Sands Ranch (Sertoma Youth Ranch)
85 Myers Rd Brooksville, FL
www.evansmediasource.com
(386) 385-3500
January 18, 19, 20, 2024
Yeehaw Music Fest
The Agri-Civic Center Okeechobee
FL - HWY 710 Okeechobee, FL
www.evansmediasource.com
(386) 385-3500

January 26, 27, 28, 2024
Everglades Bluegrass Festival
Greynolds Park 18501 NE 22nd Ave.
North Miami Beach
www.southfloridabluegrass.org

February 15, 16,17, 2024
Rodeheaver Boys Ranch
380 Boys Ranch Rd. Palatka, FL
www.evansmediasource.com
(386) 385-3500

February 22, 23, 24, 2024
Florida Classic Music Fest & Car Show
Florida Classic Park
5860 Lockhart Rd Brooksville, FL
www.evansmediasource.com
(386) 385-3500

March 22, 23, 24, 2024
EMS Spring Bluegrass Fest
Florida Sand Music Ranch
(Formerly Sertoma Youth Ranch)
85 Myers Rd Brooksville, FL
www.evansmediasource.com
(386) 385-3500

April 4, 5, 6, 2024
The Florida State Bluegrass Festival
Forest Capital Park
204 Forest Park Drive Perry, FL
www.floridastatebluegrass.com
(850) 584-5366
---
SOME FLORIDA BLUEGRASS BANDS
There are many good bluegrass bands in Florida that the whole family can enjoy.  Most of their websites have photo galleries and sample videos.
Here are a few of our favorite Florida bluegrass bands:
Alligator Alley, Hollywood
Andy Burr & Friends, Winter Garden
Banjo Cats, Jacksonville
Brad Edwardson Music, St. Augustine
Cassia Community Club, Lake County
Florida Flatlanders
Florida State Bluegrass Band
Gypsy Wind, Largo
Penny Creek Band, Melbourne
Rambling String Band, Hollywood
Remedy Tree, St. Augustine
Sandy Back Porch, Orlando
Shade Tree Pickers, Boca Raton

Wireless Bluegrass, Port Orange
---
---

Our Facebook page has more than 129,275 followers who love off the beaten path Florida: towns, tourist attractions, maps, lodging, food, festivals, scenic road trips, day trips, history, culture, nostalgia, and more.  We post articles every day.  Please check it out and if you like it, we would appreciate a "like" from you.
---
By Mike Miller, Copyright 2009-2023
Florida-Back-Roads-Travel.com
Florida Back Roads Travel is not affiliated with or endorsed by Backroads, a California-based tour operator which arranges and conducts travel programs throughout the world.