Florida Citrus Crate Labels
FLORIDA CITRUS CRATE LABELS
A Collection of 1,000 Colorful Labels
By  Mike Miller August 14, 2023

There Is An Index To All 1000 Labels At The End Of This Short Article
One of the first road trips I made in Florida was in 1960 from Jacksonville through Orlando and down to Sarasota and return. It was spring time and I will never forget the beautiful aroma of the groves as I made that round trip.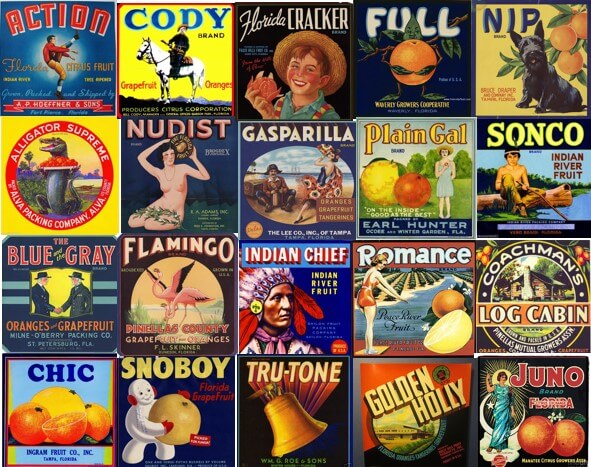 I took the elevator to the top of the tall Florida Citrus Tower in Clermont and had a 360 degree view of more than 17,000,000 citrus trees of all types in Lake, Orange, Polk, and Osceola  Counties.
I drove with the windows open through millions of acres of fragrant citrus.  One memorable stretch was on the rolling hills of Scenic Highway 17 between Haines City and Frostproof.
This was long before the freezes of the early 1980s forced the industry to move further south. It was one trip that convinced me to stay in Florida for the rest of my life. 
HISTORY OF CITRUS IN FLORIDA
Citrus has been an important Florida crop since the pioneer settlers in the 1800s began to plant groves. Even before then, Ponce de Leon planted orange trees near St. Augustine in the 1500s.
The industry has had its ups and downs since the very beginning. Known in Florida history as the "Great Freezes", these cold weather events in 1894 and 1895 did major damage.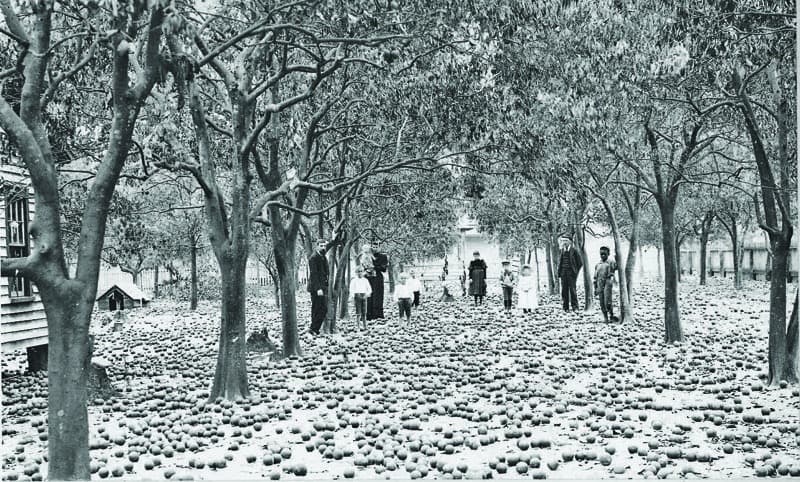 Many of the pioneer settlers lost their groves in the late 1800s and had to move back to where they originally came from or find other ways to make a living.

In more modern times, before and after World War II, the State of Florida became the leading citrus producer in the United States.
Sadly, severe freezes came along in 1983, 1984, and 1989. In addition to the weather, citrus canker and various other blights and diseases have taken their toll.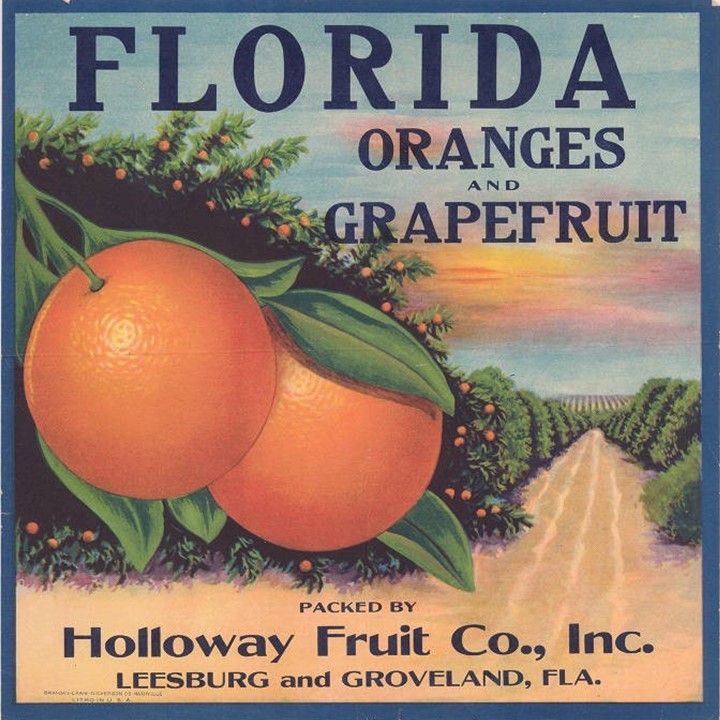 Many growers were in a position in the 1980s where selling their land to developers was more profitable than replanting damaged groves. This was especially true in Central Florida.

Other growers, packers, canners and shippers moved their operations further south in the state.
Most of the major citrus centers are now south of Orlando down into the areas around Frostproof, Sebring, Lake Placid, LaBelle and other places where it rarely freezes.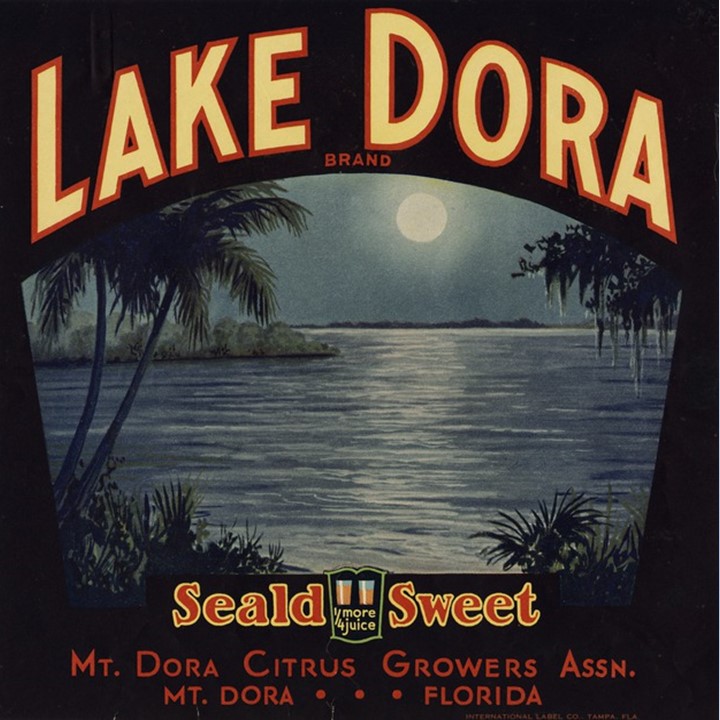 There are several types of citrus still being grown today in Florida, including grapefruit and oranges. Among the oranges grown in Florida are Temple oranges, tangerines, and tangelos.

The fresh orange season typically runs from October through June. The primary varieties of orange are Navel, Hamlin, Pineapple, Ambersweet, and Valencia.
FLORIDA CITRUS CRATE LABELS
Almost all growers, packers, canners and others have or had a unique brand and a label advertising the brand.
These Florida citrus labels track the history of the Florida citrus industry in a very artistic and entertaining way.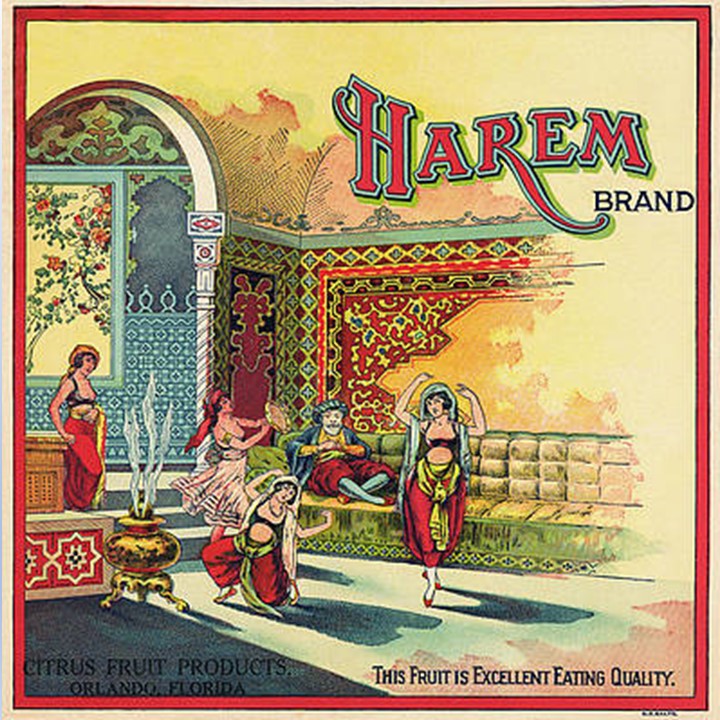 These colorful labels are an illustrated history of the citrus growers and rich heritage of the citrus industry in Florida.

The labels were pasted on the cardboard boxes and wooden crates that citrus was packed in for shipping.  Each fruit crate label had the brand name of the growers or citrus packing houses.
Our digital image collection came from doing a digital download from several sources including the State of Florida Archives, the University of Florida, and Florida Southern College.

Some of these physical collections also have the wooden boxes themselves with labels still attached.
One wonderful collection of images was published in 1996 in a book by Jerry Chicone, Jr., a member of the Florida Citrus Hall of Fame. 
The book is titled "Florida Citrus Crate Labels: An Illustrated History."  It is listed on Amazon as out of print.
He co-authored another book in 2015, "Florida's First Billboards." That book is available at Florida Citrus Mutual in Bartow, Florida.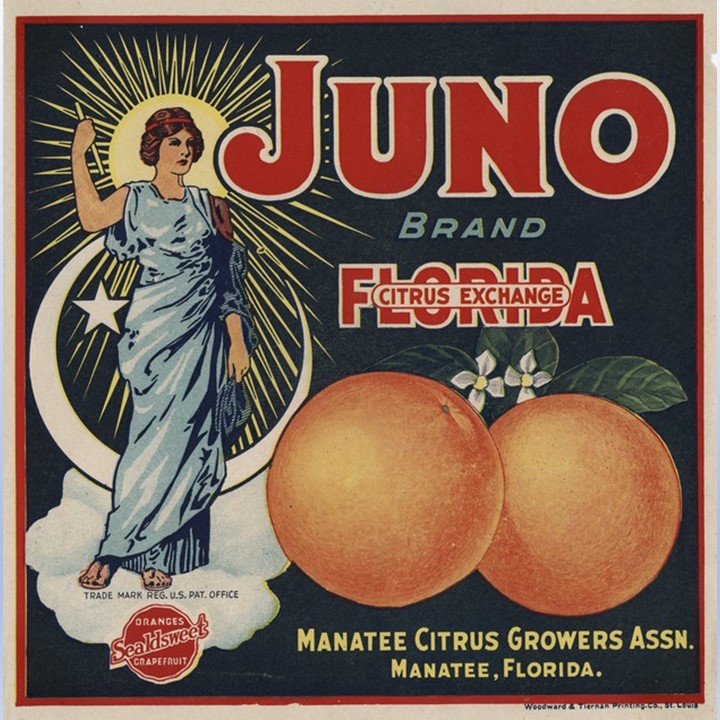 Various businesses on Etsy and Amazon offer canvas prints of these vintage labels suitable for hanging on your wall.
This collection of colorful Florida citrus labels is a visual trip that will take you back to that time when citrus was King of the
Sunshine State.
INDEX OF FLORIDA CITRUS CRATE LABELS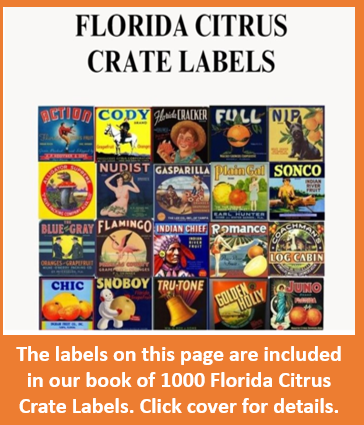 ---

Our Facebook page has more than 128,577 followers who love off the beaten path Florida: towns, tourist attractions, maps, lodging, food, festivals, scenic road trips, day trips, history, culture, nostalgia, and more.  We post articles every day.  Please check it out and if you like it, we would appreciate a "like" from you.
---
By Mike Miller, Copyright 2009-2023
Florida-Back-Roads-Travel.com
Florida Back Roads Travel is not affiliated with or endorsed by Backroads, a California-based tour operator which arranges and conducts travel programs throughout the world.