Zoos & Wildlife Sanctuaries
FLORIDA ZOOS & WILDLIFE SANCTUARIES
Even if you go exploring in the Florida wilderness, you are not likely to see a lot of wild animals. 
That's because they are masters at hiding from danger and they often see humans as dangerous.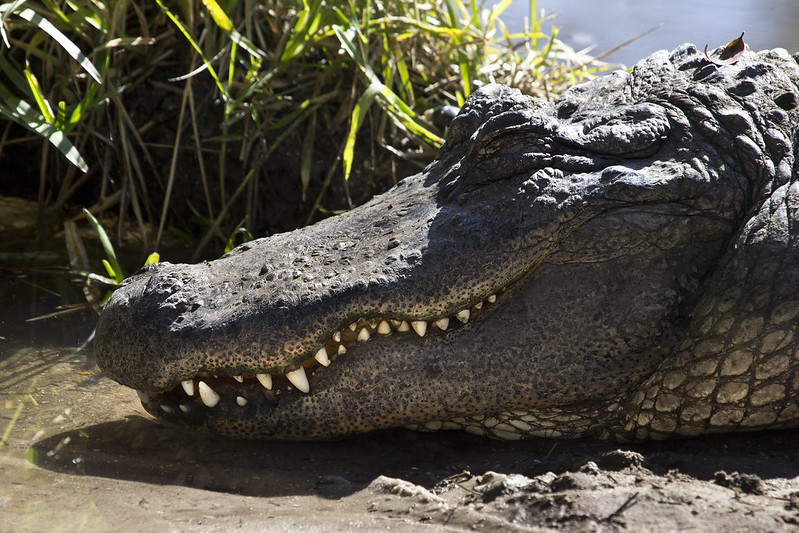 Alligator in Brevard County, Florida
Flickr/C Watts
They spend most of their time looking for something to eat and drink.  Hiding from other animals is hard wired into their genetic code.
In Florida zoos, a lot of their biological needs are taken care of and the animals can relax.  This lets you observe them in more detail. 
Some people believe zoos are cruel because they imprison wild animals.
There are many others who believe zoos give an opportunity for millions of people to see, enjoy, and appreciate wild animals. 
They feel in the long run that this exposure helps animal species survive because of human's love and understanding of them.

---
Day Trips to Florida Zoos & Wildlife Sanctuaries
DAY TRIP 1
Brevard Zoo
8225 N Wickham Rd, Melbourne, FL 32940. Tel: 321-254-9453
https://brevardzoo.org/
The small Brevard Zoo is one of the most popular zoos in Florida.  You will see more than 165 species that include more than 550 different animals creatively housed on 22 acres of restored wetlands.

Animals in the zoo are from Florida, Asia, Africa, Australia and South America. 
One of the features of this zoo is that you can feed animals such as the giraffes and birds and can enjoy being up close and personal while riding a miniature train around the grounds through the animal's natural habitat. 
You can also purchase special tickets at the zoo that give you a unique adventure such as paddling a kayak or enjoying the petting zoo. 
---
DAY TRIP 2
Catty Shack Ranch Wildlife Sanctuary, Jacksonville
1860 Starratt Rd, Jacksonville, FL 32226.  Tel: 904-757-3603
http://cattyshack.org/
Catty Shack Ranch is a non-profit wildlife sanctuary in Jacksonville.  It has become one of the area's most popular visitor attractions. 

Their primary mission is to give endangered big cats a permanent home.  They specialize in the rescue of exotic animals who are in danger. 
When an animal arrives at Catty Shack Ranch, it will have a loving home for the rest of its life. None of these animals are used for breeding, trading, selling, or buying. 
Animals currently living at Catty Shack Ranch include tigers, lions, pumas, leopards, lynx, foxes, and coatimundis.  Even though the last 2 aren't cats, they have been given "honorary cat" status by the ranch.
---
DAY TRIP 3
Gatorland
14501 South Orange Blossom Trail
Orlando, FL 32837. Tel:  407-855-5496
https://www.gatorland.com/
Gatorland has been thrilling visitors since 1949, a full 22 years before neighboring Walt Disney World opened its doors. 

It is a place for family fun, and the 110-acre park offers a true glimpse into the "Old Florida" that is so quickly disappearing. 
You will see thousands of alligators, some crocodiles (including some white ones), a free-flight aviary, petting zoo and several animal shows. 
There is even a zip line for an extra charge that will let you soar above the hungry gators.
---
DAY TRIP 4

Jacksonville Zoo and Gardens
370 Zoo Parkway, Jacksonville, FL 32218.  Tel: 904-757-4463
http://www.jacksonvillezoo.org/
This zoo is more than 100 years old and is located on 89 acres on the shore of Trout River north of downtown Jacksonville. 

The zoo is organized by natural exhibits including River Valley Apiary, African Loop, Stingray Bay, Wild Florida, Savanna Blooms, Great Apes, Giraffe Overlook, and Range of the Jaguar. 
For the kids, there is also the Play Park and Splash Ground and the ability to pet the stingrays in Stingray Bay. 
The Gardens at Trout River Plaza is a large botanical garden that is a place where facilities can be rented for special events.
Kids also love feeding the kangaroos and wallabies at Australian Adventure.
---
DAY TRIP 5
Lion Country Safari
2003 Lion Country Safari Road
Loxahatchee, Florida 33470.  Tel: 561-793-1084 
https://www.lioncountrysafari.com/
Lion Country Safari is an unusual amusement park that allows you to drive your own car through their grounds.  You can spend an entire day driving among their more than 1,000 animals. 

The attraction also has rides and a water spray feature for the kids, animal feeding experiences, restaurant, shops, a campground, and a lot more. 
Some of the animals you will see include tortoises, tapirs, alpaca, impala, ostrich, water buffalo, lion, Ankole-Watusi cattle, rhinoceros, zebra, chimpanzee, and thousands more. 
A sister attraction, Safari World, is nearby that costs less and lets you walk through animal exhibits.
---
DAY TRIP 6
Zoo Tampa at Lowry Park
1101 W Sligh Avenue, Tampa, FL 33604.  Tel:  813-935-9552
https://zootampa.org/ 
This zoo is one of the most popular in Florida, with over 1 million annual visitors. 

The zoo occupies 56 acres of naturalistic animal exhibits in a tropical garden setting and has many up-close animal encounters that kids and adults both enjoy. 
The zoo pays special attention to endangered species from world climates similar to that of the Tampa Bay area.  There are park zones devoted to Asia, Africa, Australia and Florida. 
More than 1,300 separate animals have their permanent homes in the zoo. 
Another interesting feature of this zoo is their Manatee Critical Care Center, the only one of its kind in Florida.  Zoo guests can have the experience of watching through windows while the zoo staff treat injured and orphaned manatees.
---
DAY TRIP 7
Naples Zoo at Caribbean Gardens
1590 Goodlette-Frank Rd, Naples, FL 34102.  Tel: 239-262-5409
http://www.napleszoo.org/
This zoo was established in 1919 when Naples was still a small settlement on the southwestern frontier of Florida. 

It was originally established as a botanical garden, which explains its full name of Naples Zoo at Caribbean Gardens.  Many of the more than 3,000 plants from the original gardens are still thriving on today's zoo property. 
Animals live in the zoo in habitats designed to enhance their freedom and natural surroundings. 
You will see gators, anteaters, bears, cheetahs, snakes, foxes, frogs, gibbons, Gila monsters and even a honey badger that the children love to interact with (he's behind very strong glass).
---
DAY TRIP 8
St. Augustine Alligator Farm Zoological Park
999 Anastasia Blvd, St. Augustine, FL 32080. Tel: 904-824-3337  
http://www.alligatorfarm.com/  
This is one of the few Florida tourist attractions on the National Register of Historic Places.  

It was founded in 1893 and has entertained and educated millions of people about the fearful alligator. 
This zoo also has hundreds of species of birds, monkeys, snakes, lions, turtles, and it even has porcupines and tarantulas.  I have even seen albino alligators there. 
The attraction also has a zip line where you can soar over the alligators and imagine them licking their chops over you.
---
DAY TRIP 9
Zoo World
9008 Front Beach Road
Panama City Beach, Florida 32407. Tel: 850-230-1243
https://zooworldpcb.com/  
The full name of this attraction is Zoo World Zoological and Botanical Conservatory. 

The zoo specializes in conservation and has over 260 animals with numerous exhibits, programs, and performances in a tropical setting. 
This is an interactive attraction where you can do various thing with the animals.  Examples include Sloth Encounter, Giraffe Feeding Tower, Lemur Encounter, Hold and Alligator, Budgie Bush-Walk Aviary, and more. 
These encounters usually include your holding and petting the animal.
Most of the encounters cost you extra in addition to the general admission fee. There are also various dispensers around the zoo where you can pay extra to buy food to feed the animals.  
---
DAY TRIP 10
Suncoast Primate Sanctuary Foundation, Inc.
4600 US-19 ALT
Palm Harbor, FL 34683. Tel: 727-943-5897
http://spsfi.org
Suncoast Primate Sanctuary Foundation, Inc, is a privately funded, 501(c)3, non-profit volunteer-run organization that provides a safe haven and forever home for over 120 residents including Chimpanzees, Orangutans, Monkeys, Reptiles, Birds, and more! 
Many of the animals were pets or experimental lab animals, some were even in the movies.  The sanctuary provides a forever home for these creatures. 
Admission is open to the public.  See website for hours and admission fees.
---
---

Our Facebook page has more than 128,577 followers who love off the beaten path Florida: towns, tourist attractions, maps, lodging, food, festivals, scenic road trips, day trips, history, culture, nostalgia, and more.  We post articles every day.  Please check it out and if you like it, we would appreciate a "like" from you.
---
By Mike Miller, Copyright 2009-2023
Florida-Back-Roads-Travel.com
Florida Back Roads Travel is not affiliated with or endorsed by Backroads, a California-based tour operator which arranges and conducts travel programs throughout the world.