GYPSY CAB COMPANY

828 Anastasia Boulevard
St Augustine, Florida 32080
Tel:  904-824-8244

Gypsy Cab Company is one of my St. Augustine favorites.  I try to visit St. Augustine two or three times a year, and when I do I always have dinner at least once at this great restaurant.

This neat little place is near the historic St. Augustine Lighthouse.
Gypsy is open for lunch and dinner 7 days a week, and brunch on Sunday from 1030am to 300pm.
Gypsy has been around now since 1983, and in a city known for its restaurants, it is still one of the best. The food is great.
Their menu has influences from Italian, German, Cajun, Mediterranean, classical European, Southern, Oriental, and "Floribbean".
Their Italian dishes include linguini with red or white clam sauce; baked ziti; veal pesada and Italian sausage saute.
They change their menu daily.
I am not a big fan of Italian food - other than pizza - but my friends who do love Italian food have never been disappointed here.
My favorites lean toward seafood, and here is where I think Gypsy really shines. I have had and can recommend their blackened catch of the day (quite often mahi mahi);their scallops and salmon provencal; and their seafood fra diablo.
They also have a wide selection of soups, salads and appetizers. One of my favorite appetizers is blackened shrimp nachos.
Although I am not a dessert person, I sometimes cheat and have one of the great ones at Gypsy Cab Company. Don't tell my doctor, but I really like their peanut butter pie.
Prices are reasonable at Gypsy, especially when compared to some of the more upscale restaurants in St. Augustine. They have a full liquor bar and a good selection of beer and wine.
The atomosphere and furnishings at Gypsy are casual, sort of middle of the ground. You'd be comfortable with shorts and a polo shirt or even a sport coat. Nobody will look twice at you. You will get a good feeling the minute you walk in the door.
In 2000, Gypsy opened the "The Gypsy Bar and Grill" next door to the restaurant. It is a place for private parties, and also features "The Comedy Club" on Thursday, Friday and Saturday nights.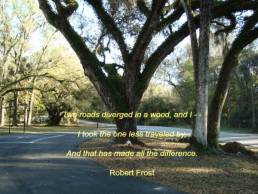 Over 65,000 followers can't be wrong. Learn about off the beaten path Old Florida, historic towns, attractions,  festivals, scenic drives and more.
Like Us On Facebook
Return From Gypsy Cab Company To Florida Restaurants
Return To Florida Backroads Travel Home