HORSESHOE BEACH, FLORIDA
HURRICANE IDALIA DID SERIOUS DAMAGE TO HORSESHOE BEACH ON AUGUST 30, 2023.  MANY HOMES WERE SEVERLY DAMAGED AND SOME WERE TOTALLY DESTROYED.
Horseshoe Beach, Florida Things To Do, Lodging, Dining, & Real Estate At End Of Article
Horseshoe Beach, Florida is a small quiet village at the end of Dixie County Highway 351. It is located near the center of the Big Bend Coast.
It is 19 miles southwest of the almost as quiet town of Cross City located on US-98.
The population of Horseshoe Beach is about 169, more or less. The name seems to be derived from the plentiful horseshoe crabs in the shallow waters around the area.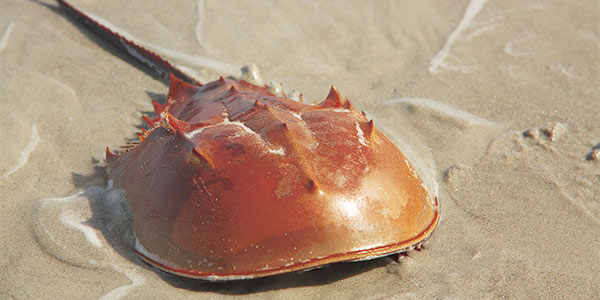 Horseshoe Crab
These crabs are edible, usually baked or grilled, and people eat the orange-colored eggs inside.  I have never seen them on a Florida restaurant menu, however.
The crab's biggest value to humans seems to be in medical research and drug safety.  Its blood has a rare protein used by drug manufacturers to test their products.
HORSESHOE BEACH, FLORIDA HISTORY
The area around Horseshoe Beach was settled in the early 1800s by a lumbering company.  When the company ran out of timber to cut and mill they began to urge their employees to move out.
In 1935 the lumber interests sold their land to C.C. Douglas and Burton Butler for $324.  A good deal even back then.
These men offered the people who were then living there an even better deal:  for $10 they could buy the lot they were currently living on.
Many settlers stayed on and worked as fishermen.
The residents of the town got together in 1963 and went through the process of incorporating Horseshoe Beach.
HORSESHOE BEACH, FLORIDA TODAY
Horseshoe Beach is an interesting mix of private residences, a few vacation condominiums, and other small businesses that serve the fishing, boating, and shrimping industries.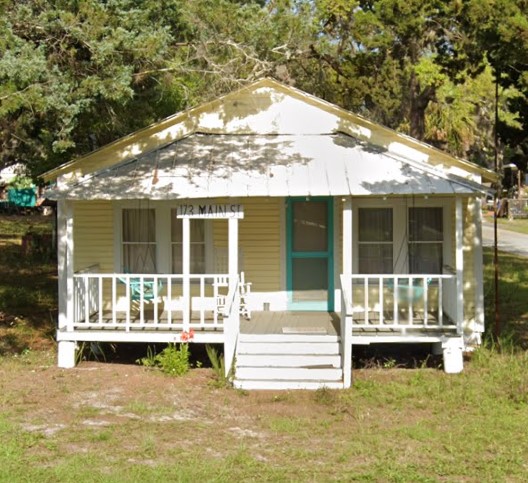 Cottage In Horseshoe Beach, Fl 2021
Many of the permanent residents are retired or engaged in the commercial fishing business.
One of the largest and most essential businesses in this tiny village is the Horseshoe Beach Marina.  It is a full service operation with a boat lift and storage for boats and trailers.
The marina also has vacation rentals and RV sites.
The village has at least one restaurant, two churches, a park on the waterfront, and a public library. 
It also boasts a small athletic field with areas for both basketball and baseball.
Horseshoe Beach is a great kick off place for kayaking, sport fishing, air boating, and just having a good time on the water.
HORSESHOE BEACH RECOMMENDED RESTAURANT
You might not expect to find a real good restaurant in a small place like Horseshoe Beach, so you will be surprised when you discover the Shrimp Boat. 
The restaurant is owned and operated by Jill and Tyler Futch.  It serves locally caught seafood using delicious southern style recipes passed down from their family for generations.
Take a look at the Google map above to get a feel for where things are in this unique little place.
---
Most hotels that serve Horseshoe Beach are many miles away.  Take a look at private homes for rent at Vacation Rentals by Owner.
---
 ALL ABOUT HORSESHOE BEACH, FLORIDA
---
HORSESHOE BEACH,  FLORIDA INTERACTIVE MAP
---
---
---

Our Facebook page has more than 128,577 followers who love off the beaten path Florida: towns, tourist attractions, maps, lodging, food, festivals, scenic road trips, day trips, history, culture, nostalgia, and more.  We post articles every day.  Please check it out and if you like it, we would appreciate a "like" from you.
---
By Mike Miller, Copyright 2009-2023
Florida-Back-Roads-Travel.com
Florida Back Roads Travel is not affiliated with or endorsed by Backroads, a California-based tour operator which arranges and conducts travel programs throughout the world.