INTERLACHEN, FLORIDA
Interlachen, Florida Things To Do, Lodging, Dining, & Real Estate At End Of Article
Interlachen is a town of about 1,500 in Putnam County, Florida, 16 miles west of Palatka.  It probably takes its name from the Scottish term for "between the lakes," although another theory says it is named for Interlaken, Switzerland.
HISTORY OF INTERLACHEN, FLORIDA
The area of the town was known as "Blue Pond" until 1892.  The Florida Southern Railway came through in the 1870s and settlers began showing up as well as commercial enterprises. 
Many of the new settlers came from Palatka, a town on the St. Johns River that was prospering as a shipping port and tourist destination.

The town of Interlachen was incorporated in 1888.
The town prospered as a winter vacation spot and citrus growing area. In the 1890s Interlachen had three hotels attracting tourists from up North.
The town had streetcars and boat tours for the tourists.
King-DeTilla-Brant House Built in 1886
Two of the three hotels burned down, as well as the original Interlachen Town Hall in 1891. 
A new Town Hall replaced the original in 1892 and it was named Interlachen Hall.
Interlachen Hall is now home to the Interlachen Historical Society and Museum. 
The first floor currently houses the Interlachen Museum, which is operated by the Interlachen Historical Society and is open every Saturday, from 10 am to 2 pm. 

The Great Freezes of 1894 and 1895 devastated the citrus groves and nearly ended the tourist trade.
Agriculture and forestry picked up the slack and became important industries.
INTERLACHEN FLORIDA TODAY
Several large platted subdivisions surround Interlachen.  Most of these have unpaved roads;  some of the lots are not on roads at all.
There is a mix of very nice and not so nice homes scattered around these places.  
These developments were primarily lot sales programs back in the days when you could sell lots by mail order.
This interesting old log building is currently being used for storage.  I haven't been able to find out its history.
Some old buildings in Interlachen are weathered but still look sound.  The old Brush store still stands and was the home of the post office years ago.
The Sid Martin Building is a former school that was named for a Florida legislator.  It is on the campus of Interlachen High School and many years ago was the Interlachen Academy, built in 1895.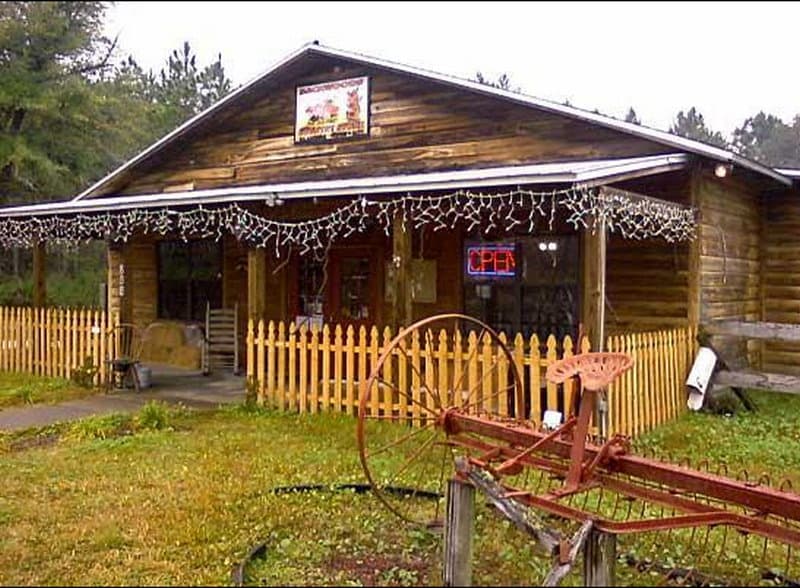 Backwoods Smokehouse
Backwoods Smokehouse is a popular Interlachen restaurant located at 888 County Road 310. 
---
ALL ABOUT INTERLACHEN FLORIDA
---
INTERLACHEN, FLORIDA INTERACTIVE GOOGLE MAP
---
---

Our Facebook page has more than 127,538 followers who love off the beaten path Florida: towns, tourist attractions, maps, lodging, food, festivals, scenic road trips, day trips, history, culture, nostalgia, and more.  We post articles every day.  Please check it out and if you like it, we would appreciate a "like" from you.
---
By Mike Miller, Copyright 2009-2023
Florida-Back-Roads-Travel.com
Florida Back Roads Travel is not affiliated with or endorsed by Backroads, a California-based tour operator which arranges and conducts travel programs throughout the world.