JACKSONVILLE ZOO
The Jacksonville Zoo is more than 100 years old, having been established at another location near downtown Jacksonville in 1914.
It is one of the oldest Florida zoos.
It's first and only animal back then was a donated red deer fawn.
Other animals came soon, and in 1925 the zoo was relocated to its current location on the Trout River in North Jacksonville.
By the end of the 1960's, although the zoo was the largest in the southeast, it was in financial trouble and the City considered closing it.
A group of local leaders formed The Jacksonville Zoological Society; they were able to reorganize the zoo and raise money to save it and operate it.
A major renovation of the zoo took place in 1992, and more than $22 million was spent completing a new front entry and parking lot and many new attractions.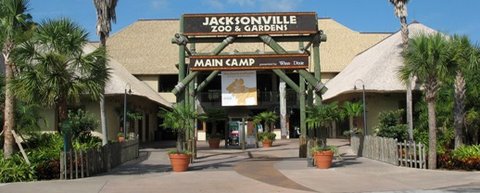 The Jacksonville Zoo now has 89 acres, and its official name is Jacksonville Zoological Gardens.
The zoo is organized around several major exhibits, starting with the Main Camp Safari Lodge, which is the zoo's admission facility with a gift shop and restaurant.
The exhibits include:
River Valley Aviary, with dozens of exotic birds including flamingos, all free to fly around.
African Loop, a 1400 foot long boardwalk where you can see animals in their natural environment, the plains of East Africa. You will see crocodiles, wart hogs, antelopes, storks, cheetahs, okapis, zebras, elephants, lions, monkeys and leopards.
Stingray Bay, where you can feed and touch stingrays, even pet them like you would your dog or cat.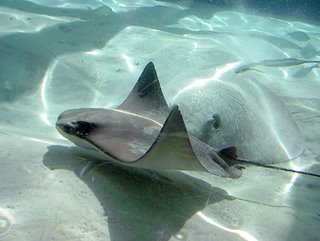 Wild Florida is a 2.5 acre natural wetland with alligators, bears, wolves, cranes, bald eagles, bobcats, deer and owls. There is also a reptile house with 25 different species of reptiles and amphibians including snakes. Alligators are also located just north of the reptile house and you can watch them being fed.
Savanna Blooms is a unique 2 acre garden that is modeled after a South African oasis. You will see grasslands, acacia leaves and a contemporary garden, including a serene pool with water lilies and other plants. It's a great spot to take a cool rest from visiting other areas of the Jacksonville Zoo.
Giraffe Overlook is a viewing platform that allows you to get up close and look into the eyes of a giraffe. Giraffes graze in the 2.5 acre exhibit next door to Savanna Blooms.
Great Apes include the three primate groups: apes, monkeys and prosimians. You will see gorillas, bonobos and siamangs, along with colobus monkeys and lemurs.
Range of the Jaguar is an award-winning South American exhibit. Next to the rainforest and animal exhibits you will see the Palm Plaza restaurant, a gift shop and restrooms. There are jaguar exhibits, a replica of an abandoned Mayan temple, bushmaster snakes, poison dart frogs, boa constrictors, anaconda, marmosets and other animals. In the River's Edge exhibit, you will see howler monkeys, anteaters, capybaras and tapirs. In the Emerald Forest Aviary you will see a tiny deer known as a pudu, cardinals and the arapaima, one of the largest freshwater fishes in the world. Rare giant otters will usually put on a playful show for you.
Play Park and Splash Ground is usually open from spring to fall depending on local weather. Kids love this attraction because they can learn while they play. There are mazes and a Splash Ground and Discovery Center. Kids can imitate monkeys by climbing on vines in front of their exhibit, or on a nearby rock wall. The can see penguins through a glass tunnel window as they swim by, and they can pet the pygmy goats.
The Gardens at Trout River Plaza is a botanical garden plaza that serves as a gathering and event space and offers a beautiful view of the Trout River. It is a great place for kids to play and can also be reserved for special events.
Save the Frogs!: This Amphibian Conservation Center was opened to help save various frog and amphibian species from all over the world. Many of these species are rapidly going extinct due to shrinking habitat and disease. Visitors will learn what they can do to help save these creatures.
Australian Adventure includes red kangaroos, wallabies, a cassowary, and lorikeets that you can feed.
Monsoon Asia is a beautiful tranquil garden that lets the visitor experience Asian cultures. A moon gate is the entrance to the exotic garden with a lotus pool, moon bridge, koi pond, orchid pavilion and water falls. You can also see the Komodo dragon exhibit, and once in a while see a zookeeper training the dragons.
Wildlife Carousel is a popular attraction for kids of all ages. Beautiful replicas of wild animals go round and round, and kids love riding on the tiger. It cost $2 for a ride on the carousel.
The Jacksonville Zoo and Gardens is an accredited institution of the American Zoo and Aquarium Association.
A fun way to see the Jacksonville Zoo is to take a trip on the Zoo Train. The train runs daily, weather permitting, and costs $4 for adults and $2 for children.
ADMISSION FEES
Consult our annually updated updated admission fee schedule, or call 904-757-4463 or visit the Jacksonville Zoo website at www.jacksonvillezoo.org.
HOURS

Open daily 9:00 a.m. to 5:00 p.m., 364 days a year. Closed on Christmas Day.
Summer Hours: March 5 to September 5, the Zoo will be open until 6:00 p.m. on Saturday, Sunday and holidays.
Gates close one hour prior to Zoo closing. Subject to change for events.
DIRECTIONS
Address: 370 Zoo Parkway, Jacksonville, FL 32218.
To get to the Zoo From I–95 South: Take exit number 358A to Heckscher Drive / Zoo Parkway. Continue on Zoo Parkway for approximately 1/4 mile and the entrance to the Zoo is on your right.
From I-95 North: Take exit number 358A to Heckscher Drive / Zoo Parkway. Continue on Zoo Parkway for approximately 1/4 mile and the entrance to the Zoo is on your right.
From the Dames Point Bridge: From the Napoleon Bonaparte Broward (Dames Point) Bridge or 9A, take exit Zoo Parkway / Heckscher Drive West. Continue on Zoo Parkway for approximately 5 miles and the Zoo entrance will be on your left.
From Gainesville, Daytona, St. Augustine or Orlando: Take I-95 North to Jacksonville. Take exit number 358A to Heckscher Drive / Zoo Parkway. Continue on Zoo Parkway for approximately 1/4 mile and the entrance to the Zoo is on your right.
From Brunswick or Savannah: Take I-95 South toward Jacksonville. Proceed on I-95 South past the Jacksonville International Airport and look for Exit 358A, Heckscher Drive / Zoo Parkway. Continue on Zoo Parkway for approximately 1/4 mile and the entrance to the Zoo is on your right.
From Atlanta or Valdosta: Take I-75 South, merge onto I-10 East via Exit 435 toward Jacksonville. Continue on I-10 and merge onto I-95 North. Take Exit 357, Edgewood Avenue/Tallulah Drive. Turn right on Tallulah. Continue on Tallulah and turn left on US 17 North/Main Street. Go across the bridge and make a right turn onto Zoo Parkway. The Zoo is less than a mile ahead on your right.
To return to I-95: I-95 North Turn left from the exit of the Zoo onto Zoo Parkway. The entrance ramp for I-95 North is approximately 1/4 mile ahead on your right.
I-95 South Turn left from the exit of the Zoo onto Zoo Parkway. The entrance ramp for I-95 South is approximately 1/4 mile ahead on your left.
---

Our Facebook page has more than 128,577 followers who love off the beaten path Florida: towns, tourist attractions, maps, lodging, food, festivals, scenic road trips, day trips, history, culture, nostalgia, and more.  We post articles every day.  Please check it out and if you like it, we would appreciate a "like" from you.
---
By Mike Miller, Copyright 2009-2023
Florida-Back-Roads-Travel.com
Florida Back Roads Travel is not affiliated with or endorsed by Backroads, a California-based tour operator which arranges and conducts travel programs throughout the world.