JAN GODOWN ANNINO
Tallahassee-area resident Jan Godown Annino, born in 1952, grew up in rural New Jersey next to a back-yard field that held a bunch of dairy cows chewing cud.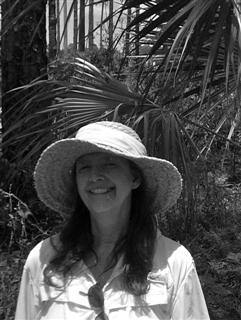 Jan Godown Annino
Her father retired while Jan was in middle school, and she soon found herself living next to a whole lot of fish in aqua water - the Gulf of Mexico. She lived a dream teen life on Siesta Key, Florida and later near Phillippi Creek, Sarasota.

Furthering her love of her new state, teacherEd Taylor's marine ecology class aquarium in high school held sea horses! And her classmate's mother was the famous shark expert, Dr. Eugenie Clark.

Jan's discovery of Florida nature and heritage continued in Gainesville, where she studied journalism with top professors at UF, such as Putlizer-winner H.G. "Buddy" Davis.
She was a devoted student of Professor Michael Gannon, Florida's esteemed and legendary historian-author, and also studied with Merlin Cox, Samuel Proctor and other mentors.

Jan Godown Annino is the 2011 Florida Book Awards gold medal winner in children's literature for her first children's book from National Geographic Society.

This book is about an amazing Florida woman. It is titled, She Sang Promise: The Story of Betty Mae Jumper, Seminole Tribal Leader. It is illustrated by Lisa Desimini, with an afterward letter to children from Moses Jumper, Jr.
Jan Godown Annino is an enthusiastic presenter on Betty Mae Jumper to adults as well as to young children, sharing her extensive collection of wearable Seminole fabric art - patchwork, and other artifacts from her museum-in-a-bag.

She is also sent into schools as a reading volunteer with the national BookPALs program, to share her love of rhyming picture books with young readers.
Books by Jan Godown Annino:
(2008) Florida's Famous Animals Globe Pequot Press)
Family Fun in Florida (out of print)

(2010) She Sang Promise: The Story of Betty Mae Jumper, Seminole Tribal Leader (National Geographic)

(2010) Scenic Driving Florida, now in its 3rd edition (Globe Pequot Press)

Jan has also contributed to these non-fiction books:

The Florida Handbook (Peninsular Publishing)
Florida On My Mind (Globe Pequot Press, 1998)

The Book of the Everglades (Milkweed Editions, 2002)

The South Atlantic Coast & Piedmont: A Literary Field Guide (Milkweed Editions, 2006)
She has published articles in magazines such as STORYTELLING, and she worked for 20 years in newspapers, before writing books.

Among her many fascinating interview subjects are a Vietnamese military pilot who relocated his family to North Florida and was working as a tailor; an elementary school student who was unusually short but very sweet; and a brilliant college art major, who tragically lost his life in an alligator attack.
Three features about her book on Betty Mae Jumper are online in School Library Journal and in a local newspaper at the following links:

Writers Against Racism - Jan Godown Annino
Review Of The Day - She Sang Promise By Jan Godown Annino
Picture Book About Seminole Leader Betty Mae Jumper

Jan lives in suburban North Florida with her husband, a law professor, and their teen daughter. Surrounded by live oak trees, she is a veteran squirrel-watcher. As often as possible, she walks into town.
---

Our Facebook page has more than 128,577 followers who love off the beaten path Florida: towns, tourist attractions, maps, lodging, food, festivals, scenic road trips, day trips, history, culture, nostalgia, and more.  We post articles every day.  Please check it out and if you like it, we would appreciate a "like" from you.
---
By Mike Miller, Copyright 2009-2023
Florida-Back-Roads-Travel.com
Florida Back Roads Travel is not affiliated with or endorsed by Backroads, a California-based tour operator which arranges and conducts travel programs throughout the world.