JASPER, FLORIDA
Jasper, Florida Things To Do, Lodging, Dining, & Real Estate At End Of Article
Jasper, Florida is located on US-41 and US-129 in North Florida about 8 miles south of the Georgia state line and 8 miles north of the Suwannee River.
It is the county seat of Hamilton County and its population in the 2020 census was 3,621, down from 4,546 in 2010.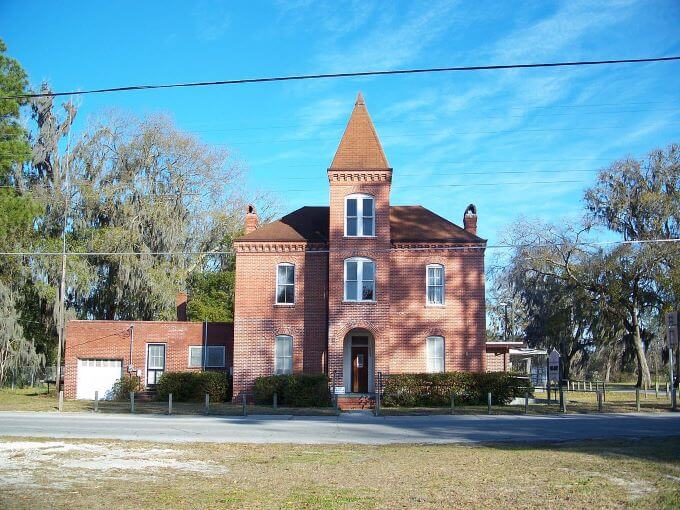 Old Hamilton County Jail
Photo by Ebyabe
Hamilton County was established in 1827 and is one of Florida's oldest and smallest counties with a population of 14,742. The only other city in the county is White Springs.
It is believed the Miccosukee tribe were early residents in the area that is now Jasper. They were relocated east of the Suwannee River after the 1823 Treaty of Moultrie.
An early village called Halato Micco was located a a few miles from Jasper near the Alapaha River.  It was named for a Seminole chief whose Seminole name translated to "Alligator Chief."
He was also known as Billy Bowlegs, perhaps because of confusing him with an earlier Seminole chief, Bolek.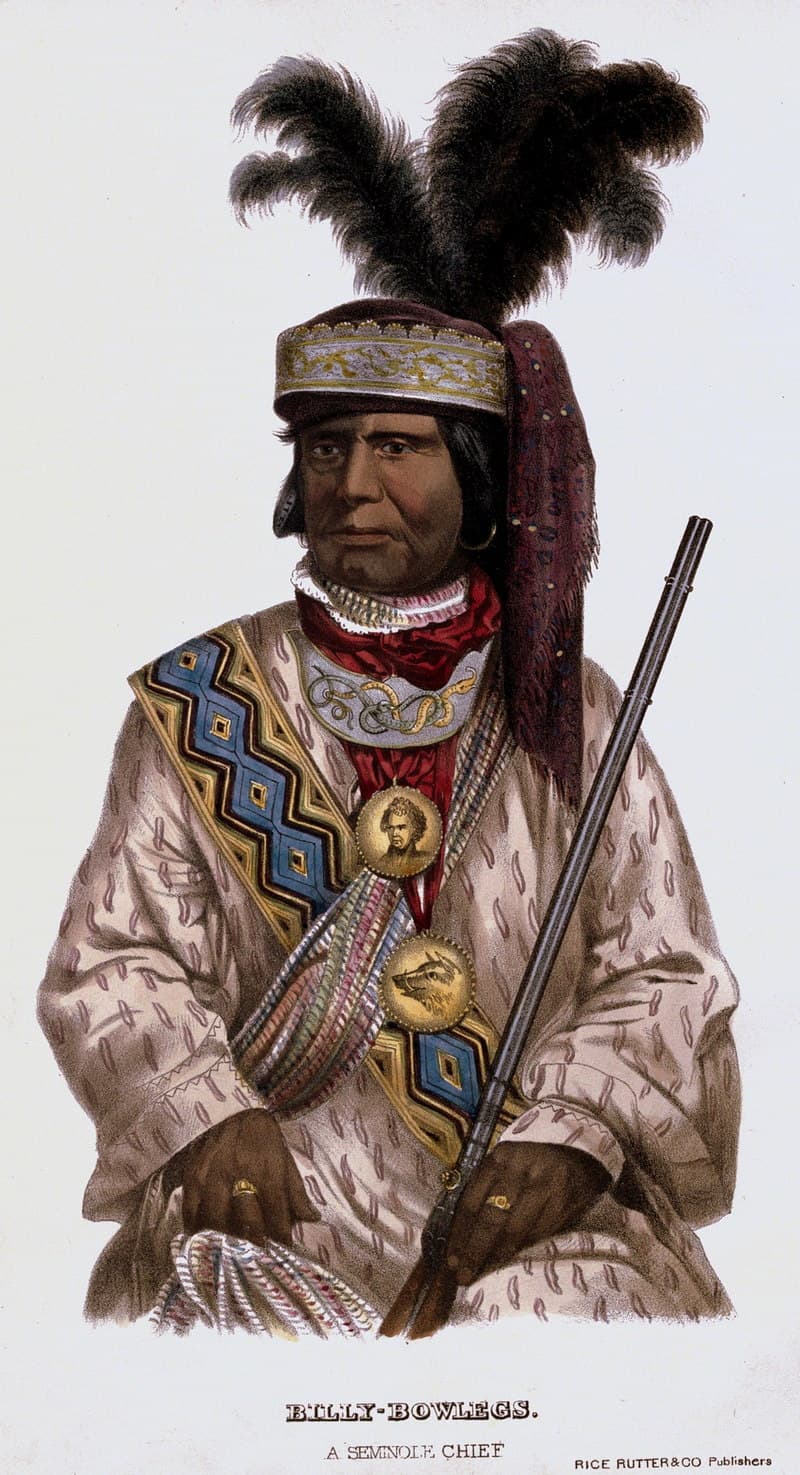 Holata Micco, also known as Chief Billy Bowlegs
The area around Jasper suffered during the Seminole Wars, and it wasn't until the wars were over that the community began to grow.
In 1858 the early white settlers incorporated the town as Jasper. Many of these first settlers came down from South Carolina and Georgia.
It was named for Sergeant William Jasper, a Revolutionary War hero who rescued the American flag during a British assault on Fort Sullivan in Charleston, South Carolina.

Fort Sullivan was later renamed Fort Moultrie.  Sergeant Jasper was killed during the war at age 29 in Savannah, Georgia.
During the Civil War a Confederate infantry company was assembled in the Jasper area and sent north to Virginia just in time to fight in the First Battle of Manassas (known by the Union as the First Battle of Bull Run.
This company was made part of the First Corp of the Army of Northern Virginia commanded by Stonewall Jackson.
In 1865 the Savannah, Florida and Western railway was built as a supply line for farm products to be shipped to the Army of Northern Virginia, but the war ended before it could happen.
The railroad was a boon to the area after the war, and the town began to grow and prosper from raising cotton and tobacco.
It also had a sizable lumber industry and turpentine was an important product due to abundance of pine trees in the area.
As the natural resources were depleted, the fortunes of Jasper went down. 
Another blow to the town was the construction of I-75 in the 1960s built 7 miles west of town.  This busy interstate bypassed traffic from US-129 and US-441 that used to travel through town.
Downtown Jasper in 1928
Florida Memory
The downtown area has businesses similar to many other small towns in Florida.  There is an Ace Hardware, a CVS pharmacy, a Dollar General, and several restaurants.
Downtown Jasper
City of Jasper
As the county seat Jasper is home to the Hamilton County Courthouse Annex, the Hamilton County Tax Collector, the Hamilton County Sheriff's Office and other county offices.
1914 Bank Building in Jasper
Flickr/Robby Virus
The largest industry in the area is the mining of phosphate, potash, nitrogen.  These agricultural products are distributed all over the world.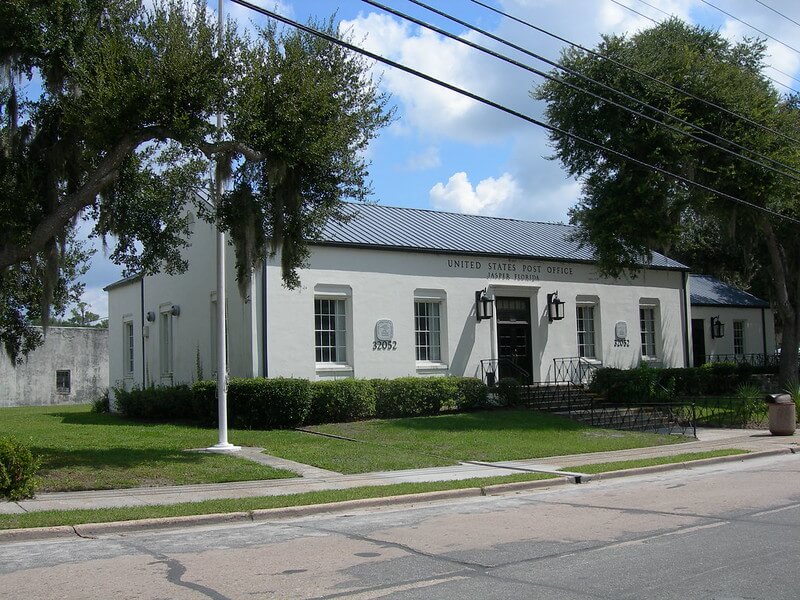 Jasper U.S. Post Office
Flickr/Jimmy Emerson, DVM
Occidental Petroleum built a large phosphate mining facility near Jasper in 1964.  The mine was named Suwannee River.  Other large companies have also started mining in the area since then.
The mines and processing plants are large employers in the area.
There are some nicely preserved homes and buildings in Jasper. 
Two of them are on the National Register of Historic Places: the Old Hamilton County Jail and the United Methodist Church.
Jasper United Methodist Church
Photo by Ebyabe
An example of a beautiful home is the one shown below at 201 Central Avenue SE in Jasper.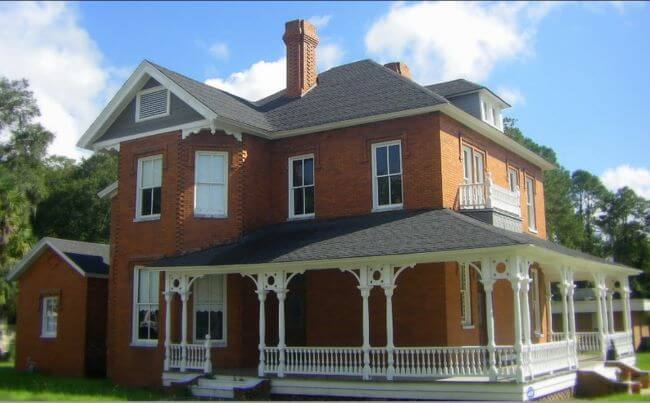 Victorian Home in Jasper
Flickr/Brian Brown
A recent addition to downtown Jasper is the mural below that welcomes visitors to Hamilton County.
Mural in Downtown Jasper
Courtesy Jennifer Gisonni, Pot Luck Enterprises LLC
JASPER FOOTBALL STAR ALEX BROWN
Alex Brown was born in 1979 in Jasper and played football for the Hamilton County Trojans as a star quarterback on offense and linebacker on defense. He made Florida All State and was a SuperPrep high school All American.
Alex Brown
Flickr/this-is-us
Alex went on to star at the University of Florida on Steve Spurrier's football team from 1998 to 2001.  He became an all SEC and All-American for the Gators and went on to play for the Chicago Bears and New Orleans Saints in the NFL.
---
A BRIEF VIDEO TOUR OF JASPER FLORIDA
---
---
JASPER FLORIDA INTERACTIVE GOOGLE MAP
---
---
---

Our Facebook page has more than 125,161 followers who love off the beaten path Florida: towns, tourist attractions, maps, lodging, food, festivals, scenic road trips, day trips, history, culture, nostalgia, and more.  We post articles every day.  Please check it out and if you like it, we would appreciate a "like" from you.
---
By Mike Miller, Copyright 2009-2023
Florida-Back-Roads-Travel.com
Florida Back Roads Travel is not affiliated with or endorsed by Backroads, a California-based tour operator which arranges and conducts travel programs throughout the world.