MAGICAL MEAT BOUTIQUE
Magical Meat Boutique
112 West 3rd Avenue
Mount Dora, Florida 32757
Tel: 352-729-6911
www.magicalmeatboutique.com
Magical Meat Boutique has a funny name but once you've finished snickering you will enjoy its British charm and eclectic menu. MMB, as locals call it, is a British Carvery that specializes in freshly carved beef, pork, turkey, and lamb.

They also make British sausages on the premises every day. The name derives from the Magical Meat Boutique in Camden Town, London, that is part of owner Phil Barnard's family heritage, Barnard Butchers. The family business goes back to the 1500s, and the boutique in London opened in 1967 and closed in 2003 when Phil's dad retired. The gastro-pub serves breakfast, lunch and dinner 7 days a week. This neat little place is only a few hundred feet from the historic Lakeside Inn and is adjacent to the railroad tracks that still take visitors on daily jaunts to Tavares and points beyond.

The first thing you notice when you enter from the front door is a realistic wall mural of the "tube" or subway in Camden. It looks so realistic you feel like you could walk into it and take the subway. The other thing that immediately catches your eye is the bar with its dozens of beer taps. MMB carries almost all of the English, Irish and Scottish beers, lagers and ales. They even have mead and stout. All of their beer is served in Imperial glasses of 20 ounces unless you request something smaller. They also have domestic beer and wine and other beverages from countries not in the British Empire like Denmark and Germany. They also have cider.
The entrees not surprisingly include many popular English standards. Breakfast is served all day and that's good because it's my favorite meal no matter the time. The Full Monty includes pork sausage, eggs, back bacon, black pudding, Heinz Beanz, grilled tomato, mushrroms, spuds, tatty scone and fried Yorkshire bread. There are many other breakast treats lke French toast, pancakes and pastry turnovers. You can dream up your own breakfast and they will make it.
Lunch and dinner treats include The Great British Burger, ribeye sandwich, English Fish n Chips, Ale Braised Lamb Shank, Bangers and Mash. Appetizers will get you started with Tandoori spiced chicken wings, sausage bites, chips, stuffed mushrooms and my personal favorite, Scotch Eggs. A Scotch egg is a hard boiled egg wrapped in sausage, covered with bread crumbs and deep fried.
They have several great salads including a roast duck and spring onion salad with Hoisin sauce and salad with British Stilton blue cheese, pears and candied walnuts. After all this great food they still offer several wonderful desserts including Spotted Dick and Custard. Spotted Dick is a pudding that Brits love that contains dried fruit.
There is a large outside patio with umbrellas and live music. Many days and evenings feature music on the patio. Owners Phil Barnard and Kate Bellamy Barnard are almost always on the job here and will make you feel like a member of their family. Magical Meat Boutique is open Monday-Friday from 700 am to Midnight, and Saturday and Sunday from 800 am to Midnight.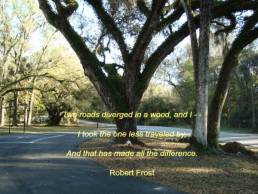 Over 65,000 followers can't be wrong. Learn about off the beaten path Old Florida, historic towns, attractions,  festivals, scenic drives and more.
Like Us On Facebook
Return to Florida Backroads Travel Home