MILTON,  FLORIDA
Milton, Florida Things To Do, Lodging, Dining, & Real Estate At End Of Article
Milton, Florida is located in the western Florida panhandle near Pensacola.  It is on US-90 and about two miles north of I-10.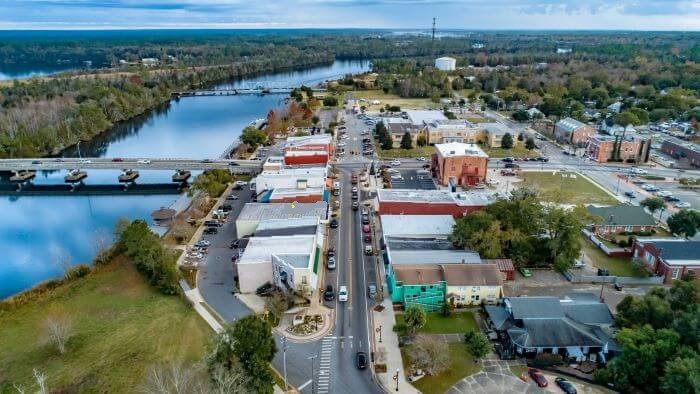 Aerial View of Downtown Milton
LoopNet
Milton has a population of about 11,000, and adjacent Bagdad has another 1,500.  The community is located on the Blackwater River.

HISTORY OF MILTON, FLORIDA
Milton is one of the oldest cities in the state, having been incorporated in 1844 before Florida became a state. 
Florida was still a territory and did not achieve statehood until the following year, 1845. Milton is now the county seat of Santa Rosa County.
Milton is on the banks of the Blackwater River, which served as the major transportation system for the materials that went into Milton's main industry back then, ship building.

This area of Northwest Florida was rich in timber and the naval stores that come from timber and were important to Florida's maritime trade.
Most of Milton's industrial and commercial capacity was destroyed by the Union Army during the American Civil War.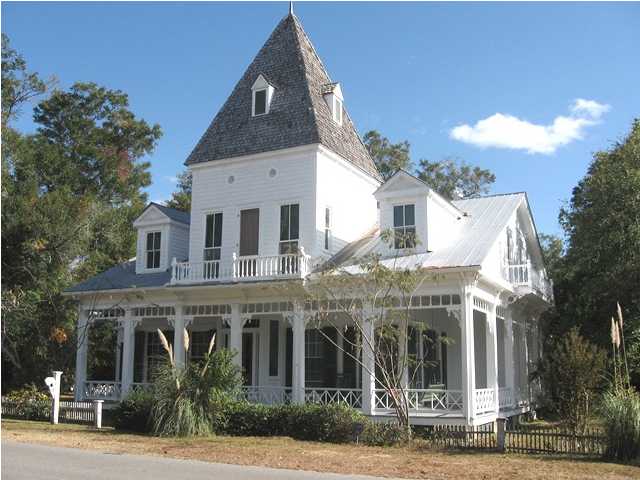 Milton, Florida Home
Many Milton people left the area and headed to Alabama.  Most of them lost their estates and land to the Union. 
The town slumbered in poverty for almost 20 years after the war.  Then the railroad came to town in the 1880s. 

The timber industries in the area boomed with new access into the rugged interior of the Panhandle. 
After lands were cleared of timber, cotton and peanuts were planted and plantation farming became the major industry.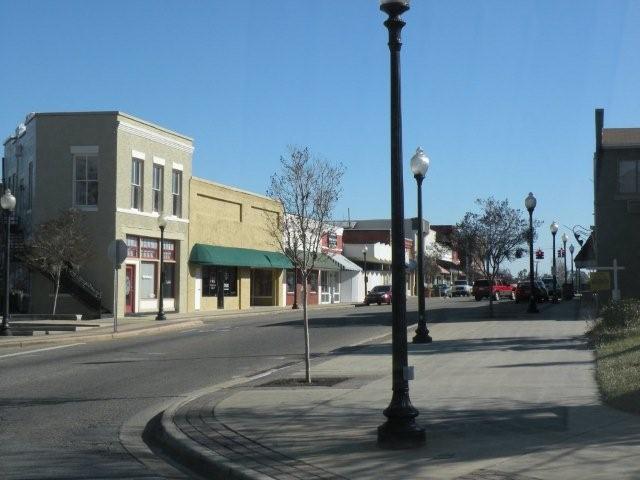 Milton, Florida Downtown
Two separate fires almost destroyed Milton in 1885 and 1892.  An even worse fire came along in 1909 which destroyed most of the remaining surviving buildings. 
The town rebuilt after those fires, and many of those buildings from the early 1900s can still be seen in the downtown section.

Bagdad is a small historic town on the south edge of Milton that has also done a good job of preserving some of their old buildings.
It began as a mill town.  Today it's a quiet town where people tend to relax and enjoy the water, canoeing, sailing and fishing.
Today's Milton is a vibrant city of more than 9,000 that supports manufacturing, small businesses and farming activities. 
The town is also a support center for the U.S. Naval Air Station Whiting Field, an important training facility for Navy pilots.
The combination of this and the nearby Pensacola Naval Air Station have given the entire area the nickname "Cradle of Naval Aviation."
Milton,  Florida: Historic Preservation
Historic preservation is important to Milton, and the City's Downtown Historic District does a good job of keeping the place looking like the authentic and historic Old Florida that it remains to this day.
Milton is a designated Florida Main Street Community and is listed on the National Register of Historic Places.
Visitors can learn about its history at attractions such as its Museum of Local History, the Imogene Theater built in 1912, and the L&N Train Depot, honoring their important rail history.
Arcadia Mill is another historical site that has a visitor center and museum.
Its rich history as a water-powered business has evolved through its early days as a sawmill, a grist mill, a textile mill, its demise after the 1855 fire, and then its further destruction during the Civil War.
St. Mary's Episcopal Church and Rectory is on Oak Street in Milton and is an example of Carpenter Gothic church architecture. 
The church was completed in 1888 and is on the U.S. National Register of Historic Places.
The church was mentioned in Frank Lloyd Wright's book, The Aesthetics of American Architecture.  
It is also listed in A Guide To Florida's Historic Architecture published by the University of Florida Press.
The area offers a rich natural environment to enjoy, for all ages and activity levels. Blackwater River State Park is a popular park for camping, canoeing, kayaking, and hiking along the nature trails.
The Blackwater Heritage State Trail is a rail-trail, over 9 miles long and with paths 12 feet wide. It has the distinction of being a designated National Recreation trail.
Paved and ideal for biking, running, skating and birdwatching, there is also an unpaved shoulder for equestrian use. It winds through the middle of Milton and out to the country and over wooden bridges.
The Yellow River Marsh Preserve State Park protects one of the last tracts of wet prairie in the state including pitcher plants, and is home to almost 20 plants and animals classified as rare and endangered.
There are no recreational facilities here but is an ideal spot for nature lovers and photographers.

RECOMMENDED MILTON RESTAURANT
Blackwater Bistro
5147 Elmira Street
Milton, FL 
Tel: 850-623-1105
This small cozy restaurant is located in downtown Milton near the Blackwater River.  The building is a renovated historic house.  You can dine inside or outside on either the patio or the shady porch. 
If you have your dog with you, it's okay but you have to keep Fido in the outside dining areas.
The menu here is American, but since it is in far west Florida there is a strong Cajun influence in many items.  Coastal Alabama, Mississippi, and Louisiana are not that far away.
Appetizers include crab cakes, chicken wings, hummus, and more.  If you feel like a bowl of soup before dinner, you can enjoy their Cajun Country Gumbo.  They have an extensive sandwich and wrap selection.
Several different salad selections are available, as well as plenty of side dishes such as mashed potatoes, green beans, lima beans, cole slaw, fruit cups, and french fries.
House specialties include Beef Wellington, Filet Delmonico, Baby Back Pork Ribs,  and offering from the sea such as Ahi Tuna, Atlantic Salmon, and Shrimp and Gouda Grits.
You can also get gourmet pizza here as well as hamburgers.  After all this, you can try their dessert menu featuring chocolate cake, cobbler, ice cream and pies of all kinds including Key Lime and Southern Pecan.
Their Sunday brunch is famous locally for its Bloody Marys and Bottomless Champagne and Mimosas.  The menu includes chicken and waffle, crab cake Benedict, Cajun omelet and a wide selection of salads and sandwiches.  

Blackwater Bistro has a full bar with beer, wine, and cocktails.  You can enjoy live music on Friday and Saturday nights.
Blackwater Bistro is open the following hours:
     1100am to 900pm        Tuesday-Thursday
     1100am to 1000pm      Friday-Saturday
     1000am to 300pm        Sunday Brunch
---
THINGS TO DO IN MILTON, FLORIDA
Blackwater River State Forest: Immerse yourself in the natural beauty of Blackwater River State Forest, where you can enjoy hiking, biking, camping, and even horseback riding through miles of picturesque trails. With its pristine forests, scenic waterways, and abundant wildlife, this expansive forest offers endless outdoor adventures.
Arcadia Mill Archaeological Site: Step back in time at the Arcadia Mill Archaeological Site, an 1800s industrial complex turned historic park. Explore the ruins of the old water-powered mill, stroll along the boardwalks, and learn about the region's rich history and the significance of the site in shaping Milton's past.
Adventures Unlimited Outdoor Center: Get your adrenaline pumping at Adventures Unlimited, an outdoor adventure park offering activities like zip-lining, tubing, kayaking, and canoeing along the Coldwater Creek. Whether you're seeking a thrilling experience or a peaceful float down the river, this park caters to all adventure enthusiasts.
Imogene Theatre: Catch a show or live performance at the historic Imogene Theatre, a beautifully restored landmark in downtown Milton. From plays and musicals to concerts and comedy shows, this charming venue provides an opportunity to enjoy local talent and experience the vibrant arts scene.
Sweet Season Farms: Embrace the spirit of the harvest at Sweet Season Farms, a family-owned farm offering seasonal activities like corn mazes, pumpkin patches, and hayrides. Bring the whole family and enjoy a day filled with farm-themed fun and wholesome entertainment.
Naval Air Station Whiting Field: Visit the Naval Air Station Whiting Field and witness the thrilling world of naval aviation. Take a guided tour, visit the museum, and marvel at the sight of training aircraft and helicopters buzzing through the sky.
Historic Downtown Milton: Take a stroll through the charming streets of Historic Downtown Milton, where you can admire beautifully preserved architecture, browse unique shops, and indulge in delicious local cuisine. This quaint district showcases the town's heritage and offers a delightful atmosphere for leisurely exploration.
Blackwater River State Park: Discover the natural wonders of Blackwater River State Park, a serene haven for outdoor enthusiasts. Canoe, kayak, or tube down the pristine waters of Blackwater River, go fishing, camp under the stars, or enjoy a peaceful hike surrounded by the park's breathtaking landscapes.
Carpenter's Park: Enjoy a day of relaxation and recreation at Carpenter's Park, a waterfront park overlooking the Blackwater River. Picnic under the shade of towering trees, launch your boat or kayak, go fishing from the pier, or simply soak in the peaceful ambiance of this idyllic spot.
Historic Bagdad Village: Visit Historic Bagdad Village, a quaint and well-preserved historic district that offers a glimpse into Milton's past. Take a self-guided walking tour to admire the charming Victorian-era homes, visit the local museum, and explore the village's unique shops and galleries.
---
---
MILTON, FLORIDA INTERACTIVE GOOGLE MAP
---
---
---

Our Facebook page has more than 127,538 followers who love off the beaten path Florida: towns, tourist attractions, maps, lodging, food, festivals, scenic road trips, day trips, history, culture, nostalgia, and more.  We post articles every day.  Please check it out and if you like it, we would appreciate a "like" from you.
---
By Mike Miller, Copyright 2009-2023
Florida-Back-Roads-Travel.com
Florida Back Roads Travel is not affiliated with or endorsed by Backroads, a California-based tour operator which arranges and conducts travel programs throughout the world.