MOUNT DORA UNITY IN THE COMMUNITY ARCHWAY
Hundreds of people walk daily on the path along the Lake Dora shoreline through Simpson Cove Park. 
Some of them may notice a small archway across from Gilbert Park overlooking Lake Dora and the Mount Dora Boating Center and Marina.
This structure is known as "Unity in the Community Archway" and honors Adrianne Lowe.   It is also known as the "Mother J Archway".
The slogan in tile above the entrance in this photo says "Unity in the Community".  Above those words is a sign that announces:
This Archway Is Dedicated
In Loving And Eternal Memory of
Adrianne Lowe. . . Mt. Dora's "Mother J"
To Her Children, She Was A Loving Mother,
Supporter, Inspiration And Source Of Their Energy.
To Her Friends She Was Always With A Smile
And Selfless With Her Time.
To Her Community, She Was An Example Of What Can
Be Accomplished When You Believe In Your Vision.
Adrianne Lowe graduated from Mount Dora High School in 1949, and went on to earn a Bachelor of Arts degree in voice from Florida State University.
She and her husband David Lowe opened Dave Lowe Realty in Mount Dora in 1974.  She was also a City of Mount Dora Council member from 1991 until 2000.  She died at the age of 69 in 2001.  Her husband preceded her in death in 1990.
The six columns supporting the roof of the pavilion are covered with 750 hand painted ceramic tiles created by local school children inspired by songs from the musical "A House of Love".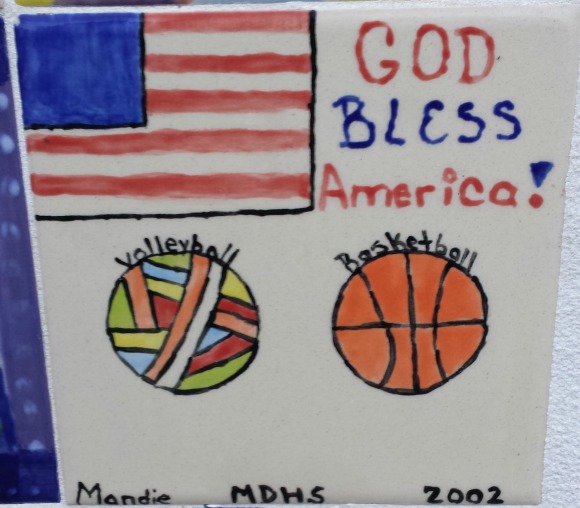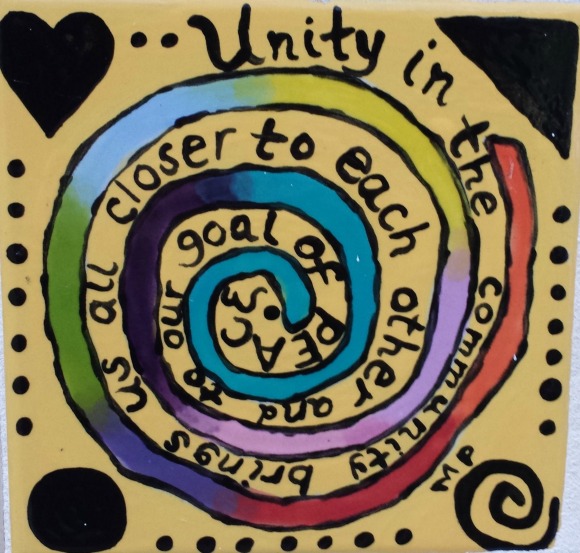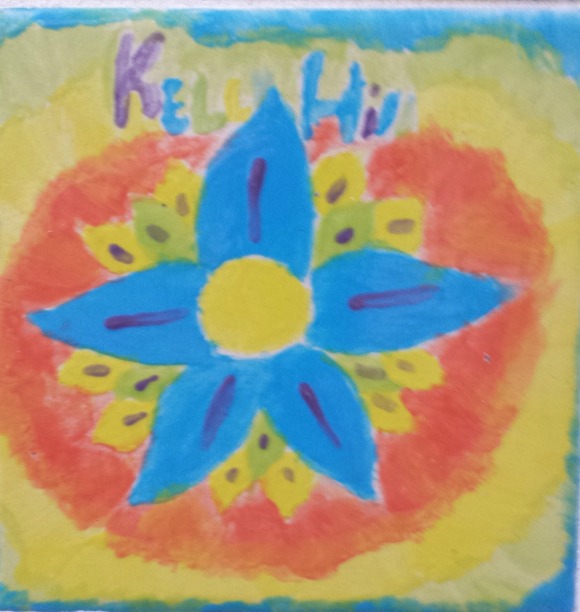 Mother J is a central figure in the musical who is motivated by her love of people and the loss of her son.

The musical was created by Mount Dora resident Mickey Carroll.  Mickey is a well known musician, composer, and performer who founded Mother J Productions in 1997. 
This company received two arts and humanities awards from the State of Florida.  The first one was for involving the community in producing "A House of Love".
The second was for inspiring the "Unity In The Community" archway.
The awards were presented to Mickey Carroll by the First Lady of Florida, Columba Bush, and former Florida Secretary of State, Glenda Hood.
It is obvious the community loved Adrianne Lowe and considered her their "Mother J".
---
---

Our Facebook page has more than 128,577 followers who love off the beaten path Florida: towns, tourist attractions, maps, lodging, food, festivals, scenic road trips, day trips, history, culture, nostalgia, and more.  We post articles every day.  Please check it out and if you like it, we would appreciate a "like" from you.
---
By Mike Miller, Copyright 2009-2023
Florida-Back-Roads-Travel.com
Florida Back Roads Travel is not affiliated with or endorsed by Backroads, a California-based tour operator which arranges and conducts travel programs throughout the world.