PYTHON HUNTING TRIPS IN FLORIDA
By  Mike Miller July 13, 2023

Florida python hunting may soon be considered a noble public service as well as the adventure of a lifetime. 
The Florida Fish and Wildlife Conservation Commission works with public and private partners to capture and humanely kill these giant snakes.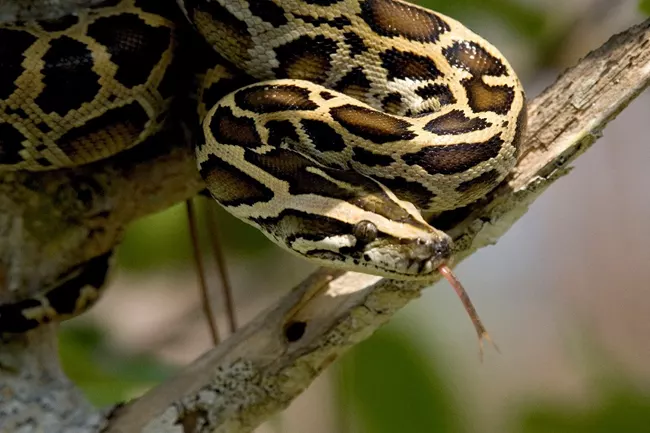 Burmese Python
National Park Service
Burmese pythons are not native to Florida.  They are from Southeast Asia and were imported into the United States as exotic pets. 
Many of them were sold in Miami pet shops in the 1970s and 1980s.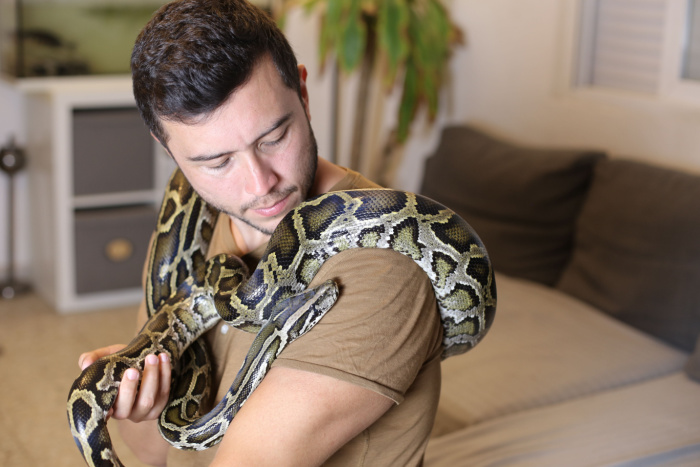 Man At Home With Python
Shutterstock
These pythons can grow to huge sizes, up to 20 feet long. When that happens many pet owners release their beloved snakes into the Florida Everglades, just a short drive west of Miami.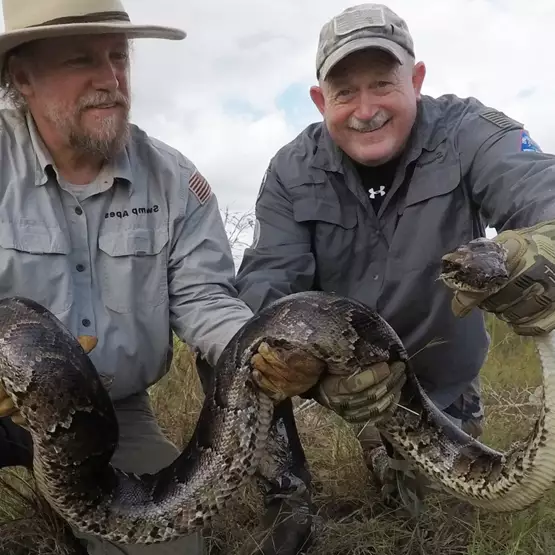 Florida Fish and Wildlife Conservation Commission Python Action Team
The first python captured in the Everglades was in 1979, but most experts believe they were around long before that but not in large enough numbers to cause big problems.
A popular theory is that Hurricane Andrew in 1992 destroyed a private python breeding facility on the edge of the Everglades in the area west of Miami.  Not everyone agrees with that theory because nobody seems to know what the facility was named or where it was located.
The breeding population had not yet reached the critical point where these invasive pythons could overwhelm the native wildlife.

In any event, the number of pythons in the Everglades seems to have increased dramatically since Hurricane Andrew.
From left, Ian Easterling, from the Conservancy of Southwest Florida and amateur Burmese snake hunters, Jake Waleri and Stephen Gauta display a world record 19 foot Burmese python, Wednesday, July 12, 2023 caught by Waleri and friends in the Big Cypress National Preserve on July 10, 2023.  Waleri and several friends caught the large snake.  They brought it to the Conservance of Southwest Florida to have it officially documented.  Andrew West/The News-Press
These invasive predators from whatever source headed into the swamps and have been a menace ever since.

The video below shows a typical python hunt.
Pythons are now ravaging Everglades National Park, Big Cypress National Preserve, and private lands surrounding the Everglades.
Nobody seems to know how many invasive burmese pythons are out there because there is no reliable way to take a survey. 
Their coloring makes them hard to see as they rest or slither through the marshy wetlands.
215 Pound Python in Florida
The Conservancy of Southwest Florida
A female python can release from 50 to 100 snake eggs a year, and some estimates of the adult population range up to 100,000.

These snakes are wiping out the population of small mammals and other native species in the Everglades. 
The racoon, possum, and bobcat numbers are down more than 90% since they began to be prey for this hungry invasive species.
Foxes and rabbits have all but disappeared. Wading birds and even deer have been found inside a killed python's digestive system.
The State of Florida has removed all barriers to hunting python. They even set up bounty programs. Hunters can work without a permit or hunting license.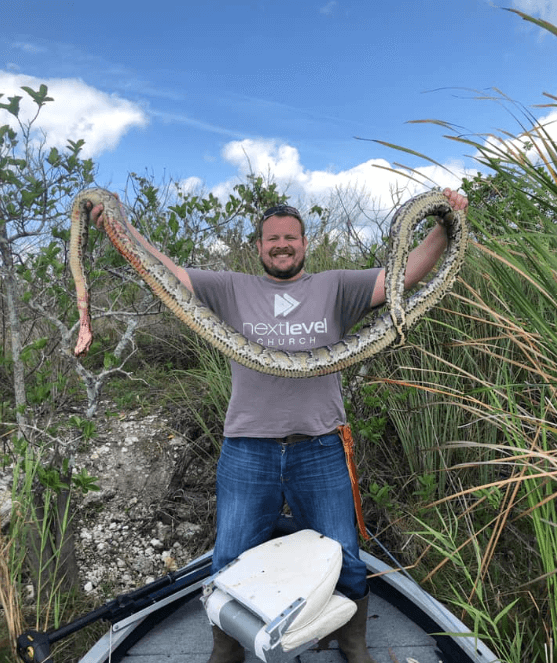 Python Hunter with Snake
Python Hunting in Southern Florida
The only restrictions on hunting these snakes is to kill them in a humane manner.  The South Florida Water Management District's Python Elimination Program has guidlines on this matter.
It is not advisable to go after these huge snakes unless you are well trained in their habits and methods of capture.
The video below will give you an idea of what python hunting is all about. The hunting group is called the Swamp Apes.
If you would like to be part of helping get rid of these destructive menaces, there are several places where you can go on a tour with professional python hunters and learn what it's all about.
---
SOME PYTHON HUNTING TRIPS
---
THE FLORIDA PYTHON CHALLENGE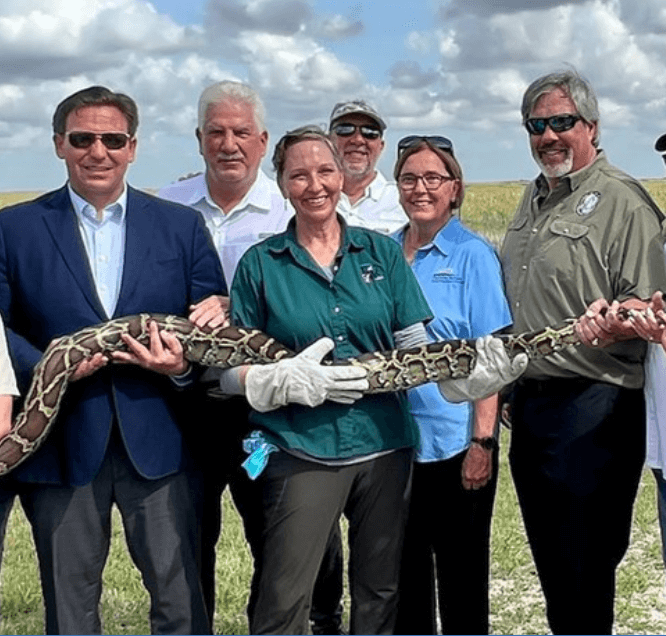 Governor Ron DeSantis and Friends with Snake
The Florida Fish and Wildlife Conservation Commission (FWC) has an annual Florida Python Challenge to hunt Burmese pythons.
The event is usually in August.
This exciting yearly event brings experts and novices together to hunt the snakes. In addition to helping the Everglades by getting rid of these invasive snakes, the participants can win prizes.
You don't need a license to hunt Burmese pythons, but if you are under 18 your parent or guardian will have to go with you on the hunt.
There are two categories of hunters:  professional and novice.
People who have had experience hunting pythons and been commissioned by the state register as professionals. Everyone else should register as a novice.
The prize amounts are:
Most pythons grand prize: $2500
Most pythons second place prize: $750
Longest python grand prize: $1500
Longest python second place prize: $750
Veterans and active-duty military personnel are eligible for additional prizes.
Before registering for the event, participants must complete an online training course about correctly hunting Burmese pythons.
The training course includes a quiz and participants must get at least an 80% score to register for the event. 
More information at Florida Python Challenge.
---
PYTHON HUNTRESS GUIDED PYTHON HUNTS
P.O. Box 371
Marco Island, FL 33146
Amy Siewe, aka Python Princess
Amy Siewe is the Python Huntress and is one of 100 state-contracted snake hunters who operate in the Florida Everglades.
She has captured and killed more than 400 pythons, the longest snake being 17 feet 3 inches and weighing 110 pounds.
For the record, Amy is only 5'4" and doesn't appear to weigh a whole lot more than her biggest snake catch.
She is a professional python hunter who will take you to one of her special hunting spots in the Everglades accessible only by boat.
Amy will give you strategies and tips of he trade.  You can pay her for one guide hunt and be ready to go hunt pythons by yourself in the future.
The cost of Amy's hunts is $1500 for up to 3 people.  You can contact Amy in advance if you have more people.
The hunts are always weather dependent, and last 4 to 6 hours, and start as early as 8:00 AM.  
Amy not only catches pythons, she uses the snakes to create various products she sells.  You can buy skins in all kinds of color schemes, sizes, and shapes.
She also sells watch bands, bracelets and more, all made of python skin.
Learn more at Python Huntress.
You can see Amy in action in the video below.
---
---
WOODS TO WATERS
Fishing & Hunting Guided Adventures in Florida
772-302-2592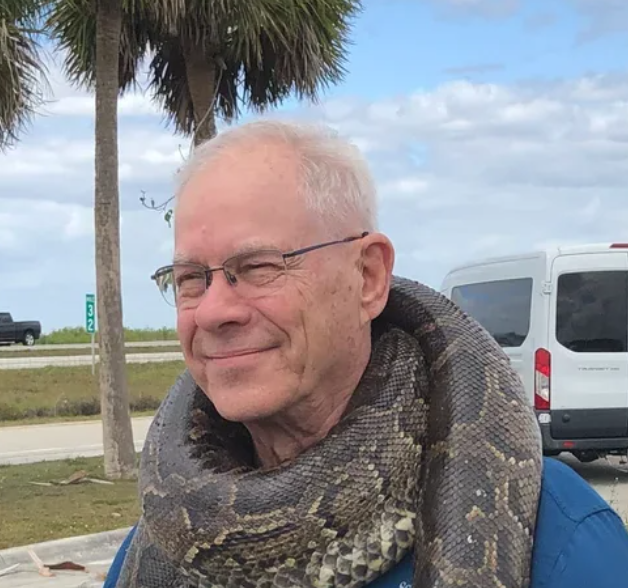 Happy Man With Python Necklace
This group takes python hunters by boat or electric bike into the Everglades to  track down trophy pythons. 

Woods To Waters has python hunting trips that are completely guided.
When you book with them, you'll learn fascinating facts about The Everglades and enjoy a unique outdoor adventure. 
Learn more at Woods To Waters.  
---
BILL BOOTH OUTDOORS
941-737-5931
Handling a Burmese Python
Bill Booth Outdoors
The Bill Booth Outdoors professional python hunting trips take place during the winter months in the Everglades and Francis Taylor Wildlife Management area off of the Tamiami Trail.

The guided hunting trips let you experience the excitement of hunting pythons during the months of January through March when the pythons like to bask in the sun on the levees and spoil islands.
Their tours start at 8am and use either a boat or other vehicle depending on the weather and what the snakes are up to at the moment.  The company provides free snacks and drinks during the tour. 
The preferred method of catching pythons is to grab them by hand.  If that doesn't appeal to you, the company provides a 22 caliber weapon that you can use to kill the snake.
They then skin the python and give it to you as a souvenir. Python meat has high mercury levels and is not recommended for eating.
The rates here are $1500/day for a group of up to 4 hunters, and $350 for each additional hunter.
Bill Booth is a television personality as well as a snake hunter and has been on Swamp People, History Channel, and more.  This video shows some of his python hunting adventures.
Learn more at Bill Booth Outdoors
---
SOUTH FLORIDA FISHING & HUNTING
863-801-1803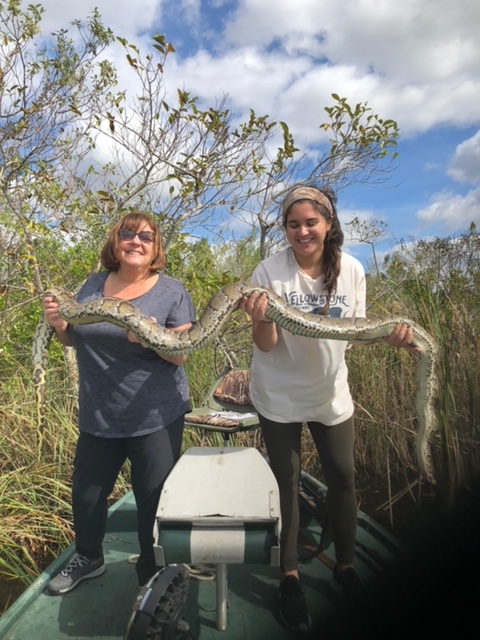 Happy Python Hunters
South Florida Fishing & Hunting
This group is in partnership with Save Natural Florida, a non-profit dedicated to saving the environment from invasive species.

South Florida Fishing & Hunting Outfitters is licensed to hunt pythons and has years of python hunting experience.  They are a professional guide service offering python hunts in South Florida. 
They are located in Okeechobee, Florida and offer premium guided hunting packages that include lodging in their private lodge.
Their hunts are good for pros and amateurs alike, and they are intimately familiar with the areas where they hunt.  Their professional guide, Charles "Skeeter" Holland, enjoys sharing his knowledge of python hunting with you.
You can hunt all night long from sunset to sunrise in a customized python hunting swamp truck.
Their base price is $990 for two persons.
Learn more at South Florida Fishing and Hunting
---
FISH & WILDLIFE FOUNDATION OF FLORIDA
P.O. Box 11010
Tallahassee, FL 32302
850-922-1066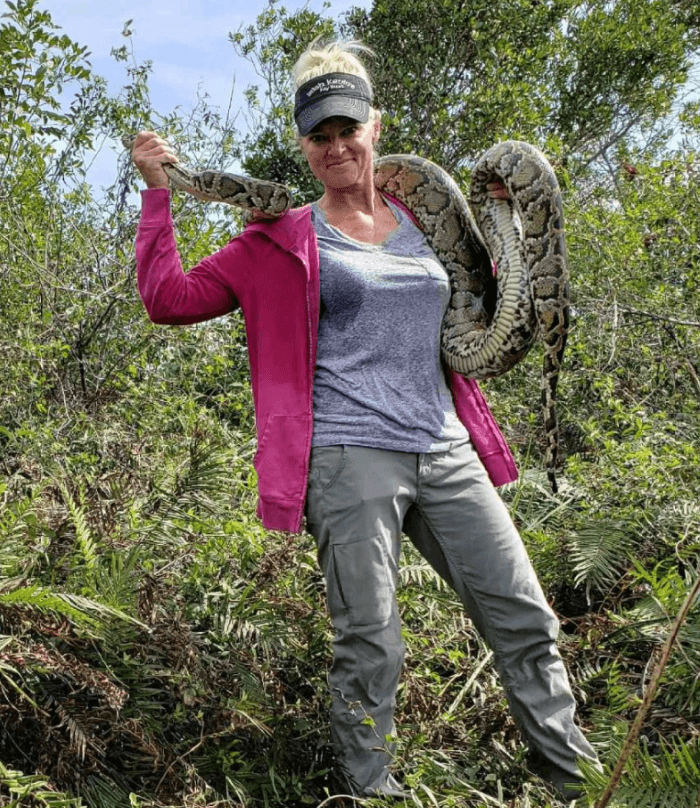 Lovely Woman With Python
Fish & Wildlife Foundation of Florida
The Fish and Wildlife Foundation of Florida has in the past had auctions called "A Night For Nature."
The winner of the auction gets to choose a python hunt among three types:
1.  Backwoods Python Hunt where you can take three of your friends on a hunt with an experienced hunter.
2.  Summertime hunt cruising levees from the back of a pickup truck at night. Most pythons are found between 10pm and 2am. 
3.  Wintertime hunt during daylight in a boat along canal banks in the Everglades. Experienced hunters look for snake hiding spots and run into the brush after them.
Learn more at Fish & Wildlife Foundation of Florida.
---
PYTHON COWBOY 
Python Cowboy With Guest and Snake
Python Cowboy
This python hunter has an interesting Youtube channel and his website mentions guided tours and has a gift shop, but not much more information.
Learn more at Python Cowboy.
---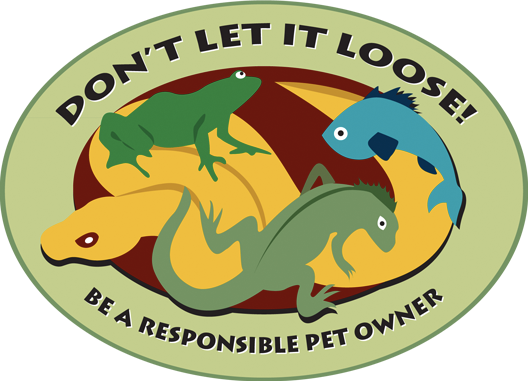 ---
---

Our Facebook page has more than 128,577 followers who love off the beaten path Florida: towns, tourist attractions, maps, lodging, food, festivals, scenic road trips, day trips, history, culture, nostalgia, and more.  We post articles every day.  Please check it out and if you like it, we would appreciate a "like" from you.
---
By Mike Miller, Copyright 2009-2023
Florida-Back-Roads-Travel.com
Florida Back Roads Travel is not affiliated with or endorsed by Backroads, a California-based tour operator which arranges and conducts travel programs throughout the world.