ROBIN'S COUNTRY KITCHEN
6689 S. Florida Avenue
Floral City, Florida 34436
Tel:  352-341-2535

By  Mike Miller October 13, 2023

Robin's Country Kitchen is in a plain building on U.S.-41 on the north side of Floral City.
The Withlacoochee Trail parallels the highway and the restaurant is tucked in between the highway and the trail, convenient for cyclists, hikers and motorists.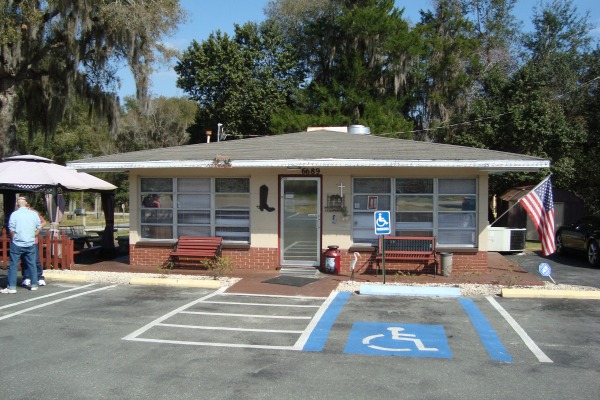 There is plenty of parking for cars and motorcycles and the bicycles don't have a problem either.
Lunch on weekends can be busy because of the large number of people who use the trail. It was busy when I dropped in, with plenty of cars, motorcycles and bicycles adorning the parking lot.
It was so crowded inside the restaurant and out on the patio that I was a little nervous about how long it would take to get my lunch.
I settled into the one remaining seat at the counter and soon realized I need not have worried. I drank my great cup of coffee and watched the owner and server handle everything extremely well.
It was obvious they were shorthanded that day, but the kitchen staff cranked out the food in short order and the server got it to the customers at once.
Robin's Country Kitchen, Dining Room
The inside of Robin's is not fancy, but it is clean and comfortable. It was obvious that a lot of the customers were regulars and represented all ages and types.
I had breakfast on my mind, but remember seeing various other items on the small menu and daily special board placed behind the counter.
There was a chicken salad sandwich, hamburger, french fries, Italian sausage soup, house salad, bacon and cheese omelet, coleslaw, grilled ham and cheese, corn beef hash, grits and various desserts including coconut cream pie. 
I had three eggs over easy, sausage patties, tater tots and silver dollar pancakes with plenty of butter and syrup, washed down with good coffee.
It was delicious and reminded me of how much I like a heart healthy breakfast.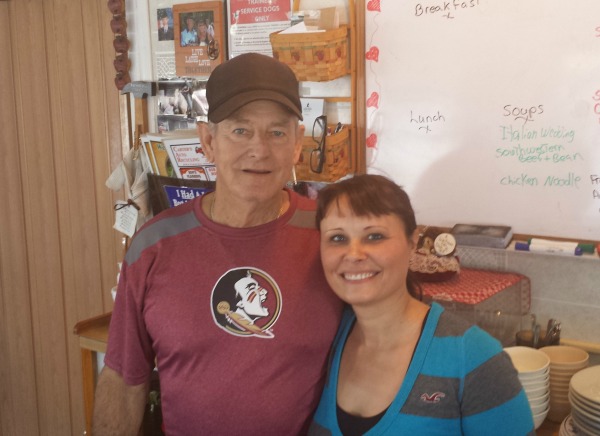 Robert and Stacy at Robin's Country Kitchen
Robin's is owned by a Mom and Pop couple, Robin and Robert. Robin was out the day I came in and everything was handled by Robert and his very capable server, Stacy, shown in the photo above. They did a great job.
Robin's is open 7 days a week from 6:30am to 2:00pm.

---

Our Facebook page has more than 129,275 followers who love off the beaten path Florida: towns, tourist attractions, maps, lodging, food, festivals, scenic road trips, day trips, history, culture, nostalgia, and more.  We post articles every day.  Please check it out and if you like it, we would appreciate a "like" from you.
---
By Mike Miller, Copyright 2009-2023
Florida-Back-Roads-Travel.com
Florida Back Roads Travel is not affiliated with or endorsed by Backroads, a California-based tour operator which arranges and conducts travel programs throughout the world.