RODERICK BILLETTE
Roderick Billette is alive and well and lives in Mount Dora, Florida.  He is a Florida native who was born and raised in Lake County, and writes adventure stories and novels.  Some of this work is in the Southern Gothic genre.  
Roderick has always been a writer, but has also worn other cloaks in his life. He has been an underground utility contractor, a foliage nursery owner and more recently a swimming pool contractor, before returning to his first love, writing.

He tried his hand as a music producer a few years ago and had the privilege of working on two albums with the very talented group,  Macha Gray. His guitar has been a constant companion through thick and thin and has helped him write song lyrics for over forty years, as can be attested by the foot-high folder on his desk.  On occasion, he has even been brave enough (crazy enough) to dabble in poetry.
Roderick's hobbies include jumping from a perfectly good airplane, horseback riding, sailing a boat with tall sails, and exploring a coral reef with a tank on his back. These simple things make him happy beyond belief.
His hometown is Mount Dora, Florida and he is a member of the Mount Dora High School Class of 1970.  After high school, he was shipped off to Clemson University where everyone involved tried, with great patience and fortitude—and without great success—to educate him.
He has had a fortunate and blessed  life, with two fabulous, professional children and four beautiful grandchildren.  He was lately blessed again when he was invited by Writers One Flight Up to join their group and grow as a writer.
He is currently working on his fourth novel, a fast paced thriller entitled "A Murder of Wolves".  A book of short stores and poetry is also in the wings.
Roderick's books include the following:
Reunion (2017)
Beginnings (2017)
The Diary of Dakotah Johnson (2017)
All of his books are available at Amazon, and you can learn more about them there or on his website, RodBillette.com.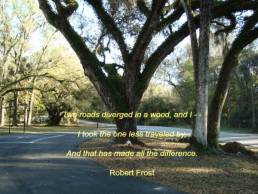 Over 65,000 followers can't be wrong. Learn about off the beaten path Old Florida, historic towns, attractions,  festivals, scenic drives and more.
Like Us On Facebook
Return to Florida Backroads Travel Home