SIX GUN TERRITORY
Six Gun Territory in the Silver Springs area east of Ocala on State Road 40 was a very popular attraction in the days before Walt Disney World.

This western themed Florida tourist attraction opened in February 1963, and entertained tourists for 20 years.
A trip to Ocala for many tourists included some time spent both at Six Gun Territory and at Silver Springs down the road.

An aerial sky ride similar to the one that would eventually show up at Walt Disney World carried guests from the main entrance into the heart of the old west town.

Tourists were entertained by simulated gun fights and attractive female can-can dancers. It was truly like a visit to the imaginary Old West that lived in our minds.

There were also realistic Indian and Mexican villages along with several carnival type rides.

A little train meandered around the park, and bad guys were always trying to hold it up for the gold payroll it carried.
Bad guys were also robbing banks, and there were lots of shootouts between the bad guys and the good guys.

Unlike the real world, the good guys always won.

The town had a courthouse, a couple of saloons, an Old West hotel, a jail, a school house and a church.
There was even a Morrison's cafeteria to feed the hungry tourists.
The buildings themselves were the real thing, not just a store front like you see in many theme parks. A trip to Six Gun was like a history lesson.
The architecture and construction looked like what we imagined the Old West really looked like. 

A couple of things would not bode well for the future of Six Gun Territory.
Walt Disney World would open a few years later in October 1971; and the popularity of western TV series began to decline.

The poor attraction hung on for a few years after Walt Disney World opened.
Finally, the buildings were deserted and it became a run down ghost town on the north side of SR-40 as you drove into Ocala from the National Forest to the east.

The ruins were demolished and removed in 1986, and a shopping center and residential development took their place.

An excellent article by Rick Allen of the Associated Press appeared in the January 10, 2011 Orlando Sentinel.
He covers Six Gun's history in great detail, and features several interviews with former guests and employees.

Here's a short video of a staged gunfight at Six Gun Territory.
---
Website Visitors Share Their Memories of Six Gun Territory
---
Jul 01, 2015
T-SHIRT 
by: TIFFANY 

I remember I had a T-Shirt that said "I WAS SHOT AT SIX GUN TERRITORY, SILVER SPRINGS, FLORIDA".

Feb 21, 2015
Remembering good ole days 
by: carpetlady1 

So fun reading these posts. When we went we saw Wally Cleaver from Leave it to Beaver. His real name Tony Dow.

My oldest sister couldn't stay away from the table until the gun fight started. I remember going into the saloon and was watching the Can-Can dancers. The sheriff walked past the table and ask if we were old enough to be drinking in that there salon!

I thought that was the funniest thing with my ROOT BEER!

I may have been 4 or 5. Afterwards, we went riding the glass bottom boat at Silver Springs . We camped with friends and brought extended family on this trip. Florida crackers all of us!

I still have some pictures .

Sep 22, 2014
Where Is Six Gun Territory Now? 
by: Tish 

I was so little I barely remember the place. It was a neat place, though, that much I do remember.

I think one of the first things that interested me in art was when the "Sheriff" took the pre-printed picture of a cowboy they handed out and turned it into a girl for me.

The train rides were cool and I remember how an Indian (Native American) would jump out at the train-- fun and a little spooky, fostering a life-long love of spooky rides.

My Dad loved the western theme and my mom loved that it was something the whole family could enjoy together. Such a shame the place closed down-- every little boy, especially, and some little girls, love cowboys, horses, and trains.

My mom was bad with directions and my dad passed on a few years back, so I'm not even sure where the place was. Anyone know exactly where and what's there now?

EDITOR SAYS

Tish, Six Gun Territory was in Silver Springs east of Ocala. It closed years ago, and all that remains are memories and a few commercial buildings where the attraction used to be.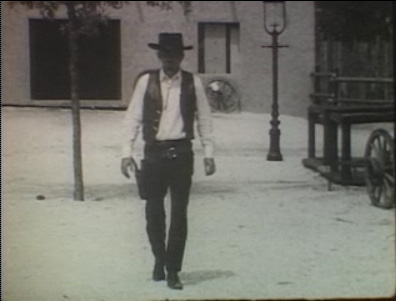 Aug 30, 2014
Those were the days....... 
by: Shawn G., S.E. Iowa 

My family used to go to the Sunshine State every year, twice a year growing up. Late sixties to the early eighties as a family. I now continue the tradition with my family.

Still amazed at this wonderful state and all it offers for free. You can see a LOT on a tank of gas. Fortunate to have family to stay with and friends from then also.

I remember the old wooden roller coaster that looked like mining cars. Two seaters I think. It seemed like you were way up there and the cars were barely as wide as the track.

Florida had so many GREAT attractions and the world itself was so much more family oriented. I LOVE the State! It will always be a special place to me and my family.

I am now 50 Yrs. old and we STILL stop for free orange juice at the State line!!

Jul 08, 2014
I saw Hoss Cartwright! 
by: Matt Stroup 

We went there in 1970, I was only7 or 8. I remember riding the steam train, and the gunfights. Dan Blocker was playing checkers in front of the general store, in his Hoss Cartwright getup.

Ahh, the good old days.

Jun 26, 2012
I Was There! 
by: Anonymous 

I have fond childhood memories of this park as well as Silver Springs. I know we visited at least 2 times. It was in the late 60's and I was about 6 or 7 years old.
The first thing I remember doing was riding from the parking lot to the park in the cable car. I'm sure it wasn't as high as the pictures in my memory, but it felt like we were almost in the clouds.
You could opt to ride the train instead, which we also did.. Besides that, I mostly remember the rides and the gun fights. Oh, and the wood sidewalks. It was great fun!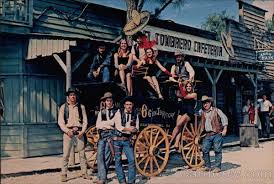 Feb 20, 2012
Six Gun Territory meeting celeb's 
by: Philip Woodham 

As a young kid of the 60's who couldn't love Six Gun Territory. Especially when Santa would bring you a cowboy outfit and holster and guns. 
Way too funny you mention meeting celebrities. I remember one time being there and my sister and I got to meet Tommy Norden who played Bud Ricks on the show Flipper. How exciting that was! Wish I still had that autograph.

Jan 10, 2011
My Memories of Six Gun Territory
by: Greg May 

One summer our relatives from Winchester, Ky, the Horns, came to see us in Orlando. I was ten years old and Aunt Jo and Uncle Cecil took me, my mom and my brother to Six Gun Territory with their two sons, Jerry and Tommy.
My brother and his cousins were fascinated by the gunfighters - but what did it for me was meeting actor Tommy Rettig who played "Lassie's" master on the popular TV show.
Back in the 60's Six Gun Territory brought in TV personalities that would sign autographs for you. I also remember my mom having a nervous breakdown riding the cable car back to the parking lot.

---
---

Our Facebook page has more than 129,275 followers who love off the beaten path Florida: towns, tourist attractions, maps, lodging, food, festivals, scenic road trips, day trips, history, culture, nostalgia, and more.  We post articles every day.  Please check it out and if you like it, we would appreciate a "like" from you.
---
By Mike Miller, Copyright 2009-2023
Florida-Back-Roads-Travel.com
Florida Back Roads Travel is not affiliated with or endorsed by Backroads, a California-based tour operator which arranges and conducts travel programs throughout the world.