SNOOK INN
1215 Bald Eagle Drive
Marco Island, Florida 34145
Tel: 239-394-3313
www.snookinn.com
Snook Inn is one of the oldest restaurants on Marco Island. It is located at the end of Bald Eagle Drive on the north side of the island in the Olde Marco neighborhood.

It is a laid back Old Florida waterfront place regionally famous its seafood.
Their menu includes a large variety of local fish, but no snook. Snook is illegal to buy or sell, so the only way to eat one is catch it for yourself.
Most Floridians swear that snook is the most delicious fish in the world, but at Snook Inn you'll have to be content with snapper, grouper, oysters, crabs and scallops.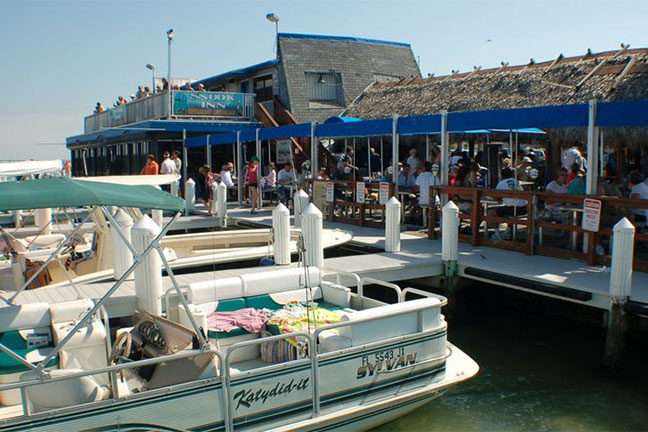 Snook Inn, Marco Island Florida
They have a lot of shrimp selections, with Gulf shrimp prepared in several different ways. One of the popular choices is Shrimp Denny, which is shrimp stuffed with scallops, wrapped with bacon and deep fried and finished off with hollandaise sauce. Another great choice is Shrimp Your Way. As the name implies, you can have them broiled, breaded, deep fried or any number of ways. Landlubbers are not ignored, either, with a petite filet mignon on the menu along with prime rib, ribeye, pork chops and island chicken.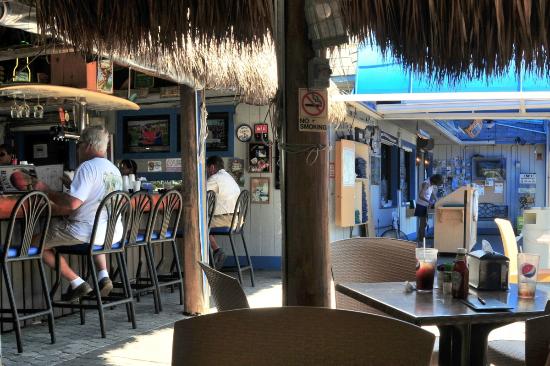 Snook Inn, Marco Island, Florida
All seats in Snook Inn have a great view, and the place is open 7 days a week from 1100am to 100pm. They also have entertainment every day of the week. They have a full service liquor bar with a lot of specialty drinks including various frozen concoctions. A nice gift shop in the restaurant offers a lot of Snook Inn and Marco Island souvenirs and other items.