THE BACK ROOM STEAKHOUSE
1418 Rock Springs Road
Apopka, Florida 32712
Tel: 407-880-7832
The Back Room Steakhouse is in a shopping center next to a Beef O'Brady restaurant. 
I have nothing against the Beef boys, but this steakhouse is not related and is definitely in the fine dining category.  They even request you wear a collared shirt.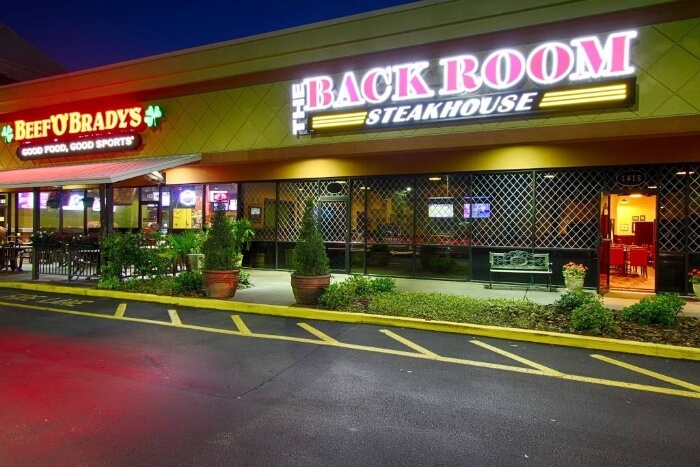 Back Room Steakhouse, Apopka, Florida
Photo by Jeffrey Scott Zipay on Google
When you enter the restaurant you can see the entire dining room and bar all at once.  It is a pleasant environment with the reception desk on the right as soon as you come in.
We had reservations for 8pm and were greeted and seated quickly and courteously in a table in a corner of the restaurant with a view of the entire room.
The Backroom Steakhouse
We were each given a menu and a separate wine menu.  The appetizers include several salads with either full or half portions available.
A favorite is The Apopka Chop, with Gorgonzola cheese, chopped tomato, egg and bacon tossed with shredded lettuce and a sweet and sour dressing.
Other appetizer choices include Sauteed Escargot, Asian Seared Ahi Tuna, Golden Fried Calamari, Cajun Dusted Shrimp Cocktail, and that good old Southern favorite, fried green tomatoes.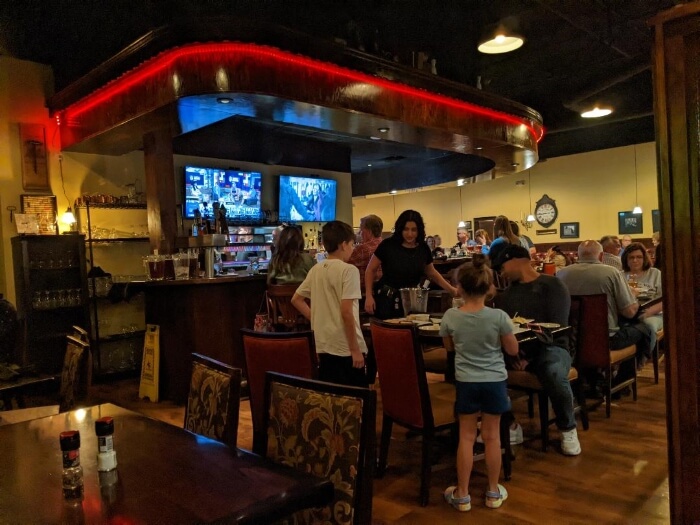 The Back Room Steakhouse
The grill menu is tantalizing unless you are a vegetarian or vegan. All beef is certified Black Angus aged a minimum of 28 days.  All entrees are served with a choice of two sides.
The first item on the menu that catches your eye is the 50oz Tomahawk Ribeye Steak, described as the absolute king of all steaks, grilled to perfection brushed with cognac compound butter.
Maybe the name comes from the tomahawk made famous by the Florida State Seminoles football team.  I'm guessing it would take a 300 pound lineman to devour that steak.
Other steaks of more moderate size include a 16oz Ribeye, 14oz New York Strip, 28oz Porterhouse, and 8oz Filet Mignon.
If beef is not your thing, you will enjoy their Sauteed Australian Lamb Chops along with many other entrees from land and sea.  These include Pork Chops, Roasted Osso Bucco, Sauteed Chicken Oscar, Norwegian Salmon Fillet, and Seared Chilean Sea Bass.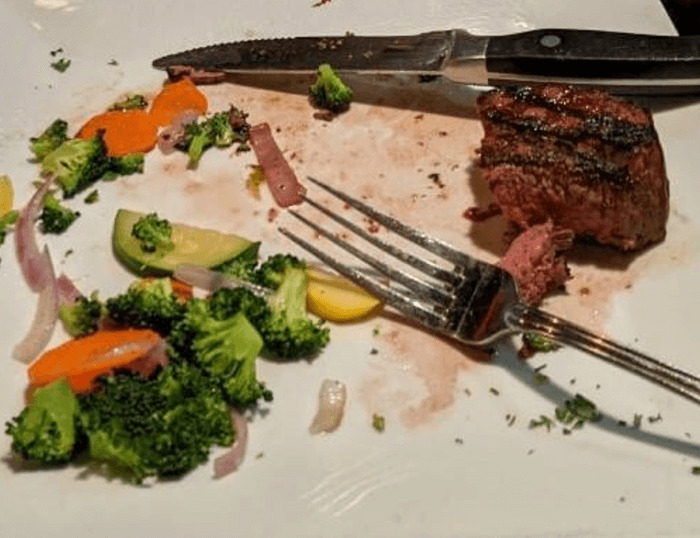 My Filet Mignon Begged to be Photographed
I had the Filet Mignon and my wife had the Chilean Sea Bass.  We both agreed that is was one our best meals ever and that is saying a lot because we have dined out often.
During our meal the owner, Ed Conlan, stopped by all tables including ours to check on how we liked the meal and service.  To me that signals a great restaurant.
If you like dessert try their Key Lime Pie, New York Style Cheesecake, Carrot Cake, or Bananas Foster.
The Back Room Steakhouse also has a full service bar with several nice TV screens.  They have a nice wine list and we had a fine Chardonnay with our meal.
The restaurant is closed on Monday and Tuesday.  Wednesday through Saturday they are open from 430pm to 10pm. On Sunday they are open from 4pm to 9pm.
---

Our Facebook page has more than 128,577 followers who love off the beaten path Florida: towns, tourist attractions, maps, lodging, food, festivals, scenic road trips, day trips, history, culture, nostalgia, and more.  We post articles every day.  Please check it out and if you like it, we would appreciate a "like" from you.
---
By Mike Miller, Copyright 2009-2023
Florida-Back-Roads-Travel.com
Florida Back Roads Travel is not affiliated with or endorsed by Backroads, a California-based tour operator which arranges and conducts travel programs throughout the world.