THE CORNER CAFE
101 West First Street
Sanford, Florida 32771
Tel: 407-322-3779
Sanford's revitalized historic downtown neighborhood extends four blocks along West First Street. The Corner Cafe is in an historic old restored building within this neighborhood.
It has many other restaurants and cafes as neighbors, along with numerous antique and gift shops. The entire neighborhood is a delight to visit.
One of the biggest delights is having lunch or dinner at The Corner Cafe. It is a small unpretentious place on the ground floor with a few booths and tables where everything looks clean and inviting.
Owner Mike O'Brien also owns a catering company, Gourmet2Go, and the restaurant's full name is "The Corner Cafe - Home of Gourmet2Go". In addition to owner Mike, Chef Willie and Server Kevin were on hand to make our dining experience a great one.
Although the cafe has an extensive sandwich and soup menu for its lunch clientele, it also has a great dinner entree selection. Some of their most popular sandwiches are The Cubano, The Italiano, The Bacon Lover, The Comforter and The Classic. These sandwiches are made with meat prepared in their own kitchen including ham, pork, bacon, chicken, tuna and more.
Their soups are all fresh and feature celery vegetable, tomato Florentine, potato, creamy mushroom and "campfire style chili". Salads are fresh too and include Cobb, Vietnamese, Greek, Beef and Bleu Cheese, Chicken and Tuna. You will find something you like to eat, along with a full selection of coffees and teas including Cappuccino, Latte, Misto and my favorite: a plain old delicious cup of coffee.
Although there is outside dining available, it was a bit hot outside so my companion and I decided to eat inside. We were there for an early dinner and were escorted to a nice booth. We zeroed in on the dinner menu that was carefully explained to us by Mike. This dinner menu features "Classic Pairings" where you can either choose one of their most popular sandwiches with soup, or an entree that will include any of the soups that typically come with the sandwiches. All of the entrees are reasonably priced at $14.95.
The dinner offerings were imaginatively titled versions of roasted chicken, braised beef, shrimp scampi, chicken Florentine, barbecued pulled pork and garlic seared summer sausage.
We each chose the "Incredibly Crispy Spanish Roasted Chicken" and I chose"Campfire-Style Chili" as my soup and my companion chose "Super Savory Loaded Potato Soup". Our dinners were great and so was the house Chardonnay that we had with dinner.
This is a place that you will enjoy visiting when you are in Sanford. I predict you will visit more than once.
The Corner Cafe is open for lunch Monday-Saturday from 1100 am to 400 pm.  Dinner on Demand is their service that provides custom dinners for groups between 10-30 people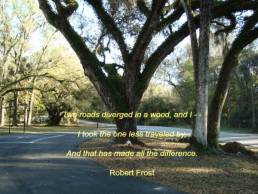 Over 65,000 followers can't be wrong. Learn about off the beaten path Old Florida, historic towns, attractions,  festivals, scenic drives and more.
Like Us On Facebook
Learn More About Sanford, Florida
Return to Florida Backroads Travel Home