THE PORCH SOUTH ORANGE
4757 S. Orange Avenue
Orlando, Florida 32806
Tel: (407) 203-2707
By  Mike Miller July 22, 2023

The Porch South Orange is located on the corner of a modern shopping center on South Orange Avenue in Orlando.  They have outside seating, but it was 100 degrees outside so we opted for the cool interior.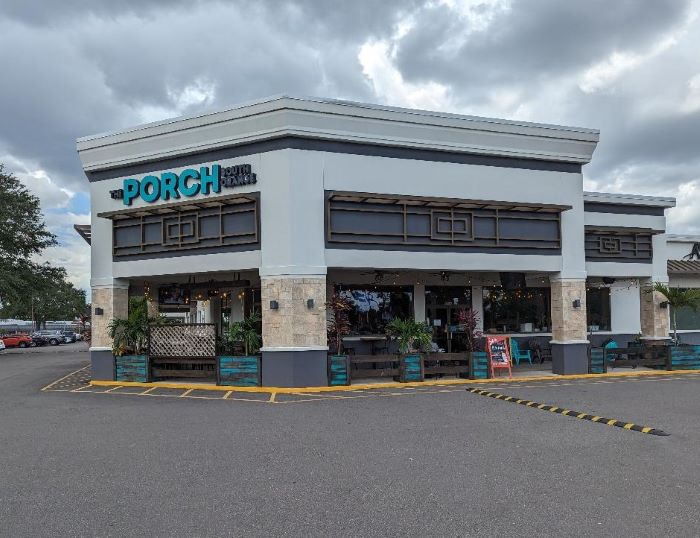 The moment you walk in you can see you are in a sports bar and you are welcomed by a friendly hostess.  You can sit at the bar, at a high top table, or a booth.
The large square shaped bar has seating all around and an abundance of large screen televisions to hold your attention. 
The bar is surrounded by tables and booths with all of them having just the right combination of privacy and a view of numerous screens.  We chose a booth and settled right in.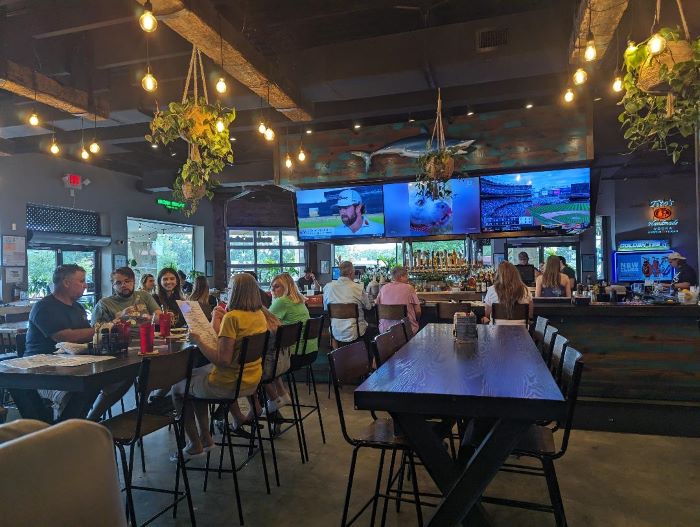 The menu has a surprisingly large selection of items for a sports bar. 
Appetizers and snacks include one of their specialties named "Porch Tenders" that are house brined and breaded chicken tenders that you can also have with wings.
They also have tator tots with house smoked barbecued pulled pork, cheese, lettuce, jalapenos, and pico de gallo along with cilantro lime crema.
They also have a large variety of appetizer spreads along with peel and eat big shrimp.
And of course they have great wings or they wouldn't be a sports bar.
All of their wing selections have been brined to bring out the flavor and increase the tenderness.  They are double cooked to make them crispy and crunchy.
The greenery here will have your favorite salad.  They have Cobb, Greek, The Wedge, Southwest Chicken, Spinach and Granola and many more.  They even have vegetarian choices.
Their sandwich selection is also large.  They have sliders they call "Speeders", Chicken and Waffles, and a Cuban sandwich served with a side of Moho Aioli.
The have so many burger selections I can't list them all here.  One of their most popular is the "Southern Mama Jama" which is topped by pimento cheese, house made bacon jam and crispy onions.
My wife and I chose from the main menu which is loaded with all kinds of choices.
We each had "Porch Tacos", with her having the chicken and me enjoying the blackened grouper.
We had an excellent server named Brooke who made us feel like were were special guests.  
Brooke, at The Porch South Orange
A bonus was that she spoke Spanish, and this helped my Columbian wife ask some good questions about the menu with answers she could understand.
The Porch on South Orange has a full service bar, and made me a fantastic Bloody Mary.  They have a large selection of wine and beer.
I strongly recommend this restaurant for great food and wonderful service.
They have these hours of operation:
Monday:  4 pm to 11 pm
Tuesday - Thursday:  11 am to 11 pm
Friday and Saturday: 11 am to 12 am|
Sunday:  11 am to 11 pm
---

Our Facebook page has more than 128,577 followers who love off the beaten path Florida: towns, tourist attractions, maps, lodging, food, festivals, scenic road trips, day trips, history, culture, nostalgia, and more.  We post articles every day.  Please check it out and if you like it, we would appreciate a "like" from you.
---
By Mike Miller, Copyright 2009-2023
Florida-Back-Roads-Travel.com
Florida Back Roads Travel is not affiliated with or endorsed by Backroads, a California-based tour operator which arranges and conducts travel programs throughout the world.