VINTAGE ON 5TH
114 N.E. 5th Street
Crystal River, FL 34429
Tel: 352-794-0004
There are several good restaurants in Crystal River.  Vintage on 5th is one of the best.
It is located in the historic downtown district in an old church built in 1940 that was completely renovated many years ago.  The restaurant specializes in fresh fish, and Crystal River has plenty of them in the fresh waters of the nearby river and the salty water of the Gulf of Mexico.
When you enter the restaurant you are given a friendly greeting by a hostess who takes you to your seat.  On her left you catch a glimpse of the cozy inviting bar and may decide to eat there instead.
While you are waiting for your meal, there are many appetizers that will help you enjoy the wait.  You can have ahi tuna with Asian slaw, Caribbean jerk shrimp, pork belly, and my favorite: truffle fries that are like crispy french fries tossed in light truffle oil and sprinkled with parmesan cheese and sea salt.
Among their seafood offerings is black grouper, and they also have a lot of Southern regional dishes like shrimp and grits, mac and cheese, and fried green tomatoes.

The land lubber is not forgotten, either, with a great selection of hand cut Angus beef steaks, pork chops, rack of lamb, pasta dishes, and duck breast.
The dessert menu includes Creme Brulee, a Root Beer Float, carrot cake, and a great Key Lime Pie.
Vintage on 5th has a great wine selection, and you can enjoy you meal inside or on the outside porch, weather permitting.
Hours of operation are Tuesday through Saturday from 5:00 pm to 9:00 pm except they stay open until 10:00 pm on Friday and Saturday.
---
---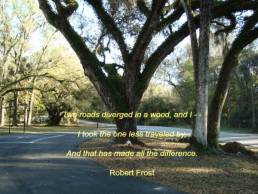 Over 65,000 followers can't be wrong. Learn about off the beaten path Old Florida, historic towns, attractions,  festivals, scenic drives and more.
Like Us On Facebook
Return to Florida Backroads Travel Home