WALT DISNEY WORLD FLORIDA
This page simplifies Walt Disney World Florida so that the average tourist can figure out what to do and how much it costs.  Walt Disney World Florida gets more visitors each year than any other theme park in the world.
It can be difficult to figure out how much things cost and what you are going to do.  There is so much to see and do that not many one day visitors are around anymore.
This web page will demystify the Disney ticketing system so you can figure out how much you are going to spend.

There are four theme parks (Magic Kingdom, Epcot, Animal Kingdom and Hollywood Studios, and two water parks (Blizzard Beach and Typhoon Lagoon) at Walt Disney World Florida.
Here is some general information about the 4 theme parks and 2 water parks that make up Walt Disney World Florida.
MAGIC KINGDOM

When Walt Disney World Florida opened in October 1971, the Magic Kingdom was the only attraction.
I was there at Grand Opening in October 1971 and still enjoy visiting.
In the early days it was simple figuring out what you wanted to do. There was only the Magic Kingdom, and a general admission ticket cost $3.75.
Ride tickets cost from 10 cents to 90 cents per ride and stayed that way throughout the 1970's.
The eight "E" ticket rides at Walt Disney World Florida in the 1970's were:
Pirates of the Caribbean
Jungle Cruise
Country Bear Jamboree
Haunted Mansion
Hall of Presidents
It's a Small World
20,000 Leagues Under the Sea
Space Mountain
All of these original eight, except for 20,000 Leagues Under The Sea, are still operating at Walt Disney World Florida and are very popular.
Many other attractions have been added, of course, in the 40 years since the Magic Kingdom opened.
Some of these include:
Astro Orbiter
Big Thunder Mountain Railroad
Buzz Lightyear's Space Ranger Spin
Cinderella Castle
Dumbo The Flying Elephant
Frontierland Shootin' Arcade
Liberty Square Riverboat
Mad Tea Party
Main Street Vehicles
Mickey's PhilharMagic
Monsters, Inc. Laugh Floor
Peter Pan's Flight
Pirates of the Caribbean
Prince Charming Regal Carrousel
Snow White's Scary Adventures
Splash Mountain
Stitch's Great Escape!
Swiss Family Treehouse
The Enchanted Tiki Room
The Hall Of Presidents
The Magic Carpets of Aladdin
The Many Adventures of Winnie the Pooh
Tom Sawyer Island
Tomorrowland® Speedway
Tomorrowland® Transit Authority PeopleMover
Town Square Theater
Walt Disney World® Railroad
Walt Disney's Carousel of Progress
---
EPCOT

The next major attraction at Walt Disney World Florida was Epcot (Experimental Prototype Community of Tomorrow), opening in October 1982. It is built on 300 acres, about twice the size of the Magic Kingdom. Its two major areas are Future World and World Showcase.
Future World has many attractions along with a lot of shows and other entertainment. Everything in this world is about technology including futuristic ideas.
Your adventure at Epcot begins with Spaceship Earth, a giant geodesic dome looming over everything else at the park's main entrance.
World Showcase is an area that has pavilions placed around the World Showcase Lagoon. Each pavilion is designed in a style compatible with the typical architecture of the country. Inside are shops, restaurants and other attractions that represent the food and culture of the 11 countries that are included in the Epcot adventure. These countries are:
Mexico
Norway
China
Germany
Italy
United States
Japan
Morocco
France
United Kingdom
Canada

As you walk around Epcot you will see a lot of live performances, including music and dance.
---
ANIMAL KINGDOM

This Kingdom is loaded with adventure and entertainment that focus on Walt Disney's interest and dedication to conservation and nature. It is a place for animal care, research and education.
1,700 animals representing 250 different species live in Animal Kingdom. Their home is on 500 acres of land specially planted and landscaped to make the animals feel at home and have healthy natural food.
The Animal Kingdom has seven distinct areas:
Oasis
Discovery Island
Camp Minnie-Mickey
Africa
Rafiki's Planet Watch
Asia
Dinoland, U.S.A.

You will see real animals in each area, and will be able to pet some of them. There is also lots of live entertainment and shows.
---
HOLLYWOOD STUDIOS

The Hollywood studios give you a look at how movies are made. It is like being able to look behind the scenes of a movie set. You will see why Hollywood is often called "tinsel town" when you see all the chrome, art deco designs and modern architecture.
You can even be part of the action in the American Idol Experience. You can also be in a parade, enter into a rock and roll fantasy experience and enjoy several fantastic attractions.
---
BLIZZARD BEACH WATER PARK

This and Typhoon Lagoon are the two Water Parks in Walt Disney World Resort. Blizzard Beach has one of the tallest and fastest waterslides in the world. There are also tamer attractions for seniors and younger kids.
The tall tale about this place is that it resulted from a freak snow storm that hit Florida. Use your imagination. It became a ski resort, but then it started to melt in the Florida heat. A brave alligator wearing a scarf and hat slid down the ski-jump after the snow was gone, and landed in a pool of melted snow. So now it has become a Florida water park with a ski resort theme.
---
TYPHOON LAGOON WATER PARK

Typhoon Lagoon has fun for the entire family, including waterslides, raft rides, surf pool with six foot high waves, and a snorkeling reef with real sharks.
The Disney story about Typhoon Lagoon says it came about after a huge mother of all storms. A fishing boat, Miss Tilly, still sits on top of Mount Mayday, a volcanic mountain, where it was tossed by the storm. Every half hour, the boat's whistle blows and you will see the volcano erupting and trying to throw off Miss Tilly.
Now that the storm is gone, Mount Mayday developed many waterslides and the entire area around the mountain is full of streams, rivers, rapids and slides.
---
TICKET INFORMATION
The price of a ticket is the same for all four theme parks, and is less for the two water parks.
A Magic Your Way Base Ticket gives each person in a visitor party entry to one of the four Theme Parks for one day for each day of the ticket. You have to pick one theme park and stay there for the day.
If you visit more than one day, the per day ticket price gets lower. For example, the average price per day for a 7-day MAGIC YOUR WAY BASE TICKET is less than half the price of the same single-day ticket.
The two Water Parks at Walt Disney World Florida have a different ticket pricing structure. Again, if you buy a one day ticket you have to choose your water park and stick with it that day.

ONE DAY TICKET PRICES FOR BLIZZARD BEACH OR TYPHOON LAGOON ARE CHEAPER, USUALLY A BIT MORE THAN HALF OF THE COST OF ADMISSION TO THE THEME PARKS
OTHER TICKET AND PASS OPTIONS
Walt Disney World Resort offers all kinds of ticket options from single day passes to multiple-day passes to annual passes. There are also special deals for Florida residents.
I recommend you go directly to the Tickets and Passes page of the Walt Disney World site for current pricing.
HOURS OF OPERATION
The times that the various theme parks and water parks open and close vary with the season. It is best to consult the official Disney source website.
If you are interested in the construction of the original Walt Disney World, the author of this article has written a book available at Amazon.
Stories by an engineer who worked on the construction of  Walt Disney World from 1968-1971.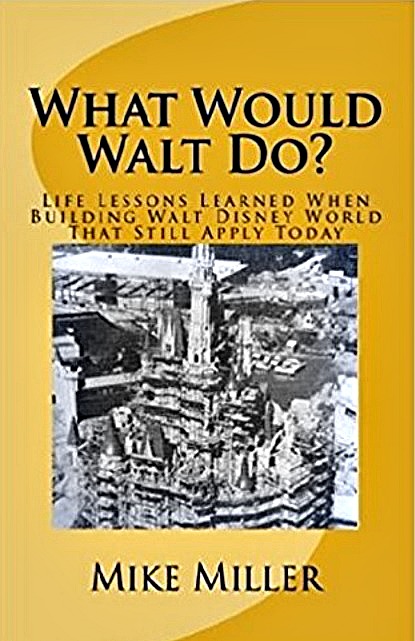 Click on the cover for a free Amazon preview.

---
---

Our Facebook page has more than 128,577 followers who love off the beaten path Florida: towns, tourist attractions, maps, lodging, food, festivals, scenic road trips, day trips, history, culture, nostalgia, and more.  We post articles every day.  Please check it out and if you like it, we would appreciate a "like" from you.
---
By Mike Miller, Copyright 2009-2023
Florida-Back-Roads-Travel.com
Florida Back Roads Travel is not affiliated with or endorsed by Backroads, a California-based tour operator which arranges and conducts travel programs throughout the world.