YELLOW DOG EATS CAFE
1236 Hempel Avenue
Windermere, Florida
Tel: 407-296-0609
Yellow Dog Eats Cafe is owned by a former CIA man named Fish Morgan. 
That's CIA as in Culinary Institute of America.  This quaint restaurant has an Orlando address but is really in Gotha, a small village west of Orlando near Windermere.
When I lived in Orlando many years ago a trip to Gotha was often on the Sunday ride agenda. There were no restaurants back then, as I recall, only the large century old ramshackle Gotha Country Store where you could get a beef jerky or a Twinkie or a saran wrapped sandwich.
There were very few houses in the area back in the day, but now it is surrounded by golf course communities like Islesworth inhabited by the rich and famous. Tiger Woods lived nearby until he crashed his SUV into a big tree. I'm not sure where he lives now; maybe a dog house.

Fish Morgan loved the old country store the moment he saw it, and the rest is history. He has created a treasure among the orange groves and homes of the rich and famous. That old country store was converted into the cafe. You have to try it, you will love it.

The food here is great, and the ambiance is super relaxed. It still looks like a big old country store, and you still order your food at the counter.

The restaurant specializes in sandwiches, soups and salads, and you will never be disappointed. The Club Elvis is a huge sandwich stacked high with tender shredded pork and also a chunk of bacon. The coleslaw is great, the kind I like, a bit bitter and not sweet at all.
The Johnny Rocket is another favorite sandwich here. It is served with honey mesquite roasted turkey, homemade raspberry melba that is spread over the bread and mixed in with the peppers. It is a wonderful mixture of spicy and sweet.

Most folks also enjoy the Classic Yellow Dog Club, another sweet and spicy combination with turkey, smoked Gouda cheese, applewood smoked bacon, lettuce and cucumber on multi-grain bread. They also have a good selection of Latin inspired wraps and sandwiches, like Classic Mexican Mutt, a wrap with wood smoked chicken or roast beef, black bean spread, lettuce, tomatoes, salsa, onions, sour cream and a blend of three gourmet cheeses.
You can dine inside or out at Yellow Dog. To help cool you during the famous Florida summers, they have fans and misters in the outside seating areas.
Yellow Dog has a good selection of wines ranging upwards from $ 6 per glass. You can also buy jams, jellies, preserves and barbecue sauces in the store portion of Yellow Dog.
Yellow Dog Cafe is open every day from 11-9.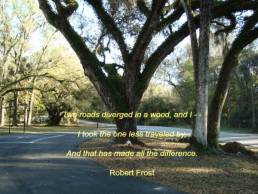 Over 65,000 followers can't be wrong. Learn about off the beaten path Old Florida, historic towns, attractions,  festivals, scenic drives and more.
Like Us On Facebook
Return to Florida Backroads Travel Home