AIRCRAFT MUSEUMS IN FLORIDA
By  Mike Miller Updated November 7, 2023

Florida is a popular destination for both tourists and aviation enthusiasts.
The Sunshine State is home to many aircraft and aviation museums that offer visitors a glimpse into the rich history of flight and development of aviation.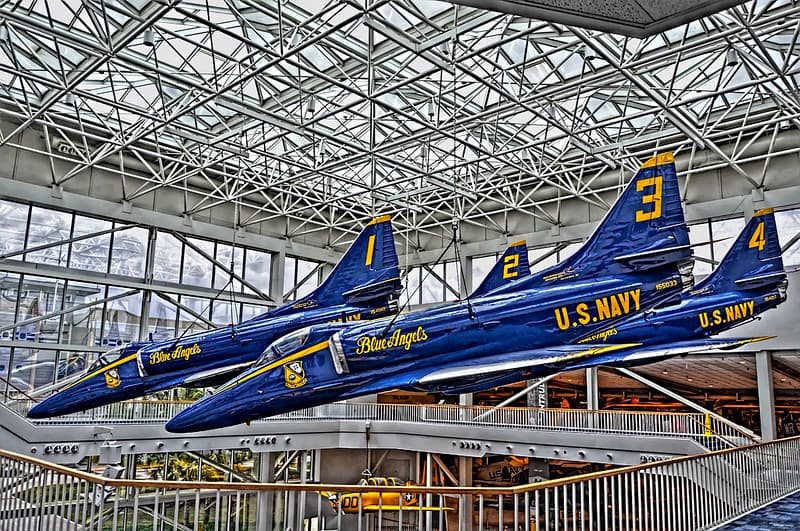 Blue Angels Planes
National Aviation Museum
From the early days of the Wright Brothers to the present day, Florida's aviation museums feature a wide array of aircraft exhibits, events, and activities the entire family will enjoy.
Whether you're an aviation enthusiast,  pilot, historian, or just someone looking for a fun day trip, Florida's aviation museums are sure to please.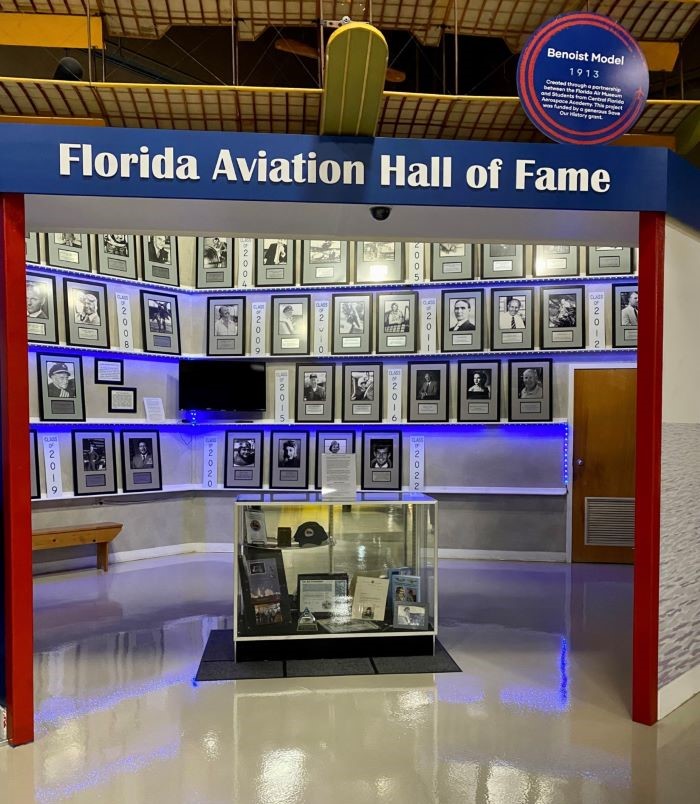 Florida Aviation Hall of Fame
Florida Air Museum
From the famous Fantasy of Flight in Polk City to the lesser-known Florida Air Museum in Lakeland, the state is home to a variety of aviation museums.
These museums feature some of the world's most iconic aircraft, interactive exhibits, and educational programs.

Aviation fans can also find a number of air shows and events throughout the state that celebrate the history and progress of flight.
So, if you're looking for a unique way to explore the world of aviation, Florida's aviation museums are the perfect place to start.
---
LIST OF AIRCRAFT MUSEUMS IN FLORIDA
---
FANTASY OF FLIGHT
1400 Broadway Blvd SE
Polk City, FL 33868
(863) 984-3500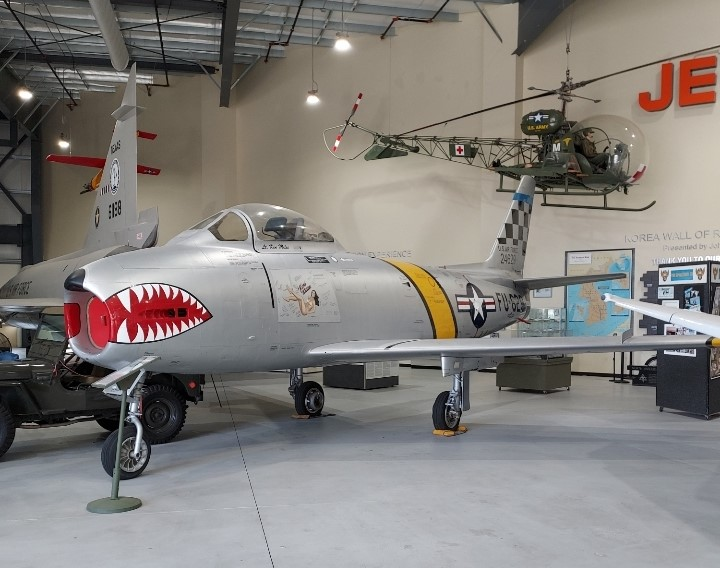 CAC Sabre
Fantasy of Flight Facebook Page
Fantasy of Flight is a museum and tourist attraction located in Polk City, Florida.
It is a 25,000-square-foot facility that houses over 140 aircraft, including vintage warbirds, commercial planes, and other rare aircraft.
You will be amazed at what you see and experience here. 
Aviation pioneer Kermit Weeks opened Fantasy of Flight in 1995 to share his love for aviation and aircraft.  It is home to the world's largest private aircraft collection.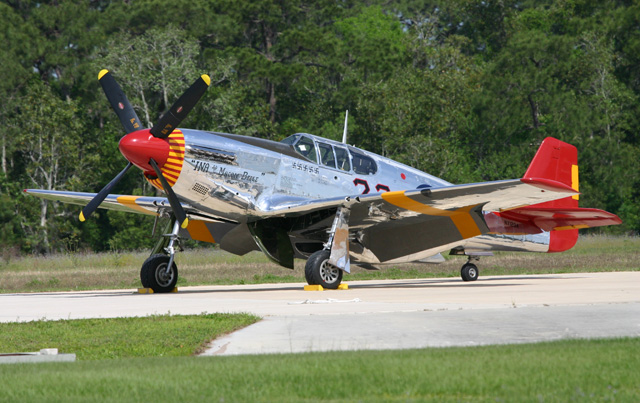 P-51 Mustang at Fantasy of Flight
This collection includes a Sikorsky S-43 once owned by Howard Hughes and the famous World War Two fighter plane, the P-51 Mustang.

There are interactive exhibits, flight simulators, and a theater.
Visitors can also take part in guided tours that take them up close and personal to the aircraft and experience what it was like to fly them.
Fantasy of Flight also offers a variety of aircraft rides and aerial experiences.
Fantasy of Flight even has its own airfield shown on the charts as "Orlampa," so named because it is about halfway between Orlando and Tampa.
---
FLORIDA AIR MUSEUM
4175 Medulla Rd
Lakeland, FL 33811
(863) 904-6833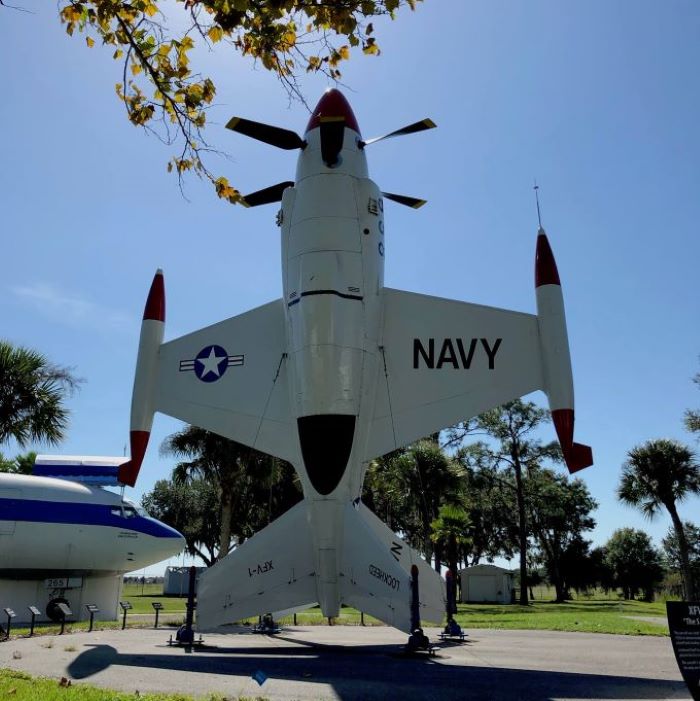 US Navy VTOL Plane
Florida Air Museum
Florida Air Museum at the SUN 'n FUN Expo Campus in Lakeland is a non-profit educational organization dedicated to inspiring, educating and entertaining people of all ages about the history and evolution of flight.
It is housed in a building on the campus of the Sun 'n Fun fly-in and expo at Lakeland Linder International Airport.   Its official name is "Aerospace Discovery at Florida Air Museum. 
The museum was designated in 2002 by Governor Jeb Bush as the official aviation museum and education center of the State of Florida.
It is also the location of the Florida Aviation Hall of Fame, whose inductees include Charles Lindbergh.
The museum offers a variety of aircraft displays, interactive learning stations, flight simulators, flight training opportunities and educational programs.
Its collection includes a 1903 Wright Flyer, early air racers, ultralights, and many different types of aircraft.
In addition to aircraft, there is a large collection of aircraft engines from World War I to the present day.  
---
WINGS OVER MIAMI AIR MUSEUM
14710 SW 128th St
Miami, FL 33196
(305) 233-5197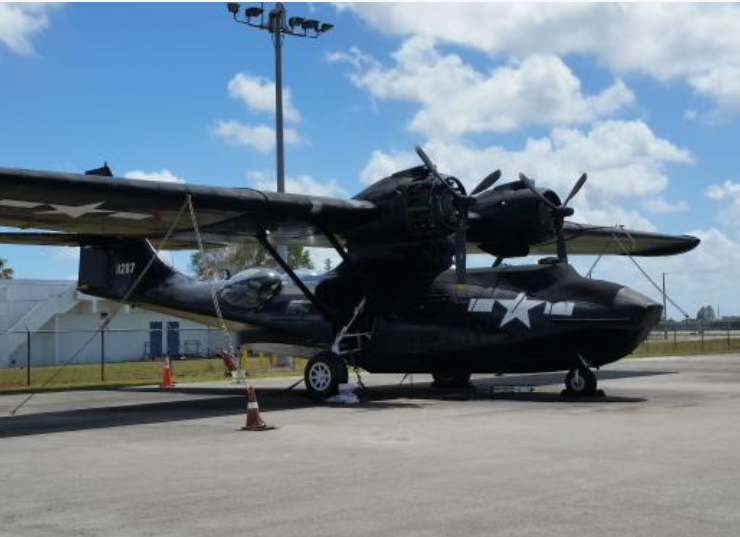 Seaplane
Wings Over Miami
Wings Over Miami Air Museum is an aviation museum located in Miami, Florida. The museum was founded in 2004 and is dedicated to preserving the history of aviation and its impact on the world.

The museum houses an extensive collection of aircraft, artifacts, and historical documents related to aviation history. 
Its aircraft collection includes a Ryan PT-22 Recruit, a well known flight training aircraft.
The museum also offers educational programs and hosts a variety of events throughout the year.
---
AIR FORCE ARMAMENT MUSEUM
100 Museum Dr
Eglin AFB, FL 32542
(850) 882-4062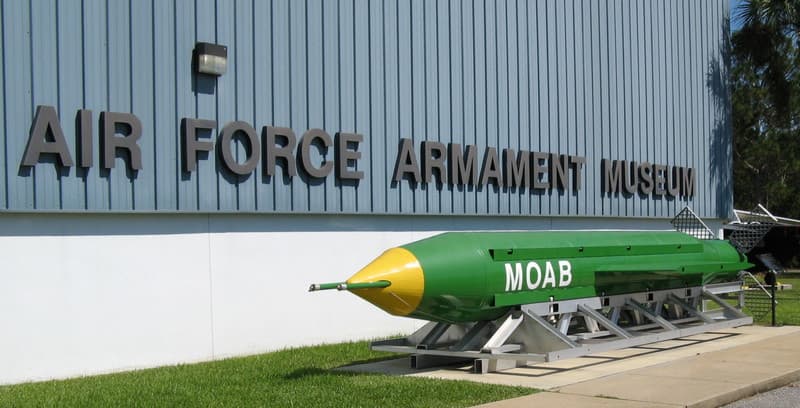 GBU-43/B Massive Ordnance Air Blast
Air Force Armement Museum
Air Force Armament Museum at Eglin Air Force Base in Florida has a collection of aircraft armament that showcases the armament of aviation warfare.
Examples range from World War One all the way through to today's super sophisticated high technology planes, guns, and bombs. 
They have a large collection of weapons and cockpit simulators that will keep an aviation buff busy for hours. 
As you drive onto the museum property you will see many aircraft on display, including the SR-71 Blackbird, the fastest plane ever built.
There are other planes from World War Two, the Korean War, Vietnam, and Gulf War eras.
There are four more aircraft inside of the museum building itself, as well as a huge variety of bombs, missiles and rockets. 
Displays include the AMRAAM and GBU bunker buster.
---
NATIONAL NAVAL AVIATION MUSEUM
1750 Radford Blvd
Pensacola, FL 32508
(850) 452-8450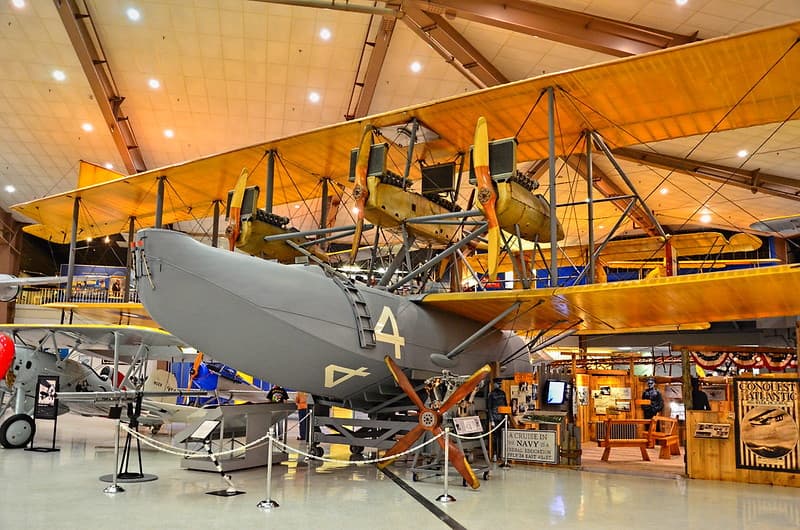 Curtiss NC-4
National Naval Aviation Museum
National Naval Aviation Museum is located at Naval Air Station Pensacola, Florida.
U.S. Navy pilots are among the best aviators in the world and their history is celebrated in this fantastic museum on Naval Air Station Pensacola. 
The museum features over 150 restored aircrafts, including some of the most historically significant airplanes ever built.
Also on exhibit are more than 4,000 other items related to aviation in the Navy, Marine Corps, and Coast Guard.
It is a great place to learn the military history of Navy and Marine Corps aviation during wartime.
The museum offers a variety of interactive exhibits, educational programs and special events.
You can sit in a flight simulator and get a feeling for what it's like to fly a naval aircraft, and you can also enjoy action packed movies in the IMAX theater. 
The Flight Deck Store has all kinds of souvenirs and mementos related to Naval Aviation, and there is also a nice restaurant.   
Visitors can explore the history of naval aviation, and learn about the people, aircraft and technology that have shaped it.
Some of the aircraft are suspended from the ceiling of the museum, giving you the feeling that you are flying among them.
All visitors to the National Naval Aviation Museum who do not possess a Department of Defense identification card or are not escorted by the holder of a Department of Defense identification card are required to enter and exit Naval Air Station Pensacola through the West Gate at 1878 S Blue Angel Parkway. 
---
DELAND NAVAL AIR STATION MUSEUM
910 Biscayne Blvd
DeLand, FL 32724
(386) 738-4149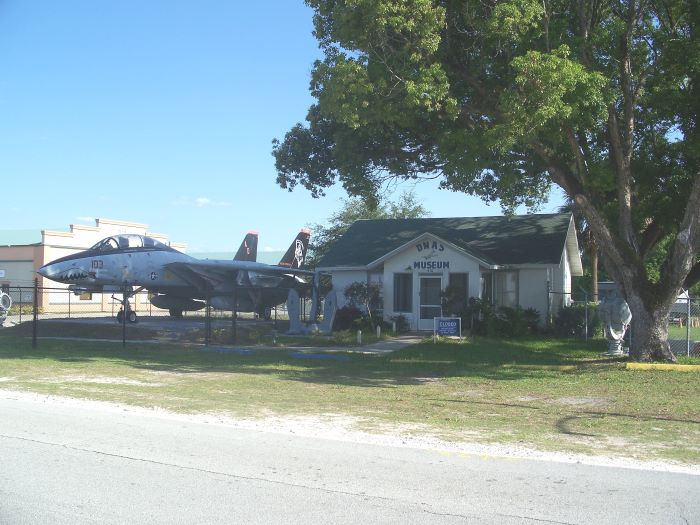 DeLand Naval Air Station Museum
DeLand Naval Air Station Museum
DeLand Naval Air Station Museum is dedicated to preserving and displaying the history of the former DeLand Naval Air Station.

The museum features aircraft exhibits, artifacts, photographs and interactive displays, as well as a library of books and magazines devoted to aviation.
The museum also offers educational programs and classes that cover the history of the base and its role in the development of naval aviation.
The museum is open to the public and is located on the grounds of the former base.
The museum building is on the National Register of Historic Places.
---
KENNEDY SPACE CENTER VISITORS COMPLEX
State Road 405
Kennedy Space Center, FL 32899
(855) 433-4210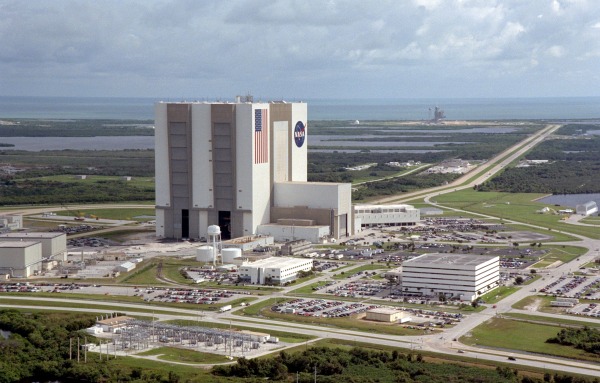 Vehicle Assembly Building, VAB
Kennedy Space Center
Kennedy Space Center is where the United States began its journey into space and continues to the present day. 
There is so much to see and do here that at least one day – and maybe two – should be set aside to make your visit worthwhile.  The KSC website lets you plan your trip in advance and choose your own itinerary.
They even give you suggestions if you have kids under 10, over 10, or if you're just an adult couple.  
The Visitor Complex features exhibits and displays, historic spacecraft and memorabilia, shows, two IMAX theaters, and a range of bus tours of the spaceport.
"Space Shuttle Atlantis" is home to the real Space Shuttle Atlantis orbiter and the Shuttle Launch Experience is a simulated trip into space. 
The visitor complex also has daily presentations from a veteran NASA astronaut. A bus tour, included with admission, encompasses the separate Apollo/Saturn V Center. 
You will be among the almost 2 million annual visitors that enjoy the complex.
---
AIR FORCE SPACE AND MISSILE MUSEUM
191 Museum Cir
Cape Canaveral, FL 32925
(321) 853-9171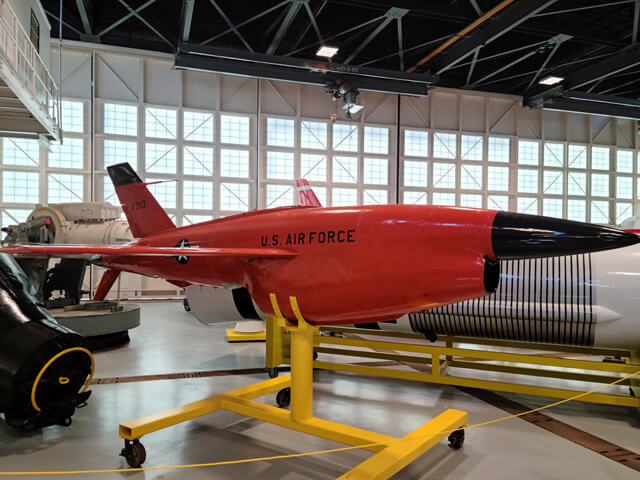 Firebee Target Drone
Air Force Space and Missile Museum
Air Force Space and Missile Museum, located at the Cape Canaveral Air Force Station in Florida, is an educational and historical museum dedicated to preserving the history of space exploration.

The museum features a wide array of artifacts, including a full-scale replica of the historic Saturn V rocket, a variety of missiles and missile systems.
Exhibits include the original Gemini-Titan II spacecraft and a large collection of photographs and documents.
Visitors can explore interactive exhibits, watch videos, and engage in hands-on activities that foster a greater appreciation for the history and science of space exploration.

The museum also offers educational programs, special events, and guided tours.
The public can only visit this museum by special bus tour from Kennedy Space Center visitor complex.  The tour takes 2.5 hours and stops at several other historic sites at Cape Canaveral Air Force Station.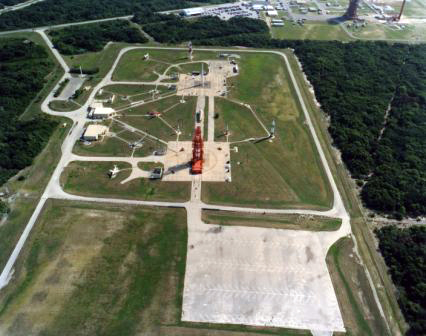 Launch Complex 26 at Air Force Space and Missile Museum
Canaveral Air Force Base
The museum opened in 1966 and includes many exhibits about the history of rocketry and space flight. The museum grounds encompass two adjoining launch complexes, Launch Complexes 26 and 5/6. 

Launch Complex 26 is the site of the first successful launch of an American satellite, Explorer I, in 1958. From 1957 to its deactivation in 1963, Launch Complex 26 conducted 36 launches. 
These launches included the three primates that led the way for future manned space flights. It also the launch site for the earliest Project Mercury missions.
It was from Pad 5 in 1961 that Alan Shepard and Gus Grissom, were launched into space.
---
VALIANT AIR COMMAND WARBIRD MUSEUM
6600 Tico Rd
Titusville, FL 32780
(321) 268-1941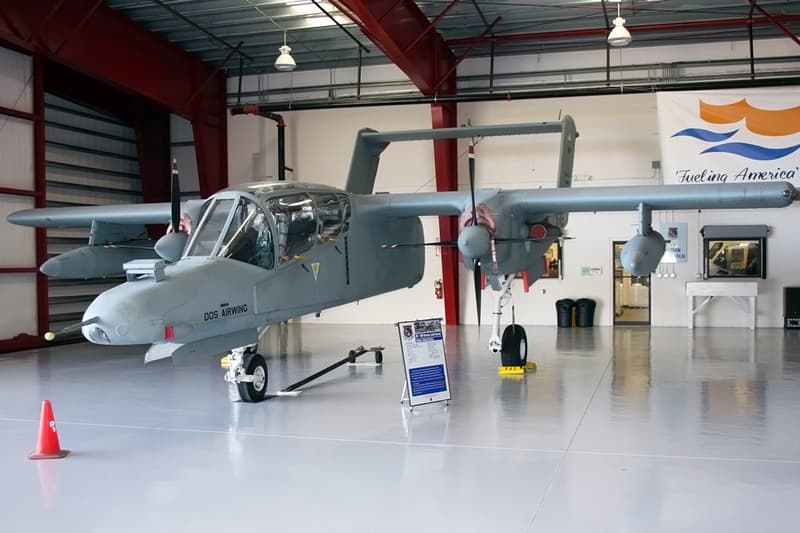 Valiant Air Command, Inc. Warbird Museum is located at Space Coast Regional Airport in Titusville.
It is a non-profit museum dedicated to the preservation and display of vintage military aircraft and related artifacts.
The museum focuses on war planes from the earliest days of aviation to the present day. 
Their collection includes more than 45 historic warbirds from the beginnings of aviation to the present day. At least 9 of these planes are privately owned and in flying condition, and their owners permit the planes to be in the collection. 
Many of these planes fly on a regular basis.  Among these is a Sopwith Camel, a DeHaviland Tiger Moth, and a TBM Torpedo Bomber. 
The static collection includes about 40 planes including a Luftwaffe Me-208,  a MIG-15, and F-8K Crusader. 
My favorite is the Beechcraft T-34 Mentor identical to the one I trained in many years ago during my Navy hitch. 
---
NAVAL AIR STATION FORT LAUDERDALE
4000 W. Perimeter Rd
Fort Lauderdale, FL 33315
(954) 359-4400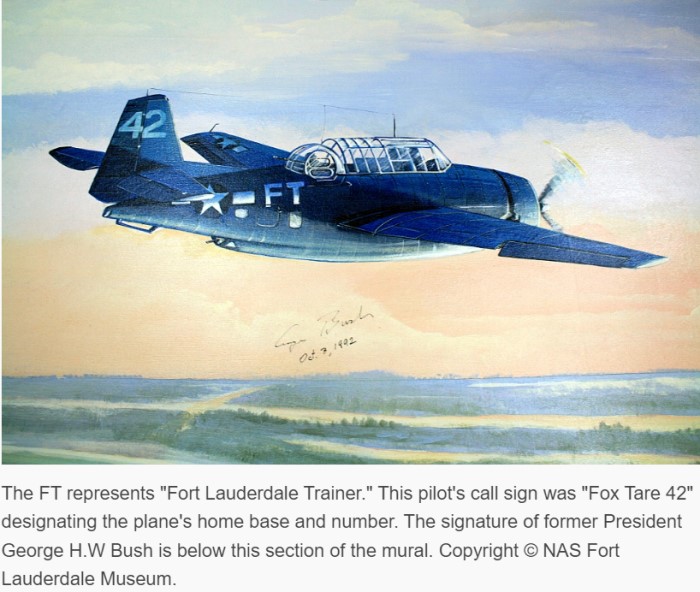 This interesting small museum is located adjacent to Fort Lauderdale-Hollywood International Airport and is on the National Register of Historic Places.
At the beginning of World War Two the airport was known as Merle Fogg Field and was aquired by the United States Navy and renamed Naval Air Station Fort Lauderdale.
It became a training base for naval aviators.  The base was the home base for Flight 19, the five Avenger aircraft that disappeared in December 1945 over what is known as the infamous "Bermuda Triangle."
Former U.S. President George H.W. Bush lived at the base to train as a torpedo/bomber pilot.
The museum has many interesting exhibits including more than 10,000 photos and paintings of aircraft, ships and people.
There is also a memorabilia room with flight gear, dress uniforms, weapons, and other artifacts.  A library has over 3,000 volumes of military history, diaries, logs, and newsletters.
---
---

Our Facebook page has more than 129,275 followers who love off the beaten path Florida: towns, tourist attractions, maps, lodging, food, festivals, scenic road trips, day trips, history, culture, nostalgia, and more.  We post articles every day.  Please check it out and if you like it, we would appreciate a "like" from you.
---
By Mike Miller, Copyright 2009-2023
Florida-Back-Roads-Travel.com
Florida Back Roads Travel is not affiliated with or endorsed by Backroads, a California-based tour operator which arranges and conducts travel programs throughout the world.