FLORIDA EBOOKS AND DIGITAL ART
I started FloridaBackroadsTravel.com back in 2009.  During the years since then I have written almost 800 articles, many of which are still available on the website.
Those articles have been incorporated into the many books I've published since the website began. Some of the articles have  also been combined into PDF books available for sale on this page.
All of the books below are in PDF format and can be read on almost any device.
---
---
---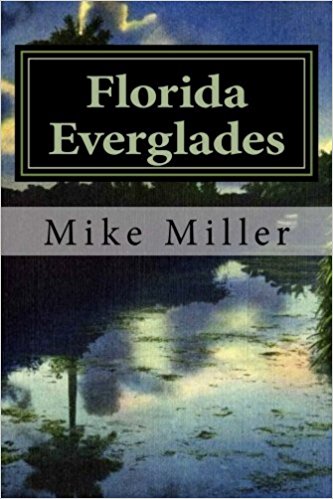 $1.99
FLORIDA EVERGLADES is a short book designed to be read in an hour or less. The mission of the book is to help interested people learn the basics of the problems facing the Florida Everglades.
Many years of development, agricultural activity and neglect have created a situation that endangers the viability of this valuable natural resource.
The book explores the history of the natural ecosystem and shows what happened to upset the natural order of things. It also presents a hopeful look at what is being done to reverse the damage done over the past 130 or more years.
FLORIDA EVERGLADES is written by Mike Miller, a Florida resident since 1960. Mike is a graduate civil engineer from the University of Florida and has traveled all over the state on both business and pleasure. 



---
---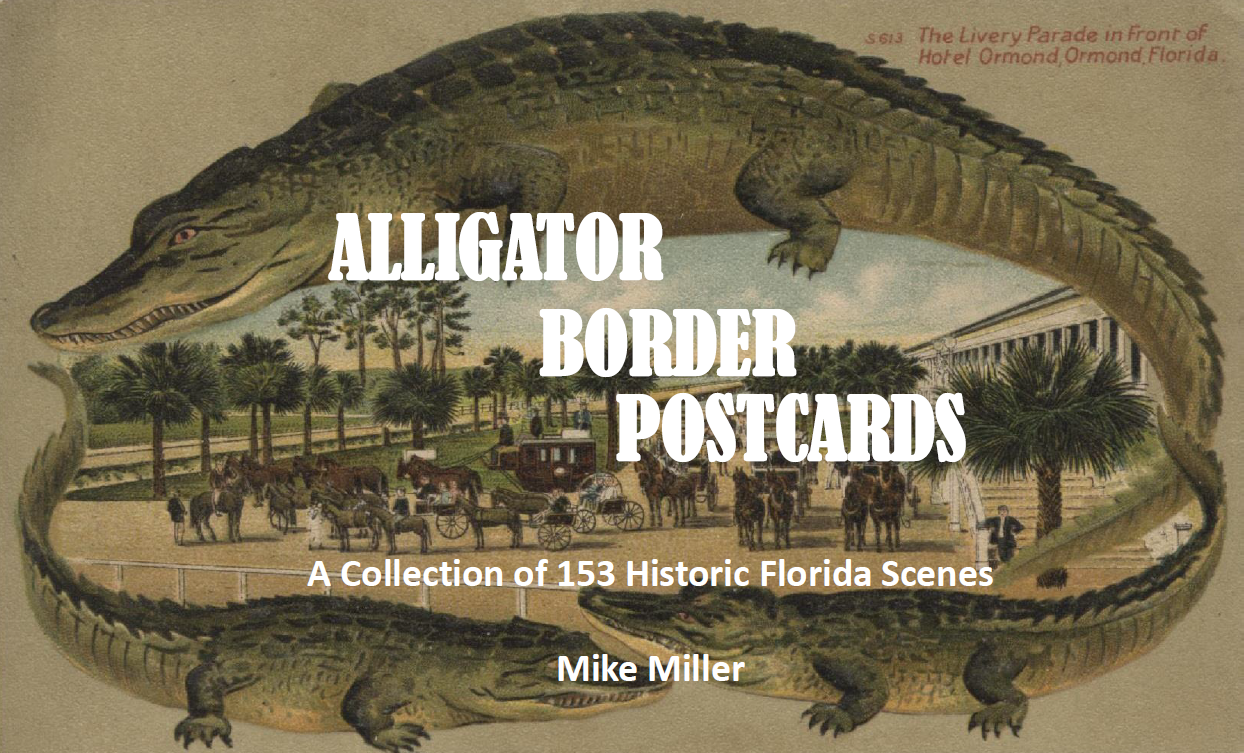 $9.99
Alligator border postcards are very collectible and getting harder to find each year.  I found a collection of more than 150 such cards and digitized them to put this book together.
I believe the originals of these postcards were printed in Germany and date back to 1908 when there were very few large cities in Florida.  Some of the cards show how hard life could be for many people in that time of more than 115 years ago. 
The Civil War was over, but Florida was a Southern state with a plantation economy and newly freed black workers. Be warned that some of the postcards have an unfortunate racist viewpoint.
The places and number of postcards are as follows:
Agricultural Scenes  34 Postcards
Daytona Beach          9 Postcards
Jacksonville             24 Postcards
Key West                 11 Postcards
Miami                        9 Postcards
Ormond Beach           6 Postcards
Palatka                    10 Postcards
Palm Beach              14 Postcards 
St. Augustine           15 Postcards
Tampa                     21 Postcards 
You will receive a PDF Ebook with all images to your email address.



---
---
---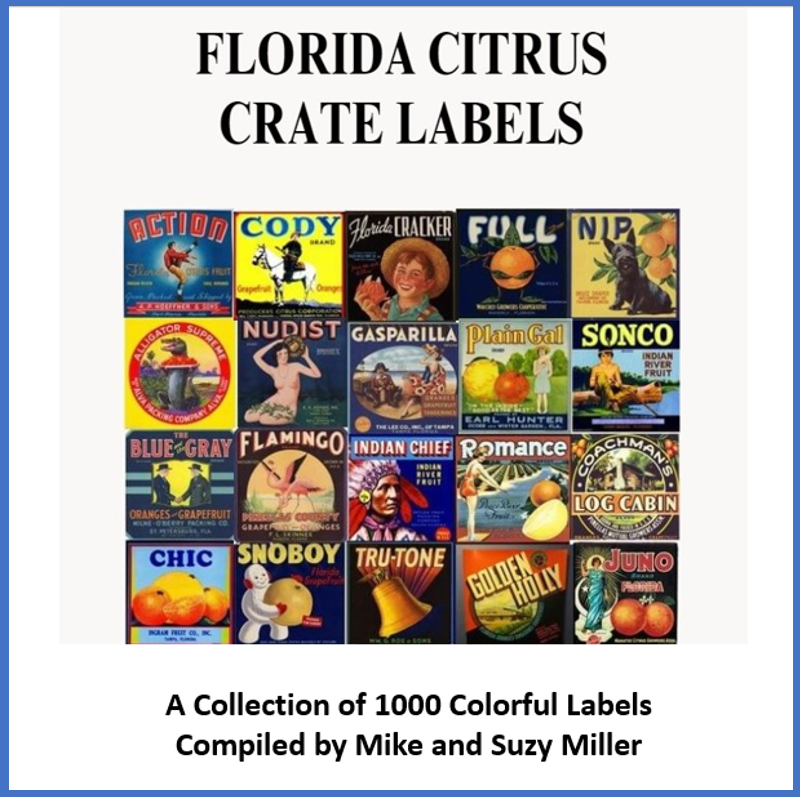 $19.99
This book is a digital collection of more than 1000 Florida citrus crate labels.
The use of artistic labels on Florida Citrus Crates is not only a practical means of identifying different brands of fruit but also a delightful window into the rich history of the citrus industry.
These labels, carefully designed and adorned with vibrant illustrations and typography, serve as miniature works of art that capture the essence of the citrus groves and the regions they represent.
Each label tells a story, reflecting the unique characteristics of the fruit and the heritage of the growers who cultivated it.

By enjoying the visual feast of these labels, one can trace the evolution of the citrus industry in Florida. From the early 20th century to the present day, the labels showcase the changing trends in design, advertising, and branding techniques.
They provide a glimpse into the different eras, depicting images of lush groves, blossoming trees, and sun-kissed landscapes.
These labels not only serve as a testament to the quality of the fruit within the crate but also as historical artifacts that celebrate the legacy of Florida's citrus industry.
You will receive a PDF Ebook with all 1000 images to your email address.  Each image is on a separate page.



---
---

Our Facebook page has more than 128,577 followers who love off the beaten path Florida: towns, tourist attractions, maps, lodging, food, festivals, scenic road trips, day trips, history, culture, nostalgia, and more.  We post articles every day.  Please check it out and if you like it, we would appreciate a "like" from you.
---
By Mike Miller, Copyright 2009-2023
Florida-Back-Roads-Travel.com
Florida Back Roads Travel is not affiliated with or endorsed by Backroads, a California-based tour operator which arranges and conducts travel programs throughout the world.