APALACHICOLA,  FLORIDA
July 8, 2021
Apalachicola, Florida Things To Do, Lodging, Dining, & Real Estate At End Of Article
Apalachicola, Florida is the county seat of Franklin County.  The population of this little town is about 2,500, and it is 80 miles southwest of Tallahassee on the Gulf of Mexico. 
It is located at the mouth of the Apalachicola River on Apalachicola Bay.
HISTORY OF APALACHICOLA, FLORIDA
The name Apalachicola comes from the tribe of native Americans who inhabited the area thousands of years ago. Some politically incorrect people called these native Americans Indians.

The area was first called Cottonton because of a trading post that handled cotton, one of the agricultural staples of the area before the Civil War.
After that, it became known as West Point, and while Florida was still a territory in 1831 the town received its present name.
In the pre-Civil War years before the railroad reached the Gulf states, Apalachicola was the third busiest port on the Gulf of Mexico, ranking behind only New Orleans and Mobile.
In the late 19th and early 20th centuries, Greek immigrants established the sponge trade as a leading industry in town.
APALACHICOLA, FLORIDA TODAY
Apalachicola is today still very much a fishing town, with shrimp being the primary offshore catch.

DEMISE OF APALACHICOLA OYSTER FISHERIES
Until recently, more than 90% of Florida oysters come from Apalachicola Bay. The town hosts the Florida Seafood Festival every year that attracts thousands of seafood lovers.

Today, in 2021, the oyster fishing industry is dead. 
The Florida Fish and Wildlife Conservation Commission voted to shut down this iconic fishery after years of drought and pollution polluted the wild oyster beds.
It may be several years until the fisheries are reestablished.
Apalachicola has done a wonderful job of preserving many of its old historic buildings. 
The city has more than 900 historic homes and buildings listed in its extensive National Register District.

Apalachicola has a strong sense of place.
Its vibrant history and rich maritime culture are still very much on display with a working waterfront including shrimp and oyster businesses mingling with gift shops and restaurants in restored historic buildings.

An Apalachicola physician Dr. John Gorrie, discovered the cold-air process of refrigeration and patented an ice machine in 1850.
He was looking for a way to lower the temperatures of fever patients.
His invention became the basis for modern air conditioning. A replica of his ice machine is on display in the John Gorrie Museum.
Apalachicola is also home to the Dixie Theater that has become one of the artistic centers of Franklin County with community theater performances.
The theater building was built in 1912 and fully renovated and reopened in 1998.

Today's Apalachicola is one of the few remaining "Old Florida" places in the modern Sunshine State.
The State of Florida has recognized several Apalachicola landmarks as Heritage Sites.
APALACHICOLA, FLORIDA HERITAGE SITES
Apalachicola Historic District
Bald Point State Park
Cape St. George Lighthouse
Crooked River Lighthouse
Fort Gadsden Historic Memorial

John Gorrie Museum State Park
Ormon House
Raney House Museum
St. George Island State Park
Trinity Episcopal Church
---
APALACHICOLA HISTORIC SQUARES PROJECT
An example of this city's dedication to its history is the Apalachicola Historic Squares Project.
A volunteer non-profit group (Historic Apalachicola Foundation) is currently spearheading a project to restore Apalachicola's original rectilinear grid of streets and town squares.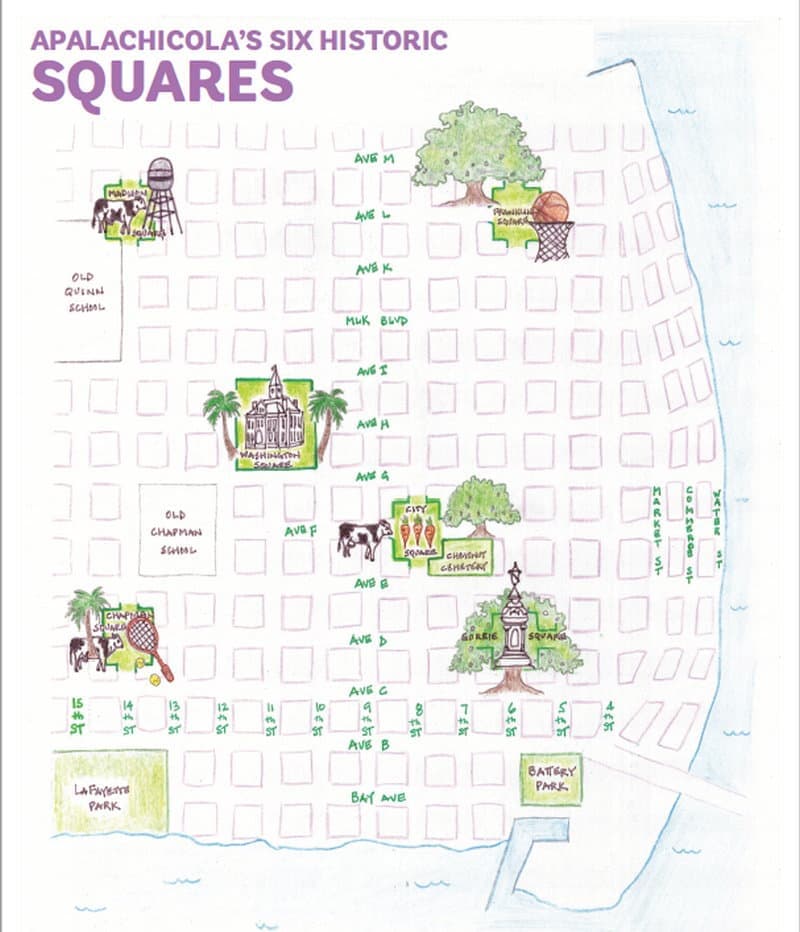 ---

All six of the city's town squares are within the Historic District established by the U.S. National Register of Historic Places.  Their names are Washington Square, Franklin Square, Madison Square, Chapman Square, Gorrie Square, and City Square.
Project donations can be made on Apalachicola's Historic Squares, which is their GoFundMe fundraising site.
For additional details, the group managing the project can be reached at restoresquares2020@gmail.com

INTERACTIVE MAP OF APALACHICOLA, FLORIDA
View Larger Map
---
ALL ABOUT APALACHICOLA, FLORIDA
---
---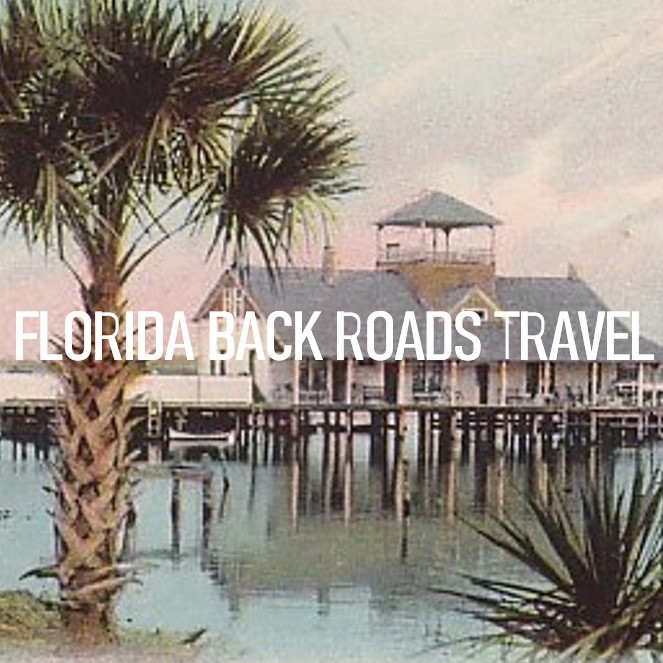 Our Facebook page has more than 111,287 followers who love off the beaten path Florida: towns, tourist attractions, maps, lodging, food, festivals, scenic road trips, day trips, history, culture, nostalgia, and more. 
Take a look. If you enjoy what you see, please give us a like.
---
---
Florida Back Roads Travel is not affiliated with or endorsed by Backroads, a California-based tour operator which arranges and conducts travel programs throughout the world.
By Mike Miller, Copyright 2009-2021 Florida-Back-Roads-Travel.com