APALACHICOLA,  FLORIDA
Updated December 22, 2020
Apalachicola, Florida is the county seat of Franklin County.  The population of this little town is about 2,500, and it is 80 miles southwest of Tallahassee on the Gulf of Mexico. 
It is located at the mouth of the Apalachicola River on Apalachicola Bay.
The name Apalachicola comes from the tribe of native Americans who inhabited the area thousands of years ago. Some politically incorrect people called these native Americans Indians.

The area was first called Cottonton because of a trading post that handled cotton, one of the agricultural staples of the area before the Civil War.
After that, it became known as West Point, and while Florida was still a territory in 1831 the town received its present name.
In the pre-Civil War years before the railroad reached the Gulf states, Apalachicola was the third busiest port on the Gulf of Mexico, ranking behind only New Orleans and Mobile.
In the late 19th and early 20th centuries, Greek immigrants established the sponge trade as a leading industry in town.
Apalachicola is today still very much a fishing town, with shrimp being the primary offshore catch.

---
THE TRAGIC DEMISE OF THE OYSTER FISHERIES
---
Until recently, more than 90% of Florida oysters come from Apalachicola Bay. The town hosts the Florida Seafood Festival every year that attracts thousands of seafood lovers.

Today, in 2020, the oyster fishing industry is dead.  The Florida Fish and Wildlife Conservation Commission voted to shut down this iconic fishery after years of drought and pollution polluted the wild oyster beds.
Apalachicola has done a wonderful job of preserving many of its old historic buildings. 
The city has more than 900 historic homes and buildings listed in its extensive National Register District.

Apalachicola has a strong sense of place. Its vibrant history and rich maritime culture are still very much on display with a working waterfront including shrimp and oyster businesses mingling with gift shops and restaurants in restored historic buildings.

An Apalachicola physician Dr. John Gorrie, discovered the cold-air process of refrigeration and patented an ice machine in 1850.
He was looking for a way to lower the temperatures of fever patients.
His invention became the basis for modern air conditioning. A replica of his ice machine is on display in the John Gorrie Museum.
Apalachicola is also home to the Dixie Theater that has become one of the artistic centers of Franklin County with community theater performances.
The theater building was built in 1912 and fully renovated and reopened in 1998.

Today's Apalachicola is one of the few remaining "Old Florida" places in the modern Sunshine State.
The State of Florida has recognized several Apalachicola landmarks as Heritage Sites.
APALACHICOLA, FLORIDA HERITAGE SITES
Apalachicola Historic District
Bald Point State Park
Cape St. George Lighthouse
Crooked River Lighthouse
Fort Gadsden Historic Memorial

John Gorrie Museum State Park
Ormon House
Raney House Museum
St. George Island State Park
Trinity Episcopal Church
THINGS TO DO IN APALACHICOLA
Apalachicola Annual Christmas Celebration 

The day after thanksgiving. Downtown Apalachicola Florida. The Apalachicola Christmas Celebration will light up the lovely historic downtown from 4:00-8:00 p.m., the day after Thanksgiving. The streets will be lined with luminaries and filled with holiday spirit. Merchants will be open late and the sounds of carolers will echo through the streets filling the evening with the Christmas spirit. Santa will arrive on a shrimp boat at 4:00 p.m. at the City Dock on Water Street. Santa will hear children's Christmas wishes and carolers will sing. The Orman House is trimmed in holiday finery and docents in period costumes lead visitors through the early history of the County. The Raney House is decorated in holiday greenery and open for tours. Join us for an old-fashioned Christmas celebration!

Saturday from 1:00-3:30 pm the fun continues as Santa has a special day devoted to hearing wishes from his furry friends. There will be a pet costume contest at 3:00 and special treats for dogs. Bring your camera and make a donation to the Franklin County Humane Society and get your pet's photo taken with Santa. 

Annual Apalachicola Mardi Gras Barkus Parade
The Third Weekend in February.  Held in downtown Apalachicola, the festivities start at 11:00 am at Riverside Park with live entertainment, food vendors, and a variety of arts and crafts displays.  The parade takes place at 1:00 pm on Saturday.  More info (850) 670-5064.
Apalachicola Art Walk & Wine Festival

The Third Saturday in March. Art in all forms will be woven in and around picturesque downtown Apalachicola where artists and musicians will be showing, selling, demonstrating their talents from 11:00-6:00 pm. The festivities continue into the evening with a wine tasting at 3:00 pm. Afterwards area chefs will prepare dishes at their restaurants pared with special wines (850) 653-9419.

Apalachicola Antique & Classic Boat Show

Third Saturday in April. All types of antique boats, classic examples of traditional vessels, work boats, fiberglass classics, antique outboard motors and antique cars. The 1877 gaff ridged sailing vessel the Governor Stone will be here. Boat building demonstrations and a special dinner and lecture at 6:00 p.m. (850) 653-9419.

Annual Historic Apalachicola Home & Garden Tour

First Saturday in May. Historic Apalachicola Home & Garden Tour sponsored by Trinity Episcopal Church.  Preceding the Saturday tour is an all-day Symposium on Friday.  The Symposium will feature nationally recognized historical preservationists and architects, and will entertain and educate attendees on the history of area homes, churches and museums. 

Annual Forgotten Coast Chef's Sampler

Second Sunday in February, 6:00 pm - 8:30 pm. Chefs from all over the Forgotten Coast will prepare their most creative dishes at the historic Fort Coombs Armory located on 4th Street and Avenue D in Apalachicola.  The tables range from elegant to artistic and funky. For more information, call the Apalachicola Bay Chamber at (850) 653-9419.

---
APALACHICOLA HISTORIC SQUARES PROJECT
An example of this city's dedication to its history is the Apalachicola Historic Squares Project.
A volunteer non-profit group (Historic Apalachicola Foundation) is currently spearheading a project to restore Apalachicola's original rectilinear grid of streets and town squares.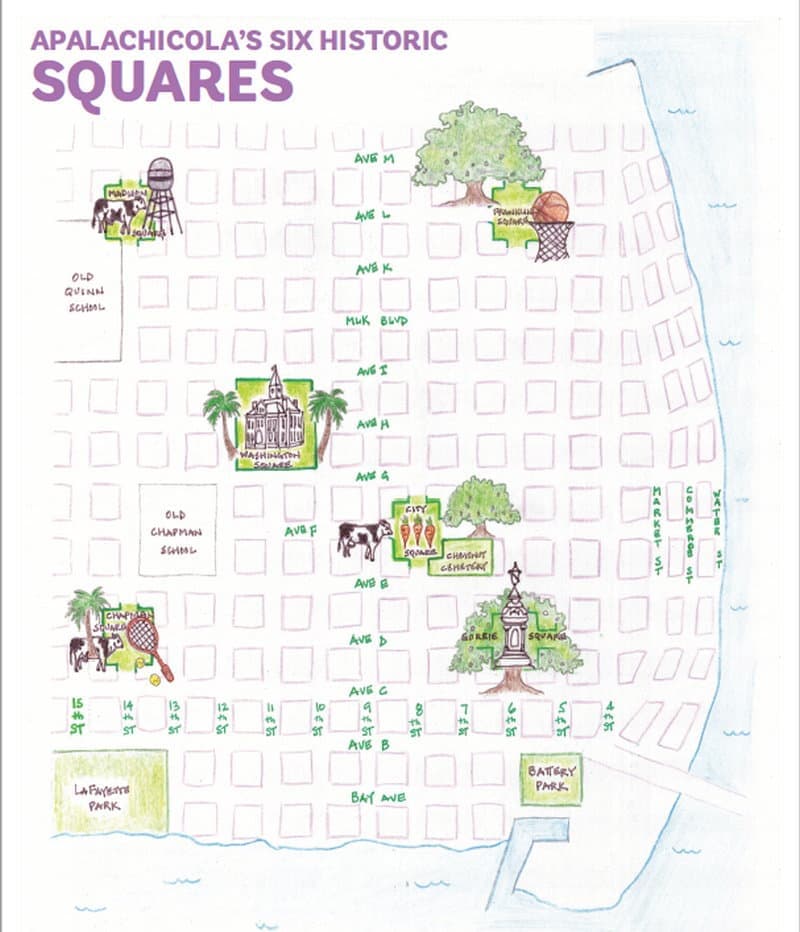 ---

All six of the city's town squares are within the Historic District established by the U.S. National Register of Historic Places.  Their names are Washington Square, Franklin Square, Madison Square, Chapman Square, Gorrie Square, and City Square.
Project donations can be made on Apalachicola's Historic Squares, which is their GoFundMe fundraising site.
For additional details, the group managing the project can be reached at restoresquares2020@gmail.com

INTERACTIVE MAP OF APALACHICOLA, FLORIDA
View Larger Map
---
---
---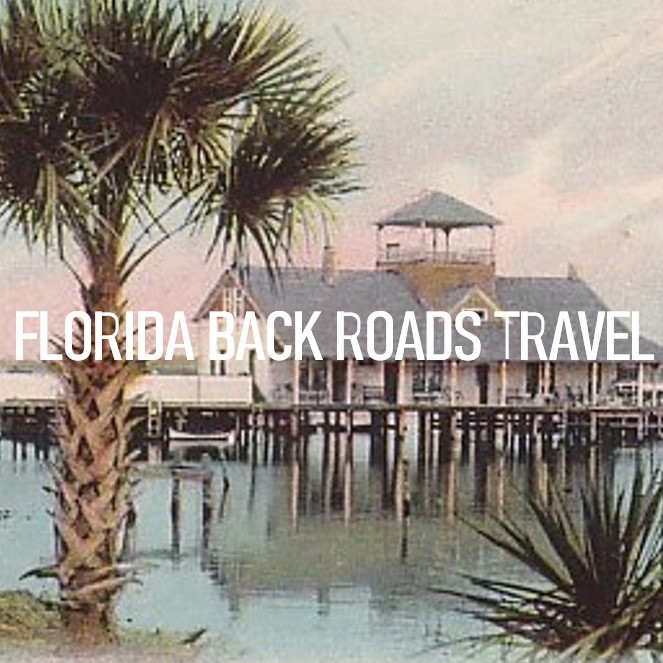 Our Facebook page has more than 107,251 followers who love off the beaten path Florida: towns, tourist attractions, maps, lodging, food, festivals, scenic road trips, day trips, history, culture, nostalgia, and more. 
Take a look. If you enjoy what you see, please give us a like.
---
---
Florida Back Roads Travel is not affiliated with or endorsed by Backroads, a California-based tour operator which arranges and conducts travel programs throughout the world.
By Mike Miller, Copyright 2009-2021 Florida-Back-Roads-Travel.com