AUBURNDALE,  FLORIDA
Auburndale, Florida Things To Do, Lodging, Dining, & Real Estate At End Of Article
Auburndale, Florida is a city of 16,000 people between Lakeland and Haines City on a major east-west federal highway, US-92.  It is less than 50 miles southwest of Orlando.

Downtown Auburndale, Florida
Like most small Florida cities, you have to get off the main highway and find the heart of the original town that was there in the old days and still exists.
If you are traveling on I-4 from Tampa or Orlando, the most scenic way to come into town is on Country Road 559.

Auburndale is only about 4 miles south of the Interstate, and you will travel through some rolling grove and lake country that gives you a taste of how things used to be back in the day when citrus was king.
HISTORY OF AUBURNDALE, FLORIDA
The town was founded in 1880 by Frank Fuller and originally named Sanatoria for a hotel located here.

When the railroad came to town, the town renamed itself Auburndale after a town of the same name in Massachusetts.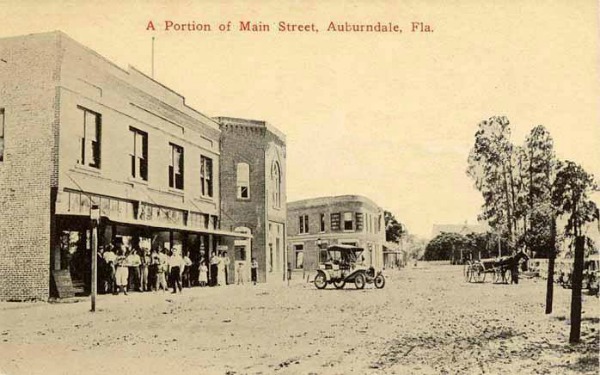 Early 1900s Auburndale, Florida
Thousands of acres of citrus were planted and the area began to boom.
While the city was still young, the Big Freezes of 1894-1895 destroyed the citrus industry.
The first freeze was on December 27, 1894.
The second one was on February 7, 1895 and saw temperatures drop into the low twenties for three straight nights.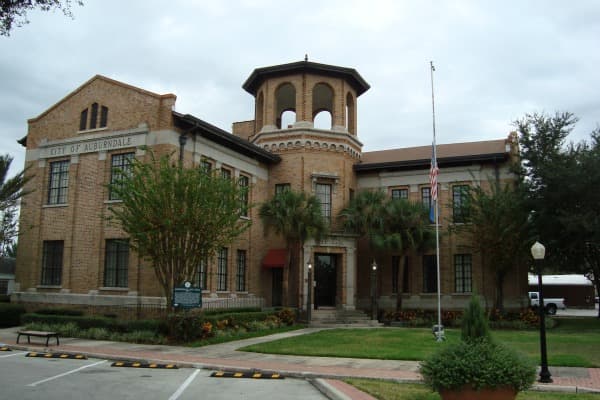 Auburndale City Hall
Citrus made a comeback in the twentieth century that lasted until the 1970s and the entire area in all directions around Auburndale was covered with groves.
Freezes came again in 1981 and 1983.  They did extensive damage to area groves and much of the citrus industry has now moved south toward Frostproof.

AUBURNDALE, FLORIDA TODAY
If you come into town on US-92, the main scenery includes warehouses, old citrus packing plants, and the big box stores and fast food places typical of most of Florida.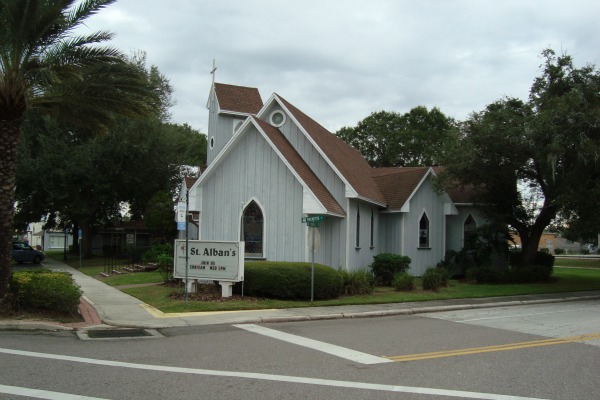 St Albans Church, Auburndale, Florida
It may be a quiet little town once you get off the main road, but it is also a thriving economic center around its edges.

An example of one business that defined the town in the past was Comcar Industries, formerly known as Commercial Carrier Corporation. The giant trucking firm was founded in 1953 by Guy Bostick.
He built the firm with the help of his children into a giant company of 3,000 trucks and a host of other operations. The business sadly went bankrupt a few years ago.
Other businesses continue to open in the area including an Amazon warehouse at Exit 44 on I-4 north of Auburndale.
The city area includes several nice lakes. 
The ones within the downtown and nearby residential area are Lake Stella, Lake Arietta and Lake Ariana. 
These lakes are almost perfectly circular and surrounded by fine homes taking advantage of the view.
Auburndale has done a good job restoring its historic downtown area and has preserved many nice old buildings.
The centerpiece of downtown is the City Park, a wide grassy lawn with picnic shelters and playground equipment that gets a lot of use, especially on weekends.
There are several restaurants and shops around the park neighborhood that make for some good dining and shopping.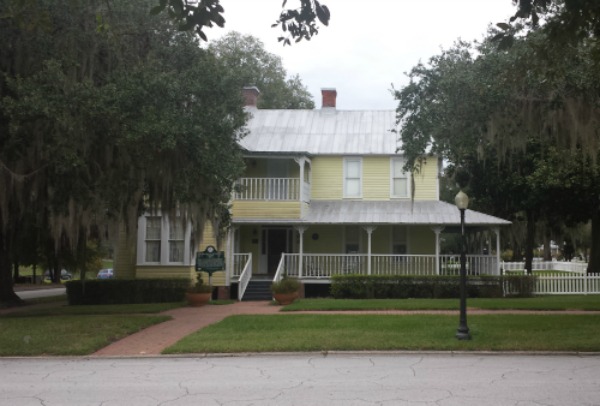 Ephraim M Baynard House, Auburndale, Florida
An example of the city's preservation effort is the Ephraim M. Baynard House located just north of the downtown city park.
The house was built in 1894 and is on the National Register of Historic Places.
Some historic homes have been restored and used as shops or cafes.
City Hall is also on the National Register and is on the western edge of the downtown park.
St. Alban's Episcopal Church was built in 1896 and is a couple of blocks south of the city park.
---
THINGS TO DO IN AUBURNDALE FLORIDA
Auburndale City Beach: 119 W Park St, Auburndale, FL 33823 Phone: (863) 965-5548 Auburndale City Beach is a popular spot for family outings, offering a sandy beach, picnic areas, and a playground. Take a relaxing walk along the shore or enjoy a picnic with beautiful lake views. 


Lake Myrtle Sports Complex: 2701 Lake Myrtle Park Rd, Auburndale, FL 33823 Phone: (863) 551-4750 The Lake Myrtle Sports Complex boasts 11 full-sized soccer fields, as well as baseball and softball facilities. The complex also hosts local, regional, and national sports events throughout the year. 


Ariana Park: 2215 Ariana Ave, Auburndale, FL 33823 Phone: (863) 965-5548 Ariana Park is a beautiful green space offering walking trails, a playground, and a disc golf course. The park is perfect for a family outing or for enjoying some outdoor sports activities. 


Auburndale TECO Trail: 119 W Park St, Auburndale, FL 33823 Phone: (863) 965-5548 The Auburndale TECO Trail is a 6.7-mile paved multi-use trail that runs through Auburndale, offering a safe and scenic route for walkers, runners, and cyclists. The trail connects several parks and natural areas, making it a great outdoor experience. 


Auburndale Speedway: 5640 K-Ville Ave, Auburndale, FL 33823 Phone: (863) 287-4344 Auburndale Speedway is a 1/4-mile, high-banked, asphalt oval racetrack that hosts various car racing events throughout the year. Enjoy the thrilling racing action with friends and family at this exciting local attraction. 
---
 ALL ABOUT AUBURNDALE, FLORIDA
---
INTERACTIVE GOOGLE MAP AUBURNDALE, FLORIDA
---
---

Our Facebook page has more than 129,275 followers who love off the beaten path Florida: towns, tourist attractions, maps, lodging, food, festivals, scenic road trips, day trips, history, culture, nostalgia, and more.  We post articles every day.  Please check it out and if you like it, we would appreciate a "like" from you.
---
By Mike Miller, Copyright 2009-2023
Florida-Back-Roads-Travel.com
Florida Back Roads Travel is not affiliated with or endorsed by Backroads, a California-based tour operator which arranges and conducts travel programs throughout the world.