BERN'S STEAK HOUSE
1208 S Howard Ave
Tampa, Florida 33606
(813) 251-2421
By  Mike Miller September 18, 2023

Bern's Steak House isn't just a restaurant; it's a fine dining landmark. Having carved out its legendary status since opening in 1956, it promises an experience that transcends the mere act of dining.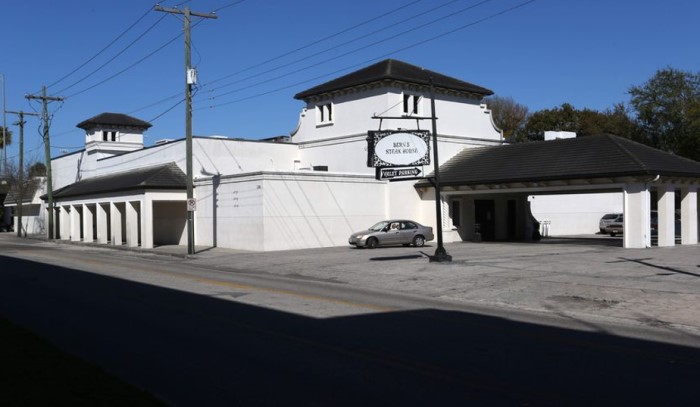 Bern's Steak House in Tampa, Florida
The restaurant is named for its founder, Bernard "Bern" Laxer (1923-2002) and is still run by his son David. The motto of the family has always been "the customer must always come back."
Even though this is an expensive restaurant, almost all first-time diners can't wait to come back.
Reservations are a must at Bern's, and their waiting list is always full.  You should plan well in advance;  don't just drop into Bern's like you would most restaurants.
Bern's Steak House Dining Room
When you enter the large building, you are immediately struck by the establishment's old-world charm.
The dimly lit interiors, with their plush seating and rich wooden paneling remind you of an elegant private club.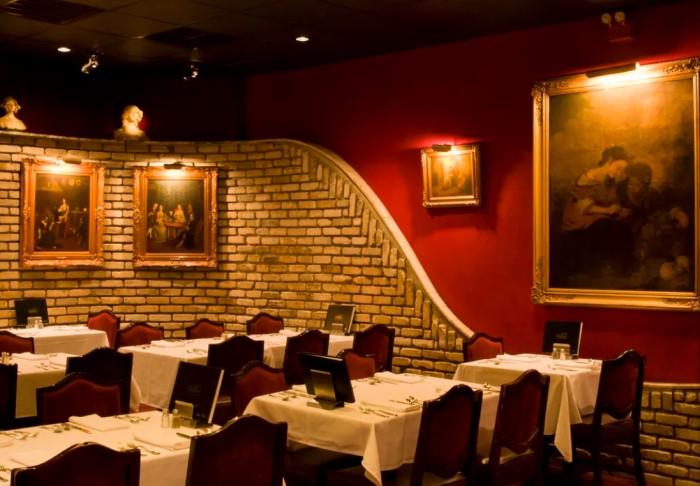 Bern's Steak House Dining Room
The seating areas are spacious and perfect if you are looking to enjoy a quiet romantic evening or an important dinner meeting with an important client.

But it's the food that truly stands out. The steaks are, unsurprisingly, the stars of the show.
Sourced from the best farms including one owned by Bern's, the cuts of meat available at Bern's are aged to perfection, ensuring that each bite is succulent, tender, and packed full of flavor.
Bern's Steak House Dinner Serving
The Chateaubriand, Delmonico, and Filet Mignon are particularly noteworthy. Grilled to your desired level of doneness, these steaks are a testament to the art of cooking meat.

Complementing the steaks is an impressive range of side dishes, from the classic creamed spinach to the delectably crispy onion rings.
The culinary journey doesn't end with the main course. The dessert room, an iconic feature of Bern's, offers a plethora of sweet delights, from classic banana foster to intricate chocolate concoctions, each served in a cozy private booth that feels like an escape from the world.
Bern's Steakhouse Harry Waugh Dessert Room
No review of Bern's would be complete without a mention of their famed wine collection. Housing one of the largest wine cellars in the world, the list is both vast and meticulously curated.

Their collection has over one half million bottles representing 6,500 separate labels from all over the world.
Whether you're a seasoned oenophile or a casual wine drinker, the knowledgeable sommeliers are on hand to guide you, ensuring that your chosen bottle or glass perfectly complements your meal.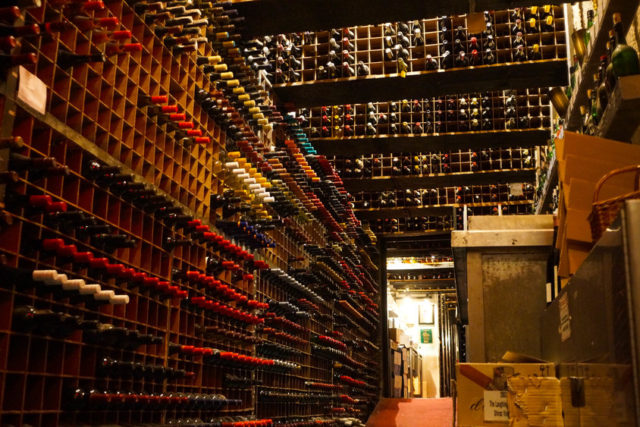 Bern's Steak House Wine Cellar
Service, as one might expect, is impeccable. The staff at Bern's are not only well-trained but are genuine connoisseurs, each possessing a deep understanding of the menu and wines.

Their recommendations come from a place of knowledge and passion, adding an extra layer of warmth to the dining experience.
Most of the staff have been with Bern's for many years.  They are professionals, not just people passing through on their way to somewhere else.
In conclusion, Bern's Steakhouse is more than just a place to eat. It's a journey into a bygone era, a tribute to the fine art of dining.
While it might not be light on the wallet, the experience is worth every penny. It's not just about the steaks or the wine; it's about the memories you create, the conversations you have, and the feeling of being a part of something truly special.
For those in Tampa or visiting the city, Bern's Steakhouse is an absolute must-visit.
---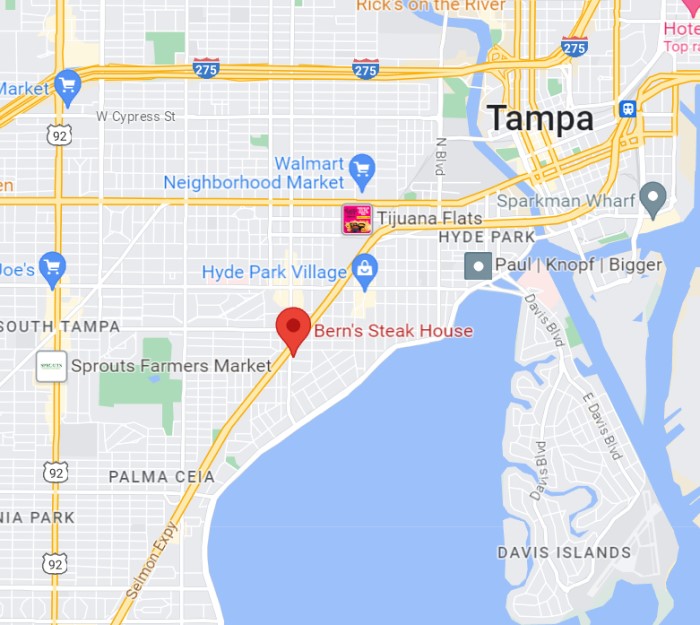 ---
---

Our Facebook page has more than 128,577 followers who love off the beaten path Florida: towns, tourist attractions, maps, lodging, food, festivals, scenic road trips, day trips, history, culture, nostalgia, and more.  We post articles every day.  Please check it out and if you like it, we would appreciate a "like" from you.
---
By Mike Miller, Copyright 2009-2023
Florida-Back-Roads-Travel.com
Florida Back Roads Travel is not affiliated with or endorsed by Backroads, a California-based tour operator which arranges and conducts travel programs throughout the world.