Best Places to See Manatees
10 BEST PLACES IN FLORIDA
TO SEE MANATEES
 Florida Manatees are subspecies of West Indian manatees and are sometimes referred to as sea cows.
With their large, seal-shaped bodies, flippers and round, paddle-shaped tail, these marine mammals average 1000 pounds and 9 feet in length as adults.

As a native species and the official marine mammal of the state of Florida, observing and even swimming with these fascinating gentle giants has become a popular attraction throughout the state.
For the best chance of seeing Florida manatees, it's helpful to understand their migration paths.
Manatees need warm water, and in the summer months they travel freely around Florida's many rivers and throughout coastal bodies of water, even going as far west as Texas and as far north as Virginia.
Check out this video of folks swimming with Manatees in Crystal River, Florida
They prefer shallow, slow-moving water but are not picky - they are comfortable in fresh, salt and brackish water. They are herbivores and eat sea grass and other aquatic plants.

In the winter months of November through March/April manatees migrate to the warmer waters of Florida in large numbers, with December-February considered peak season and the best time to see them.
During migration they may gather in pockets of calm inland water, traveling through canals, rivers and natural springs.
For this reason in many places there are strict rules for boaters and heavy warnings regarding using caution, as propeller injuries are a common risk to the manatee.
Interestingly, power plants have been instrumental in helping protect manatees, and they are known to gather in the warm water from the discharge canal that surrounds the plant.
SOME GREAT PLACES TO SEE MANATEES
CRYSTAL RIVER
601 Three Sisters Springs Trail
Crystal River, FL 34429
Tel: 352-586-1170
At one time the number of wild manatees was dwindling rapidly and they were considered an endangered species.

Crystal River, in Citrus County, was instrumental in changing this with the creation of the Crystal River National Wildlife Refuge, providing a safe haven and working to educate the public.
It is the only designated manatee refuge in the United States, and is overseen by the US Fish and Wildlife Service.
Since their numbers have been rising, in 2017 their classification was downgraded to threatened.
Located in Kings Bay and fed by the clear water of the many springs including the Three Sisters Springs, the area of Crystal River is a popular spot and is often rated the #1 place in Florida to see manatees.
The Three Sisters Springs refuge offers a boardwalk for wildlife viewing and guided walking tours. Accessible through the waterways, paddle boats, swimming and snorkeling are allowed. No manatee boat tours are offered by the refuge.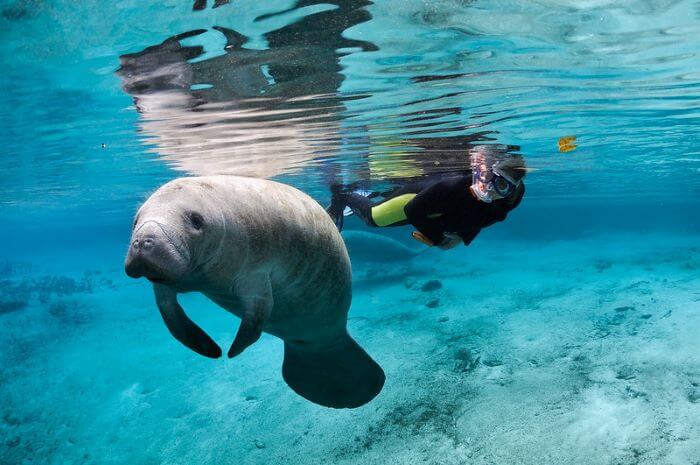 Manatee and Diver at Crystal River
Flickr/Visit Citrus
For a closer experience, Kings Bay offers several manatee tours by approved tour companies.
If this is your first time visiting, using an organized boat tour is recommended, and they educate the visitor about how to interact with manatees before you jump in the water to swim with the manatees.
Crystal River also offers tours with options including snorkeling with the manatees and scuba diving to the cavern opening.
Mid-November through the end of March is the peak time to experience the largest number of manatees.
BLUE SPRING STATE PARK 
2100 W French Ave
Orange City, FL 32763
Tel: 386-775-3663
This park is located about a half hour north of Orlando, along the St. Johns River.

During the summer months visitors can visit Blue Spring State Park to enjoy typical park activities such as birdwatching, hiking, relaxing at a picnic area, camping and water activities, including canoe and kayak rentals.
However, during the winter months the spring run is closed off and no swimming or water activities are allowed, to allow the manatees to live comfortably in the most natural environment.
The half-mile boardwalk offers easy viewing. Swimming with the manatees is not allowed at any time, at this or any Florida State Park, but there are enjoyable guided river boat cruises.
TARPON SPRINGS
Spring Bayou/Craig Park
5 Beekman Way
Tarpon Springs, FL 34689
Tel: 727-942-5628
Tarpon Springs is located on the Gulf Coast, less than an hour from Tampa. In addition to its abundant fishing, it became known as the sponge capital of the world.
This smaller park is popular with locals. The freshwater spring draws manatees in the winter that can be seen as you walk along the trail.

SEAWORLD ORLANDO
7007 Sea World Drive
Orlando, FL 32821
Tel: 407-545-5550
Probably the most traditional aquarium destination when it comes to the Orlando area, the popular theme park SeaWorld Orlando hosts a lovely manatee and sea turtle exhibit.
Here you can witness live feeding routines and observe the creatures from above the water, as well as below via the submerged tanks.

The educational center and employees have tons of fun information about the manatees, as well as more specific facts about SeaWorld's own manatee family.
In May of 2022, SeaWorld surpassed the 40,000 mark in rescued and rehabilitated sea animals, with the help of the SeaWorld Conservation Fund which has donated over 18 million.
MERRITT ISLAND NATIONAL WILDLIFE REFUGE
1987 Scrub Jay Way
Titusville, FL 32782
Tel: 321-861-0669
The land this refuge sits on was originally purchased by NASA.

As they were not using all of the land for their space program, in 1963 the U.S. Fish and Wildlife Service entered an agreement to manage the unused land.
The protected area is home to more than 1500 species of wildlife and plants.
In addition to many trails there is a 7-mile automobile tour that is popular for bird watching and there is a handicap-accessible manatee observation area with a large deck to allow viewing manatees in the wild.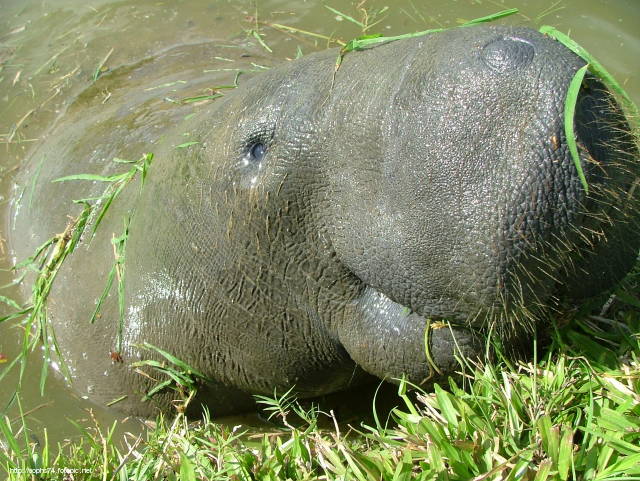 Manatee Enjoying Grass Lunch
Flickr/Sophie Robson
TECO MANATEE VIEWING CENTER
6990 Dickman Rd
Apollo Beach, FL 33572
Tel: 813-228-4289

The Manatee Viewing Center is a state and federally designated manatee sanctuary.

Its mission is to educate the public about the Florida manatee and its habitat, offering interactive displays, an educational visitor center, and viewing areas along walkways where you can view manatees.
It is open Nov. 1 - April 15 and offers free parking and free admission, making it a great option for a family day.
Teco Manatee Viewing Center
Flickr/Surreal Name Given
MANATEE LAGOON DISCOVERY CENTER
6000 N Flagler Dr
West Palm Beach, FL 33407
Tel: 561-626-2833
This free attraction in Riviera Beach has hands-on exhibits and plenty of educational opportunities to learn about the manatees that reside there.

This facility is open year-round and is a dedicated space for manatees to seek warm refuge during the colder months, and the observation deck allows for easy viewing.
MANATEE SPRINGS STATE PARK
11650 NW 115th St
Chiefland, FL 32626
Tel: 352-493-6072
One of Florida's state parks, Manatee Springs State Park features the Suwannee River Boardwalk, an 800-foot boardwalk through the cypress forest, overlooking the springs, perfect for manatee viewing.

This spot also offers camping and over 8 miles of biking and walking trails, bird viewing, and an overall serene environment.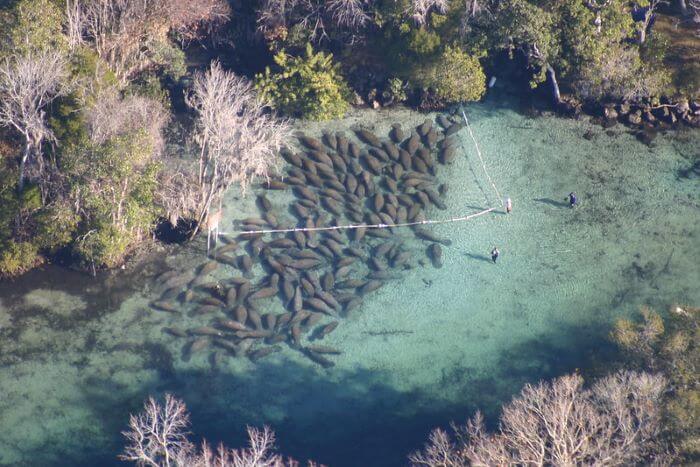 Gathering of Manatees
Flickr/USFWS Endangered Species
LEE COUNTY MANATEE PARK
10901 Palm Beach Blvd
Fort Myers, FL 33905
Tel: 239-690-5030
Located in Fort Myers, this seasonal location is a non-captive environment for manatee viewing, with the best time being mid-December through March.

Their migrating patterns depend on the water temperature in the Gulf of Mexico, and the Florida Power and Light Plant off the coast provides warm waters for the manatees when the Gulf gets too cold.
This community park also offers a butterfly garden, canoe and kayak rental, and a launch to the Orange River.
WEEKI WACHEE SPRINGS STATE PARK

6131 Commercial Way
Spring Hill, FL 34606
Tel: 352-610-5660
A unique park, this popular mermaid park north of Tampa has a beautiful, crystal clear river, perfect for kayaking and manatee viewing.

The springs are so deep the bottom has not been found, and the underwater caves make up the deepest freshwater cave system in the US.
The springs open to the Weeki Wachee River, which flows into the Gulf of Mexico.
This spot is a Florida classic, with waterslides, swimming rivers and the iconic mermaid shows.  It has been a popular family destination for decades.
---

Our Facebook page has more than 128,577 followers who love off the beaten path Florida: towns, tourist attractions, maps, lodging, food, festivals, scenic road trips, day trips, history, culture, nostalgia, and more.  We post articles every day.  Please check it out and if you like it, we would appreciate a "like" from you.
---
By Mike Miller, Copyright 2009-2023
Florida-Back-Roads-Travel.com
Florida Back Roads Travel is not affiliated with or endorsed by Backroads, a California-based tour operator which arranges and conducts travel programs throughout the world.