BRANFORD, FLORIDA
Branford, Florida is a small town on the Suwannee River near the intersection of US-Highways 27 and 129.  It is about 45 minutes northwest of Gainesville and the University of Florida.
State Road 349 intersects with US-27 just west of Sanford and continues south all the way to Suwannee on the Gulf of Mexico although it becomes County Road 349 south of Old Town.
The population of Branford in the 2010 census was 712, not too different than it was in 1920 at 708.
During its heyday as a steamboat stop on the Suwannee River in 1890, 335 people lived in the town.
In the years before the railroads came to this part of Florida, the Suwannee River was an important transportation artery from the Gulf of Mexico to Branford and points even further upstream such as White Springs.
Branford was originally known as Rowland's Bluff and was the location of a ferry across the river into Lafayette County.  
The name was chosen by Henry Plant, the railroad man, after his home town in Connecticut.
Branford became a major port for steamers hauling timber from the region down river to Cedar Key.

The "City of Hawkinsville" was the last steamboat on the Suwannee.  She was tied up downriver at Old Town and sunk about 1923.
Branford weathered the depression and the lean years afterward, and is still a proud little community and a very quiet one.  Today it is well known for cave diving and swimming in the local springs.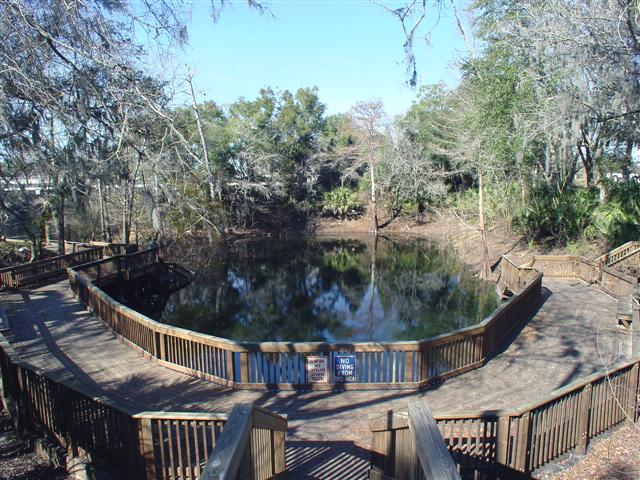 Branford Spring
The Suwannee River Greenway through Branford is a 12.5 mile paved trail that runs along a former railroad corridor.  
It is great for cycling and hiking through canopied trees and fresh water springs. 
Bob's River Place on the Suwannee is a popular privately owned recreation area that is the favorite swimming hole for this part of Florida.
It is located at 2878 NE 340 Highway in Branford.  It is usually open from spring through early fall.  As of October 5, 2022 it is "temporarily closed."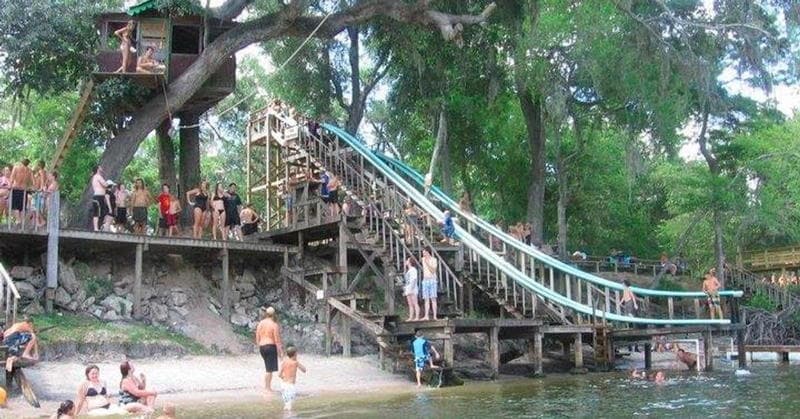 Bob's River Place near Branford, Florida
Troy Spring State Park is another popular location for recreation in Branford.  It is the location of a beautiful freshwater spring that feeds the Suwannee River.  
The park offers swimming, open water scuba diving, birding, hiking, picnicking and the rare chance to explore the wreck of a Civil War steamboat!

One of the most popular restaurants in Branford is Sisters Cafe Restaurant, locally famous for its authentic Southern cooking.
---
Here is a great article about early Branford from the Suwannee County Historic Commission and Museum.  It was forwarded to us by James S. Kent II.
---
---
---
---

Our Facebook page has more than 128,577 followers who love off the beaten path Florida: towns, tourist attractions, maps, lodging, food, festivals, scenic road trips, day trips, history, culture, nostalgia, and more.  We post articles every day.  Please check it out and if you like it, we would appreciate a "like" from you.
---
By Mike Miller, Copyright 2009-2023
Florida-Back-Roads-Travel.com
Florida Back Roads Travel is not affiliated with or endorsed by Backroads, a California-based tour operator which arranges and conducts travel programs throughout the world.