BRISTOL, FLORIDA
The Original Garden of Eden?
Bristol, Florida is the county seat of Liberty County, Florida.  It is at the intersection of State Roads 20 and 12 about 50 miles west of Tallahassee and about 20 miles south of the Georgia state line.
This town of less than 1,000 people lies about 5 miles east of the Apalachicola River.

It is far east in Northwest Florida, so it could be considered to be near the border between Florabama and Florgia.  These regional terms were invented by the late author Al Burt in his classic Florida book "Becalmed in the Mullet Latitudes".

As you might guess, Florabama is that portion of North Florida that borders Alabama;  Florgia is the portion that borders Georgia. 
This is grits, fried green tomato, and sweet tea country.
An old timer named Elvy Callaway got a lot of publicity a generation or two ago by claiming that the biblical Garden of Eden was in northern Liberty County.   Elvy was a country lawyer and a Baptist preacher.

He said the evidence was that the Apalachicola-Chattahoochee River system has four heads, just like the river described in the Bible.
He also said the area is rich in gopher wood, the same stuff that Noah used to build his ark.
Further evidence, said Elvy, was that the area from the Chattahoochee River south to Bristol contains 28 of the 30 varieties of trees mentioned in the Bible.
He believed that the Garden of Eden started about 4 miles north of Bristol and extended north into Georgia, and it was 25 miles wide in an east-west direction, and 35 miles long in the north-south direction.
The Garden of Eden was an early Florida Tourist Attraction
The area of Callaway's Garden of Eden became a minor tourist attraction in the 1950s through the 1970s. 
People visited it for the chance to see the birthplace of Adam and to look at the amazing variety of plants and trees in the area.

You can get a glimpse of the natural beauty of this area by visiting Torreya State Park. Keep your eyes open for the gopher wood tree, torreya taxifolia.
If a Florida snake invites you to take a bite of an apple, you might think twice about it.
Use the Google map below to guide you to Bristol and the surrounding area.
Bristol, Florida
Recommended Restaurant
Apalachee Restaurant
10536 NW State Road 20
Bristol, Florida 32321-3440
Tel: 850-643-2264

---
---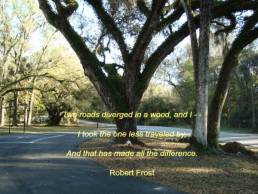 Over 65,000 followers can't be wrong. Learn about off the beaten path Old Florida, historic towns, attractions,  festivals, scenic drives and more.
Like Us On Facebook
Return From Bristol Florida to Florida Towns

Return To Northwest Florida Travel Guide
Return To Florida Backroads Travel Home