CHEAP VACATIONS IN FLORIDA
The ability to enjoy cheap vacations in Florida begins with thorough planning. You need to set a target budget for each day of your vacation and then plan around that budget.
Florida Backroads Travel is organized to help make your vacation planning logical and simple. You will find an abundant supply of ideas for cheap vacations in Florida.
Let's look at two extremes for a one week vacation in the Orlando area in 2016 for Mom and Dad and two kids, 11 years old and 14 years old.
These Florida family vacations will be far apart in cost.
Not So Cheap Vacations In Florida
| | | |
| --- | --- | --- |
| Walt Disney World | 7 Day Family Passes | $ 1070 |
| Dolphin & Swan Hotel | Six nights | $ 1200 |
| Meals and Refreshments | Walt Disney World | $ 1260 |
| Souvenirs | Walt Disney World | $ 200 |
| Rental Car | Seven Days | $ 300 |
| | TOTAL | $ 4030 |
Cheap Vacations In Florida
| | | |
| --- | --- | --- |
| Florida Day Trips | Gasoline | $ 200 |
| Dinosaur World | Family Admission | $ 49 |
| Gatorland | Family Admission | $ 72 |
| Citrus Tower | Family Admission | $ 20 |
| Bok Tower Gardens | Family Admission | $ 33 |
| Winter Park Boat Tour | Family Admission | $ 42 |
| Orlando Science Center | Family Admission | $ 63 |
| State Park Exploration | Annual Family Pass | $ 120 |
| State Park Camp Sites | Six Nights | $ 180 |
| Meals | Groceries & Fast Food | $ 500 |
| Souvenirs | Just Say No! | $ 0 |
| Rental Car | Seven days unlimited | $ 300 |
| | TOTAL | $ 1579 |
The cost of your cheap vacations in Florida will realistically fall somewhere in between these two extremes, but this gives you an idea of where your money goes.
A Florida family vacation normally consists of the following major items:
ATTRACTION ADMISSION FEES
Two summers ago I took my three grown children and two grandchildren for a one day adventure at Walt Disney World.
The deal was that I would buy the admission tickets and the kids would take care of everything else. Admission for four adults and two kids was almost $500.
I don't know how much the food cost; I was too sick from paying the admission price to have any appetite.
There are some attractions that the kids will enjoy almost as much as Walt Disney World or Universal Studios. They will whine about it at first, of course, but once they are there they will be delighted.
For example, try Gatorworld in Kissimmee and Dinosaur World in Plant City. Kids love these places and so will you because you will save a bundle on tickets.
Florida Museum of Natural History, Gainesville
Florida museums have interactive exhibits that are fun for kids. Some of them even have butterfly releases, fun for kids and adults alike.
The Florida Museum of Natural History in Gainesville offers free admission and some of the best collections of ancient fossils, butterflies and assorted animals of air, land and sea that you will ever see.
Admission is free, and they even have sleepovers for the kids. Think about how much fun the kids will have sleeping with the dinosaurs!
Beaches are plentiful in most areas of Florida and you are never more than 60 miles from a beach no matter where you are. A day at the beach is a lot of fun and not expensive. Kids love it and won't even realize it's one of the cheap vacations in Florida.

Florida has 1300 heritage sites and some of them are entertaining. For example, Fort Clinch at Fernandina Beach has actors dressed as Civil War soldiers that are fun to talk to.
State parks also have a lot more to offer than just tent camping or camping cabins.
Many of them have nature trails, canoe and kayak rentals, bike trails and just plain natural Old Florida.
A Family Annual Entrance Pass costs only $120 and will allow groups of up to eight people to enter any park to enjoy all facilities except for camping.
That pass only allows two people, however, at Homosassa Springs and Weeki Wachee Springs.
An annual Florida State Park pass is one of the greatest bargains in the state of Florida.
Here are admission fees for the Florida tourist attractions currently on Florida Backroads Travel.
ADMISSION FEES AS OF MAY 12, 2016
| | | |
| --- | --- | --- |
| FLORIDA TOURIST ATTRACTION | SINGLE DAY ADULT | SINGLE DAY CHILD |
| Babcock Wilderness Adventure | $19.95 | $12.95 |
| Bok Tower Gardens | $10.00 | $ 3.00 |
| Brevard Zoo | $13.50 | $10.00 |
| Coral Castle | $12.00 | $ 7.00 |
| Crystal River Manatee Swim | $50.00 | $50.00 |
| Dali Museum | $21.00 | $ 7.00 |
| Dinosaur World | $12.75 | $ 9.75 |
| Edison and Ford Winter Estates | $20.00 | $11.00 |
| Florida Aquarium | $21.95 | $16.95 |
| Florida Heritage Sites | Varies | Varies |
| Florida Museum of Natural History | Free | Free |
| Fruit And Spice Park | $ 8.00 | $ 2.00 |
| Gatorland | $19.99 | $11.99 |
| Ginnie Springs Outdoors | $12.00 | $ 3.00 |
| Jungle Island | $30.95 | $22.95 |
| Jungle Queen Riverboat | $19.45 | $12.70 |
| Key West Aquarium | $15.05 | $ 6.45 |
| Lion Country Safari | $26.50 | $19.50 |
| Marineland Florida | $ 8.50 | $ 4.00 |
| Miami Marine Stadium | None | None |
| Mill Creek Farm | 1 Carrot | 1 Carrot |
| Morikami Museum/Japanese Gardens | $12.00 | $ 7.00 |
| National Naval Aviation Museum | Free | Free |
| Orange County History Center | Free | Free |
| SeaWorld Orlando | $71.99 | $71.99 |
| The Dolphin Connection | $60.00 | $60.00 |
| Universal Studios Orlando | $85.00 | $79.00 |
| Walt Disney World Florida | $90.53 | $84.14 |
| Weeki Wachee Springs | $13.00 | $ 5.00 |
TRANSPORTATION

Florida Rental Cars
There are numerous internet sources for finding the cheapest way from your home to your Florida destination. But once you are in Florida, most of you will need a rental car. You will find is is not too expensive and does not violate the concept of cheap vacations in Florida.
Florida does not have great mass transit resources. Even the major cities like Tampa, Orlando, Jacksonville and Miami don't have much in the way of abundant buses or commuter trains, so on a vacation you'd best rent a car.
Even if you stay in one of the major resorts like Walt Disney World or Universal Studios, you will still want the freedom to come and go as you please.
Almost all rental car companies offer nice cars at reasonable daily rates and they can be picked up at whatever Florida airport you arrive at.
Florida Backroads Travel gives you a lot of information about Florida day trips in all 8 regions of the state. These trips can give you many ideas for cheap vacations in Florida.
The main Florida Day Trip page also has a feature where you can find the cheapest gas wherever you are in the state.
Florida Trains
If you decide you'd like to visit elsewhere in the State of Florida, Amtrak gives you a few cheap alternatives that are also fun. You can take the passenger train from Jacksonville to Tampa to Orlando to Miami and various segments if you don't want to make the entire trip.
Florida trains stop at several smaller towns along their way to the big cities.
For example, a trip from Orlando to Tampa will take you through Kissimmee and Lakeland with brief stops.
A trip from Orlando to Jacksonville will stop briefly in Winter Park and Palatka.
A trip from Orlando to Miami will show you Winter Haven, Sebring, Okeechobee, West Palm Beach, Delray Beach, Deerfield Beach, Fort Lauderdale and Hollywood.
But best of all, you will see a whole lot of unspoiled Old Florida on your trips. Don't do this if you are in a hurry; just do this if you want to relax and enjoy the scenery.
LODGING
Hotels and Motels
Where you stay can add up to big money. Some of our Florida 5 Star hotels like the Ritz Carlton can cost you several hundred dollars a night. Some Mom and Pop motels are the best bargains, but it's hard to find the good ones with advance research. Tripadvisor is one good source; pick a motel that has been reviewed at least a dozen times and you usually can't go wrong. You can filter Tripadvisor results by room rates.
You can also check our page on Florida Getaways for lodging bargains.
Hostels
There are even a few hostels in Florida where you can stay for $30 or so a night; research them on the internet. There is one good one in St. Augustine.
Florida State Parks
Florida State parks offer RV sites, but if you don't have an RV they have plenty of tent sites. Tent camping will save you a lot of money.
Many Florida state Parks also have camping cabins, very comfortable and a whole lot less than most motel rooms.
Many of these state parks are near major and not so major tourist attractions. The parks themselves are attractions with plenty of entertaining things to do for the whole family.
Stay With Relatives

Enough said. It may be cheap, but you pay the price in other ways.
FOOD AND DRINK
Here is my advice on food and drink: don't do as I do, do as I say.
When at Walt Disney World or the other big tourist attractions, try to find a water fountain. Drink water instead of their super expensive soft drinks.
It is not easy to find a water fountain, but they are there if you really look. Give your kid a dollar when they find one; they'll have fun and you'll save money.
Or bring a water bottle from the hotel filled with water from your hotel faucet. Central Florida water is nice and safe and a lot cheaper than the bottled stuff.
Try to avoid the food in the big tourist attractions. It's tasty enough, but you will spend a fortune on snacks and meals if you aren't careful.
Pack your own lunch if you can get away with it.
Publix and other big grocery chains are everywhere in Florida. They have nice sandwiches and deli meals and will save you a fortune over theme park food.
There are also some healthy fast food restaurants sprinkled all over the state. Subway, Tropical Smoothie, Panera Bread Company and many others are better for you and far cheaper than the theme park offerings.
And don't forget your Florida State Parks.
If you are staying at one, there is nothing more delicious than hot dogs, hamburgers and corn on the cob cooked over a campfire and followed by marshmallows for dessert.
Save your money this way and your kids will have some new memories to carry with them between vacations. Florida State Parks can be the key to enjoying cheap vacations in Florida.
SOUVENIRS
Try not to buy souvenirs.
Mickey Mouse ears cost a fortune. T-shirts made in China with pink flamingos embossed on the front are very expensive. The rubber alligator you simply have to have to have will crumble to pieces within the year.
Try not to buy souvenirs. The money you spend on these things has been the ruin of many cheap vacations in Florida.
I don't even like the term "cheap vacations in Florida", but I hope these examples show that you can actually still have fun on one of them.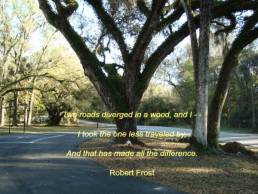 Over 65,000 followers can't be wrong. Learn about off the beaten path Old Florida, historic towns, attractions,  festivals, scenic drives and more.
Like Us On Facebook
Return From Cheap Vacations In Florida
To Florida Day Trips

Return To Florida Backroads Travel Home