CLEWISTON, FLORIDA
Clewiston, Florida Things To Do, Lodging, Dining, & Real Estate At End Of Article
Clewiston is a small south Florida city located in Hendry County, in the southern part of the state. The population is about 7,500.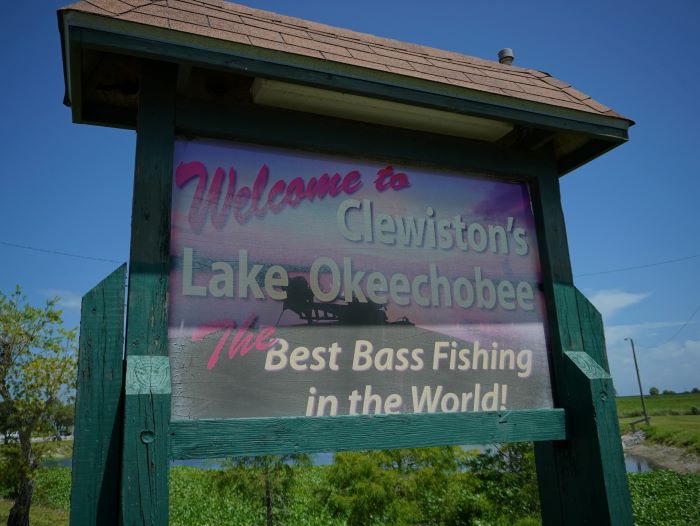 Clewiston Welcome Sign
The city is situated on the southern shore of Lake Okeechobee, which is one of the largest freshwater lakes in the continental United States and an important part of the region's economy.
CLEWISTON, FLORIDA HISTORY
The history of Clewiston dates back to the early 1900s when it was primarily a hunting and fishing destination for wealthy tourists.
In 1920, the Southern Sugar Company purchased land in the area and began growing sugar cane, which quickly became the dominant crop in the region.
To support the growing industry, the company built a sugar mill and a railroad system to transport the harvested crops.
The town of Clewiston was founded in 1925 to provide housing and services for the workers.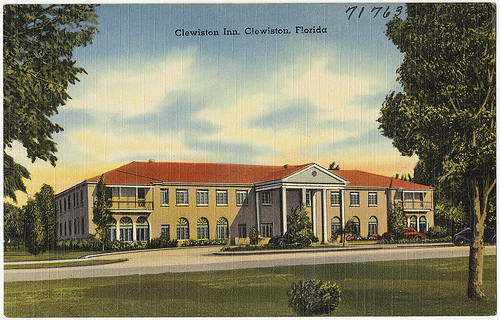 Vintage Postcard Clewiston Inn
Over the years, the sugar industry in Clewiston continued to thrive, and the town developed into a major sugar cane growing and refining center.
In the 1930s, Charles Stewart Mott bought the Southern Sugar Company and established the U.S. Sugar Corporation, which further strengthened the industry's position in the area.
Today, Clewiston is still known as the "Sweetest Town in America" and remains an important hub for sugar production.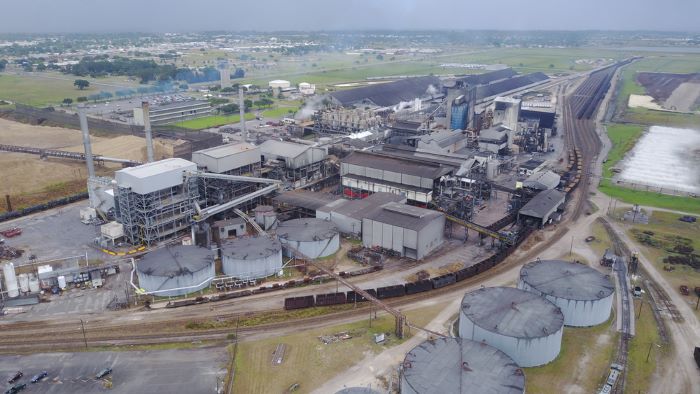 U.S. Sugar in Clewiston, Florida
Shutterstock
Despite its strong ties to the sugar industry, Clewiston has diversified its economy in recent years.
The city is home to several large corporations, including U.S. Sugar, Southern Gardens Citrus, and Okeelanta Corporation.
Additionally, tourism has become an important part of the local economy, with visitors coming to enjoy the area's natural beauty and recreational opportunities.
Clewiston's location on the shores of Lake Okeechobee makes it an ideal destination for outdoor enthusiasts.
The lake offers opportunities for fishing - especially bass fishing- boating, and wildlife viewing.
The city also boasts several parks with picnic tables and recreational areas, including the Clewiston Civic Park and the Airglades Airport Park.
Clewiston Inn
THINGS TO DO IN CLEWISTON, FLORIDA
Clewiston Museum - 109 Central Ave, Clewiston, FL 33440 - This museum offers exhibits and unique artifacts that showcase the history of the Clewiston area.
Lake Okeechobee Scenic Trail
Lake Okeechobee Scenic Trail - Clewiston, FL - This trail offers stunning views of Lake Okeechobee and is a popular spot for hiking and biking.

Sugarland Tours - 1300 N. Francisco St, Clewiston, FL 33440 - Take a tour of the region's sugar cane fields and learn about the process of producing sugar.
Ah-Tah-Thi-Ki Museum - 34725 W Boundary Rd, Clewiston, FL 33440 - This museum, operated by the Seminole Tribe of Florida at the Big Cypress Seminole Indian Reservation is a short drive from Clewiston.  It showcases the history and culture of the Seminole people.  Billie Swamp Safari is a popular airboat attraction here.
Roland and Mary Ann Martin's Marina - 920 E Del Monte Ave, Clewiston, FL 33440 - Rent a boat or take a guided tour of Lake Okeechobee from this full-service marina and resort located at a key access point to Lake Okeechobee.  Check in with them for the schedule of the many bass fishing tournaments that start here.

Big Cypress National Preserve - Clewiston, FL - This national preserve offers hiking, camping, and wildlife viewing opportunities.
Clewiston Golf Course - 1201 San Luiz Ave, Clewiston, FL 33440 - This 18-hole golf course offers beautiful views of the lake and surrounding countryside.
Clewiston Sugar Festival - Clewiston, FL - Held annually in the Spring, this festival celebrates the region's sugar cane industry with live music, food, and carnival rides.
The Clewiston Inn - 108 Royal Palm Ave, Clewiston, FL 33440 - This historic hotel, built in 1926, offers beautiful accommodations and a glimpse into the city's past.  Until recent years it had a great restaurant, but it is currently closed.

READ ABOUT THE OKEECHOBEE WATERWAY
 ALL ABOUT CLEWISTON, FLORIDA
---
CLEWISTON, FLORIDA INTERACTIVE GOOGLE MAP
---
---
---

Our Facebook page has more than 129,275 followers who love off the beaten path Florida: towns, tourist attractions, maps, lodging, food, festivals, scenic road trips, day trips, history, culture, nostalgia, and more.  We post articles every day.  Please check it out and if you like it, we would appreciate a "like" from you.
---
By Mike Miller, Copyright 2009-2023
Florida-Back-Roads-Travel.com
Florida Back Roads Travel is not affiliated with or endorsed by Backroads, a California-based tour operator which arranges and conducts travel programs throughout the world.