Cortez, Florida
Cortez is a living remnant of Old Florida.

It is a small working fishing village located on a peninsula in Sarasota Bay on Cortez Road (State Highway 684) that connects Bradenton and Bradenton Beach.

Cortez is not a trendy place, but a living community of weathered old houses and fish companies, fish nets, crab traps, floats and all kinds of boats, old and new.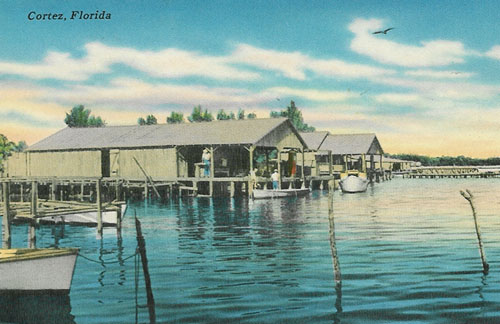 It is fitting that several good seafood restaurants can be found in Cortez including Starfish Company, Cortez Kitchen, Swordfish Grill and Seafood Shack. These restaurants are able to serve fresh fish every day of the week, year round.

Cortez was founded about 1890 by several families from the waterfront town of Beaufort, North Carolina. These families are still represented in modern day Cortez. Some of the names are Guthrie, Bell, Taylor and Fulford.

Cortez, Florida Fisherman Statue
This maritime heritage is showcased in The Florida Maritime Museum located in the restored 1912 school house at the Cortez Nature Preserve. Cortez is also home to FISH (Florida Institute for Saltwater Heritage), a non-profit group set up in 1991 to help preserve the heritage of Florida Gulf Coast fishing communities.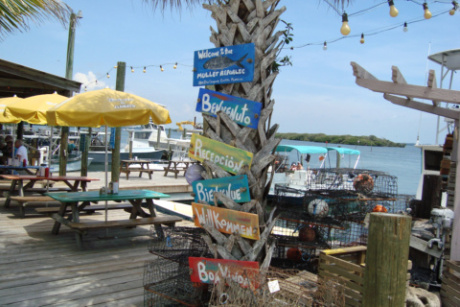 Cortez, Florida at Starfish Company
Among events that also help preserve this heritage are the annual Cortez Commercial Fishing Festival, first held in 1981, and the recently initiated Ben Gullet Mullet Invitational. The mullet event is a cast net only tournament that helps raise money for FISH and the Cortez Historical Society. It is named after the late Ben Gullet of Bradenton, who was well known as a cast net fisherman and mullet smoker (a man who cooks mullet in a smoker).

---
---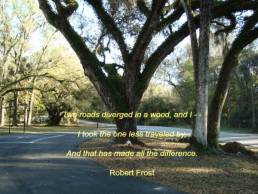 Over 65,000 followers can't be wrong. Learn about off the beaten path Old Florida, historic towns, attractions,  festivals, scenic drives and more.
Like Us On Facebook
---
Return to Florida Backroads Travel Home