Starfish Company Restaurant
STARFISH COMPANY

12306 46th Ave W
Cortez, Florida 34215
Tel:  941-794-1243
Starfish Company Dockside Restaurant is on the waterfront in Cortez, one of Florida's last remaining genuine fishing villages.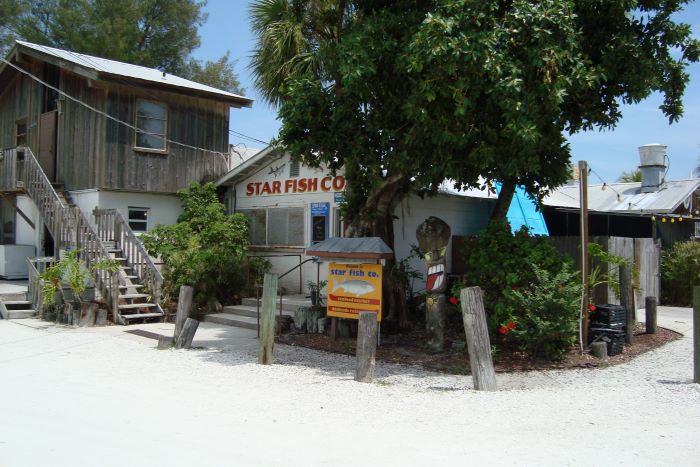 Starfish Company, Cortez, Florida
It was founded way back in the early 1920's as a wholesale seafood market. Over the years it evolved into a retail seafood market and finally included a kitchen and small outside dining area.
It is a great place to eat, especially if you like fresh fish, usually fried. Most of the fish is caught in local waters along this beautiful stretch of west coast Florida.
Among their offerings are grouper, scallops, shrimp, calamari, conch fritters, clams, oysters, mullet, crab, pompano, salmon, mahi mahi, stone crab claws.
You can also get chicken and even a hamburger although I've never tried it. They also serve hot dogs. Beer and wine is also served.
One of their specialties is shrimp and grits, and my personal favorite is their blackened grouper. They also have a great combination plate of shrimp and scallops. They have a good seafood chowder and a nice fresh seafood salad.
You place your order at an inside counter and give them your name, go outside and sit at one of the picnic tables and wait until they call your name. Your meal will soon be ready in cardboard boxes which you eat outside.
Sometimes you will see local fishermen feeding the pelicans. Don't try to do this yourself, however, as a pelican can be very aggressive and inflict pain on you with his big beak.
The view from the dock dining area is great. You look west over the water to Bradenton Beach and Longboat Key. Most days you can also take a sunset boat trip from Starfish aboard Captain Kathe's boat.
Starfish Company Has Mullet
It's also nice to know that mullet is still abundant around Cortez and at Starfish Company.  They have smoked mullet, blackened mullet, fried mullet and mullet just about any other way you can think of.
Starfish can be very crowded on weekends and during the winter season when the snowbirds are in town. Just resolve to be patient and enjoy your surroundings. Old Florida as it used to be: shrimp boats, tangy salt air, pelicans, herons, dolphins....you will not be alone.
Mullet, Tasty Fried, Grilled or Smoked
In summer months it's best to put on some insect spray before going to Starfish. Mosquitoes have also discovered the place and like to dine on the diners.
Remember, this is a CASH ONLY business.  Give your credit cards a break.
More information at Starfish Company.
---

Our Facebook page has more than 129,275 followers who love off the beaten path Florida: towns, tourist attractions, maps, lodging, food, festivals, scenic road trips, day trips, history, culture, nostalgia, and more.  We post articles every day.  Please check it out and if you like it, we would appreciate a "like" from you.
---
By Mike Miller, Copyright 2009-2023
Florida-Back-Roads-Travel.com
Florida Back Roads Travel is not affiliated with or endorsed by Backroads, a California-based tour operator which arranges and conducts travel programs throughout the world.