COTILLION SOUTHERN CAFE

101 Main Street
Wildwood, Florida 34785
Tel:  352-748-1223
The Cotillion Southern Cafe is a favorite lunch and dinner spot for denizens of The Villages.
It is in the old restored Wildwood bank building on Main Street, also known as US Highway 301, across from City Hall.
I recently had lunch at Cotillion and it was a wonderful experience.
The dining room is decorated with antiques and old photos and posters that give it a homey comfortable feeling like your sweet old grandma's parlor.
The room was packed with well dressed customers, mainly handsome mature women.
Cotillion Southern Cafe:  As Southern As Possible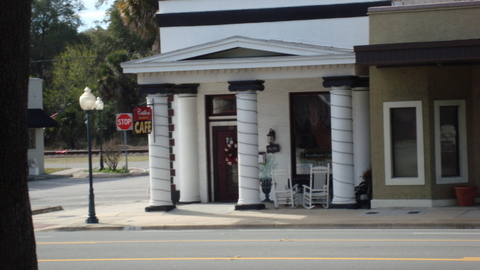 The motto of the cafe is "Where Everything Is Served A.S.A.P. (As Southern As Possible).
The servers were bright and friendly. I had a Cotillion House Salad, with grilled chicken strips as a topping. The salad had mixed greens, strawberries, Jack cheese, scallions, toasted pecans and the Cotillion house dressing. The salad was $10.99 with an extra $3.00 for the chicken. My glass of water was served in a mason jar.
It was a great salad. The grilled chicken strips were the best I've ever had. Next time I go maybe I can find out what they were spiced with. They were delicious. Another surprise in the salad was a small chocolate mouse that I set aside and saved for dessert. The mouse is a long stemmed cherry dipped in chocolate with M&M's for its ears and the stem forming the tail.
The menu focuses on Southern cuisine. There are a lot of things like smoked meat entrees, pork, low country shrimp and grits, and southern jumbo fried shrimp. Sandwiches include St. Augustine Crab Cakes, Junkyard Dawg (that's sausage on a grilled bun with bacon, grilled veggies and cheese), and the Florida Cracker Angus Burger.
Dinner entrees are more elaborate, including Taste of the South Platter that is a half rack of slow smoked, dry rub, loin back ribs and pulled pork with homemade onion rings, baked beans, cole slaw and barbecue sauce. The menu is extensive, and also includes a lot of seafood selections. I intend to visit soon and have dinner.
The owner, Miz Kathi, is in charge of all food preparation. Her desserts are made in house and include a wide selection of cakes and pies.
Cotillion Southern Cafe serves lunch on Monday- Saturday from 1100-300.  Supper is served from 430-800 Monday -Thursday, and 430-900 Friday and Saturday.  Beer and wine are also served.
My server told me that the chocolate mouse I ate was the last one that Miz Kathi will be making. If so, I'm honored. I'll miss the mouse but plan to go back to Cotillion as often as I can.
Learn more at Cotillion's website.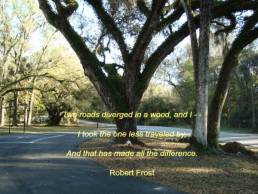 Over 65,000 followers can't be wrong. Learn about off the beaten path Old Florida, historic towns, attractions,  festivals, scenic drives and more.
Like Us On Facebook
Return From Cotillion Southern Cafe To Florida Restaurants
Return To Florida Backroads Travel Home