THE VILLAGES FLORIDA

July 1, 2021
The Villages, Florida things to do, lodging, dining, real estate at end of article.
The Villages is a master planned retirement community that sprawls over Sumter, Lake and Marion counties along US-441/US-27 between Ocala and Leesburg, Florida.
It is about 68 miles northwest of Orlando International Airport and about 90 miles northeast of Tampa International Airport.

The Villages is bounded approximately on the east by US 27/US 441, on the west by US-301, on the north by County Road 42 and on the south by the Florida Turnpike. 
The boundaries keep expanding.
Sumter County Road 466 serves as the main east-west corridor, with Buena Vista Boulevard and Morse Boulevard serving as major north-south corridors.
Harold Schwartz, a Michigan businessman, began selling land tracts via mail order in the area in the 1960's.
Not too long after, the laws were changed to prohibit selling real estate by mail.
He then developed Orange Blossom Gardens, a manufactured home community, on the east side of US-27 near the town of Lady Lake. 
Mr. Schwartz liked buffalo, so in the early days of the development he kept a herd of about 100 of them on the grazing lands that would soon become The Villages.

Orange Blossom Gardens was was modestly successful, but nobody could guess how successful his next move would turn out to be.
The Villages began to develop in earnest in the 1980s when Schwartz brought in his son, H. Gary Morse,  to run the operation.
Morse had a gift for understanding what active retirees were looking for in a lifestyle, and he made sure The Villages had those factors.  

He was wildly successful, and The Villages has altered forever the travel pattern in this part of the state.  Mr. Morse was active in the community until his death in October 2014.
The Villages now has about 139,822 people according to a March 2021 estimate, and most experts predict the population will continue to increase until there are no more lots to sell or nearby land to develop.
The population in the 2000 census was only 8,333, so it is obvious that people are attracted to the community in overwhelming numbers.
Most of The Villages is an "adults only" community where homes must be occupied by at least one person who is 55 years of age or older.
Persons under the age of 19 years are not permitted to reside within The Villages but may visit for a maximum of 30 days per year.
There are three subdivisions in The Villages which are designated as family units and are not subject to this restriction.
I know many people who live in The Villages, and all of them love the place. Most of them are active retirees who came down from up north, and most of them are very conservative both socially and politically.
I personally don't know any native Floridians who live in The Villages, although I am sure there must be some. Its appearance has made it become the quintessential "Anywhere, USA".
If you were to be brought there blindfolded and then allowed to see it, you'd think you were in any number of southern states.
The only thing "Florida" about The Villages is the climate and the golf courses.

---
THE VILLAGES INDIVIDUAL COMMUNITIES
---
There are 78 different communities in The Villages.  Each community is called a village, and their number is constantly growing. 
People who live in The Villages often identify themselves to other villagers by naming the individual village they live in.
The individual villages range from as few as 100 homes up to 1,550 homes in the Village of Duval.
Each village is either clustered around one of 50 separate golf courses or in close proximity.
38 of these courses are 9 hole executive layouts, and 12 of them are country club championship courses. 
Of these championship courses, 10 are 27 holes and 2 are 18 holes.    
One of the benefits of living in The Villages is that you can play golf "free" for the rest of your life on the 9 hole courses.
Your golf membership is included in the general fees that a homeowner pays in local taxes to a Community Development District.  Greens fees are only charged on the 18 hole courses.
Community Development Districts are not uncommon in Florida; there are more than 200 of them.
They are quasi-governmental units that give the developer the right to finance his development with bonds and pass on the cost of infrastructure to the eventual residents of the district.
---
LIFESTYLES IN THE VILLAGES
Most people who live in The Villages have a golf cart. Many married couples have two of them. 
CBS's "Sunday Morning" television show in May 2011 said there are 50,000 carts.  There are undoubtedly many more by now.
Some of them are very cute, fixed up to look like miniature Rolls Royces, Jeeps, fire engines, boats or whatever strikes the owner's fancy.
The Villages has more than 90 miles of golf cart paths; golf carts are the preferred means of transportation for many residents, even those who don't play golf. 
Golf carts are used to go to the town squares, grocery stores, restaurants, and just about anywhere else you'd like.
Grocery stores, restaurants, health spas, and most other businesses can be reached by using a golf cart.  
If you're a visitor, you can even rent one at several different locations.
You can also rent bicycles - even electric ones - and get some exercise while cruising The Villages.
---
THE VILLAGES TOWN SQUARES
---
There are three town squares in The Villages: 
Spanish Springs Town Square
Brownwood Paddock Square
Lake Sumter Landing Market Square
Each town square has a band shell and free concerts.  These squares are the hubs of community evening activity.
Thousands of golf carts line up while their occupants enjoy the music and fellowship and head home when it's done.
---
THE VILLAGES LIFESTYLE CLUBS AND SPORTS
---
According to The Villages, as of April 2021, residents enjoy more than three thousand clubs that cover just about any hobby or interest a person could have. The clubs are managed by residents.

They also have sports teams and leagues and all kinds of other activities that are free to the residents.
There is a link to the current listing of all these clubs at the end of this article.
---
HEAVY TRAFFIC AROUND THE VILLAGES
---
Florida back roads travel is fun if you start your trip from The Villages Florida. If you start elsewhere, you won't find many back roads remaining in this booming community.
I try to avoid The Villages when doing my traveling in Central Florida because there is too much traffic on US-27/441 if you are just passing through.
On the other hand, it's a great destination for fun, dining, and shopping even if you don't live there.  The traffic inside The Villages itself is moderate and well controlled.
There are numerous traffic circles on the main interior roads and fewer cars than you'd expect. 
Well controlled planning and zoning has put most commercial enterprises either on the main highways bordering The Villages or in the town squares.
Most Villagers are getting around instead on their  golf carts using separate paved paths well separated from the automobile traffic.
STDS IN THE VILLAGES FLORIDA:  MYTH OR FACT?
Speaking of fun, there have been rumors that The Villages Florida has the highest rate of STD (sexually transmitted diseases)in the United States of America.
Stories abound about promiscuity, wild times, key clubs, and all kinds of rampant sexual behavior.  
My friends who live in the community tell me this rumor is nothing more than an urban myth. I have not researched this either in person or on line.
THE VILLAGES AND THE LOCAL FLORIDA CRACKERS
Some of the local Floridians who lived in Sumter, Lake and Marion counties before The Villages was developed have a real love-hate relationship with the community.

They love the jobs and money that it brings into their lives, but they feel slighted and discriminated against by the residents of The Villages.
There are some Florida Crackers who insist that most of the residents of The Villages would like the entire place to be a gated community to keep "outsiders" like them from coming in.
For what it's worth, during my more than 60 years in Florida I have observed that people who already live here resent it when other people move in. 
It seems to be true whether they are Florida natives or recent transplants from the north.  Many Villagers, in fact, are upset that the community is growing so fast.  
Many people want to slam the door shut after they've moved to Florida, and I totally understand the sentiment but also realize it's impossible.
There are several hotels and some bed and breakfast inns in The Villages and in the nearby Florida towns of Lady Lake, Leesburg, Ocala and Wildwood.
A bit further away, but within an easy drive are Mount Dora, Gainesville and several other towns with plenty of lodging. 
The map below is from The Villages Florida website.  If you click on it you can zoom in and look at the individual villages and other features.
This link takes you to one of our web pages that has dozens of suggestions for entertaining and relaxing day trips from your base at The Villages.
DAY TRIPS WITHIN 100 MILES OF THE VILLAGES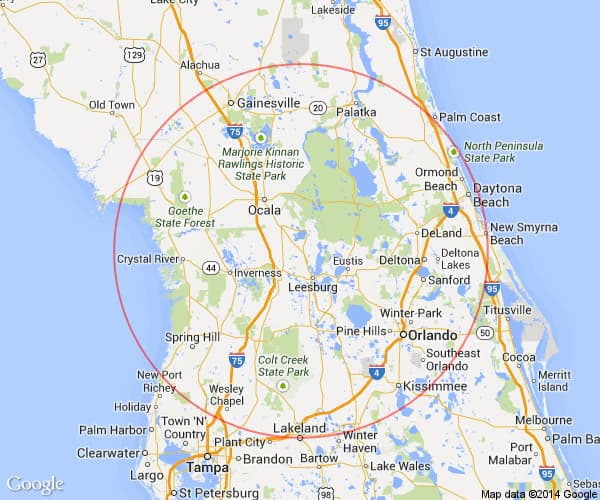 ---
ALL ABOUT THE VILLAGES FLORIDA
---
THE VILLAGES INTERACTIVE GOOGLE MAP
---
---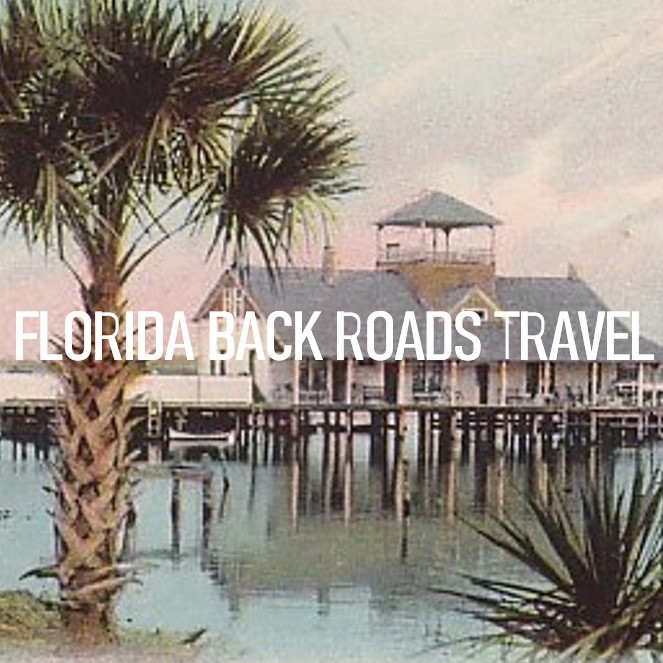 Our Facebook page has more than 113,548 followers who love off the beaten path Florida: towns, tourist attractions, maps, lodging, food, festivals, scenic road trips, day trips, history, culture, nostalgia, and more. 
Take a look. If you enjoy what you see, please give us a like.
---
---
Florida Back Roads Travel is not affiliated with or endorsed by Backroads, a California-based tour operator which arranges and conducts travel programs throughout the world.
By Mike Miller, Copyright 2009-2021 Florida-Back-Roads-Travel.com