CRAWFORDVILLE, FLORIDA
Crawfordville, Florida Things To Do, Lodging, Dining, & Real Estate At End Of Article
Crawfordville is a small unincorporated town in North Central Florida on US-319, known locally as Crawfordville Highway, about 18 miles south of Tallahassee.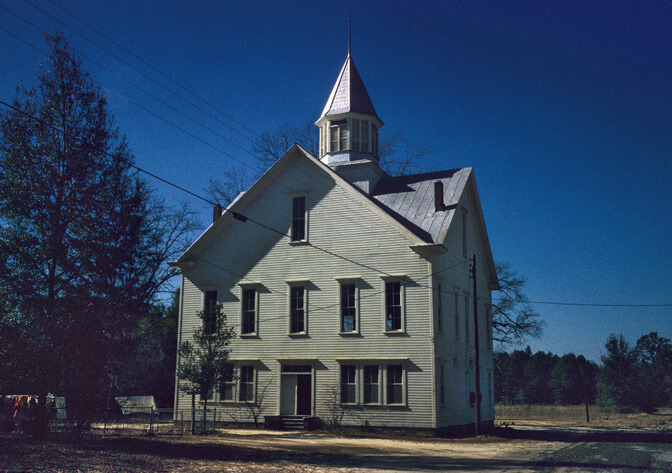 Old Wakulla County Courthouse
Wikipedia, Calvin Beale
It has a population of about 5,000 and is the county seat of Wakulla County, which has a population of about 35,000.
CRAWFORDVILLE FLORIDA HISTORY
Crawfordville began as the riverside town of Port Leon situated on the eastern side of the St. Marks River, not far from the present day town of St. Marks near the Gulf of Mexico.
In 1843, a devastating hurricane and tidal flooding destroyed the town and shipping port, requiring moving of the county seat.

To be more centrally located as the county seat, the town was moved in 1892 to its current location.  It is named for Senator John L. Crawford.
Senator Crawford was a doctor, a member of the Florida legislature, and a Florida Secretary of State.
CRAWFORDVILLE FLORIDA TODAY
Crawfordville has some of the typical Florida small town businesses such as Dollar General, Subway, Hardees, Sonic Drive-In, AutoZone, CVS and more.
They also have an urgent care center, several churches, and more importantly, they still have small town local merchants.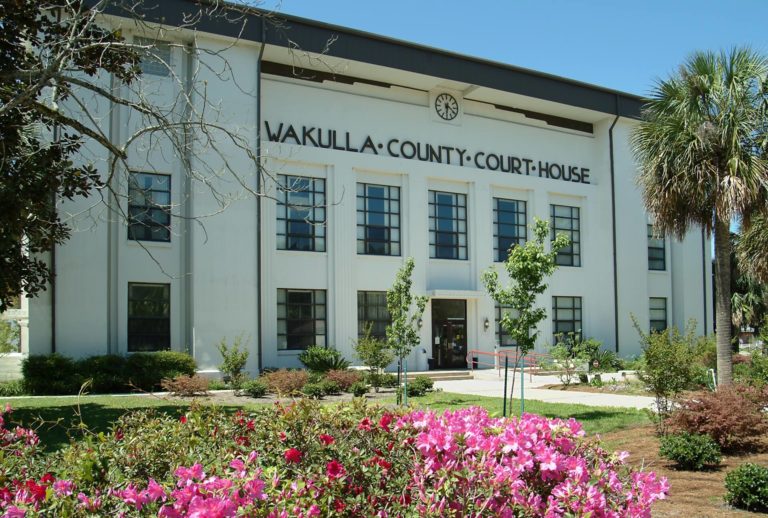 Modern Wakulla County Courthouse
The modern Wakulla County Courthouse was built in 1949 and still looks great. 
The nearby Old Wakulla County Courthouse was built in 1894 and is constructed of solid heart pine with a cupola that is enhanced by a distinct cypress weathervane hand-carved in the shape of a mullet.
The mullet was a commercial fish important in the history of Wakulla County.

The courthouse is listed in the United States National Register of Historic Places and is believed to be the only wooden courthouse still in use. Its use today is a Wakulla County library.
Across the street from the Historic Courthouse, The Old County Jail houses a fully-functional museum of historic display screens, a museum store, and a genealogy space.
Mullet
Visitors to Crawfordville can delight in numerous parks, which can be accessed quickly. The adjacent Hudson Park is the website of numerous county parades and celebrations.

Hickory Park and Medart Park have playground equipment and tennis courts.
Nearby Cypress Run Farm is a privately owned place for horseback riding lessons and riding trails through natural settings.
The city center of Crawfordville is the neighborhood around the intersection of Crawfordville Highway, Shadeville Road, and Doctor Martin Luther King, Jr. Memorial Road.

Crawfordville is also home to a satellite campus of Tallahassee Community College and the Wakulla Environmental Institute.
The Institute is part of the community college and its vision is to bring together education, conservation, and recreation in order to stimulate economic development in an environmentally responsible way.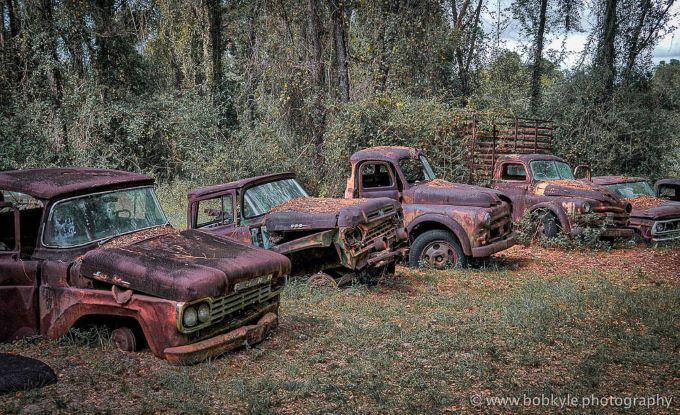 Crawfordville Ford Truck Cemetery
Photographic Destinations by Bob Kyle
Visitors to Crawfordville love to stop by the side of the road on Crawfordville Highway south of town to take a look at the Old Ford Truck Cemetery.
Crawfordville Ford Truck Cemetery
Photographic Destinations by Bob Kyle
​When you arrive, be careful there is a drop to the small field, but once safely parked, you are in an area containing rusted Ford cars and trucks. 
The vehicles are quite overgrown with vines and grass, however, neatly lined up for all to see and photograph.  They were all working vehicles of a local farm family that still owns the property.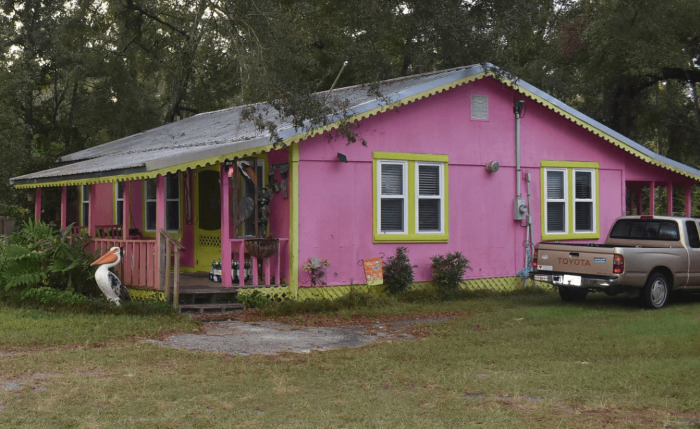 Wakulla's Pelican Place
Another fun place to visit is Wakulla's Pelican Place, an unusual shop, in Crawfordville on Dr. Martin Luther King Jr. Road. 
It is located in an old Florida Cracker house that has been converted into what the owners accurately describe as "a folk, fine and fun art gallery & emporium.
You will find folk art, antiques, hand carved wood, decorator items, rocking horses beach decorations, and all kinds of neat stuff both inside and out.
You can check them out at their Facebook Page.
---
 ALL ABOUT CRAWFORDVILLE FLORIDA
---
CRAWFORDVILLE FLORIDA INTERACTIVE GOOGLE MAP
---
---
---

Our Facebook page has more than 128,577 followers who love off the beaten path Florida: towns, tourist attractions, maps, lodging, food, festivals, scenic road trips, day trips, history, culture, nostalgia, and more.  We post articles every day.  Please check it out and if you like it, we would appreciate a "like" from you.
---
By Mike Miller, Copyright 2009-2023
Florida-Back-Roads-Travel.com
Florida Back Roads Travel is not affiliated with or endorsed by Backroads, a California-based tour operator which arranges and conducts travel programs throughout the world.