Dave Barry was born on July 3, 1947, and is still alive and well in South Florida (which he loves to make fun of).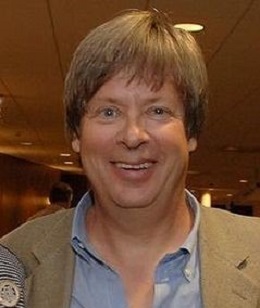 This Florida author makes people laugh every day with his books and columns.
When distinguishing fact from hyperbole, Barry frequently asserts:
"I am not making this up".
Dave wrote a nationally syndicated humor column for the Miami Herald from 1983 to 2005, and has also written scores of books of humor and parody. He has also written comedic novels.
He has been a journalist since 1971, starting as a reporter for the West Chester, Pennsylvania Daily Local News.
He covered government and civic events in communities like Downingtown and Coatesville, and was promoted to City Editor after about two years.
At the Daily Local News he began to write a weekly humor column that was an early example of his unique writing style.
After leaving the Daily Local News he worked as a copy editor for the Associated Press, and then joined a consulting firm teaching effective writing methods to business people.
In 1983, Barry was hired by the Miami Herald and began his legendary career as a Florida author. He won a Pulitzer Prize for Commentary in 1988 for his ability to inject humor into serious situations.
In 1992, Barry and some friends started a band for charity called The Rock Bottom Remainders, named for the publishing term for a book that doesn't sell.
He currently plays lead guitar in the band, some of whose other members include Stephen King, Amy Tan, Ridley Pearson, Scott Turow, his brother Sam Barry, his sister-in-law Kathi Kamen Goldmark, and Mitch Albom.
He has run several humorous campaigns for President of the United States on a libertarian platform, and has also written for the Libertarian Party's national newsletter.
Barry has defined a sense of humor as "a measurement of the extent to which we realize that we are trapped in a world almost totally devoid of reason. Laughter is how we express the anxiety we feel at this knowledge."
Dave Barry's books have frequently appeared on the New York Times best seller list.
Some of Dave Barry's books, including some authored with collaborators, include:
FICTION
Naked Came the Manatee (1998)(written with other Florida authors
Big Trouble (1999)
Tricky Business (2002)
Peter and the Starcatchers (2004)
Peter and the Shadow Thieves (2006)
Peter and the Secret of Rundoon (2007)
Escape From the Carnivale (2006)
The Shepherd, the Angel, and Walter the Christmas Miracle Dog (2006)
Cave of the Dark Wind (2007)
Science Fair (2008)
Peter and the Sword of Mercy (2009)
Blood Tide (2008)
NON-FICTION
The Taming of the Screw (1983)
Babies and Other Hazards of Sex: How to Make a Tiny Person in Only 9 Months With Tools You Probably Have Around the Home (1984)
Stay Fit and Healthy Until You're Dead (1985)
Claw Your Way to the Top: How to Become the Head of a Major Corporation in Roughly a Week (1986)
DaveBarry's Guide to Marriage and/or Sex (1987)
Homes and Other Black Holes (1988)
DaveBarry Slept Here: A Sort of History of the United States (1989)
DaveBarry Turns 40 (1990)
DaveBarry's Only Travel Guide You'll Ever Need (1991)
DaveBarry's Guide to Life (1991) includes Dave Barry's Guide to Marriage and/or Sex, Babies and Other Hazards of Sex, The Taming of the Screw and Claw Your Way to the Top
DaveBarry Does Japan (1992)
DaveBarry's Gift Guide to End All Gift Guides (1994)
DaveBarry's Complete Guide to Guys (1996)
DaveBarry in Cyberspace (1996)
DaveBarry's Book of Bad Songs (1997)
DaveBarry Turns 50 (1998)
DaveBarry Hits Below the Beltway: A Vicious and Unprovoked Attack on Our Most Cherished Political Institutions (2001)
"My Teenage Son's Goal in Life is to Make Me Feel 3,500 Years Old" and Other Thoughts On Parenting From DaveBarry (2001)
"The Greatest Invention In The History Of Mankind Is Beer" And Other Manly Insights From DaveBarry (2001)
Dave Barry's Money Secrets (2006)
DaveBarry on Dads (2007)
DaveBarry's History of the Millennium (So Far) (2007)
I'll Mature When I'm Dead (2010)
COLLECTED COLUMNS
DaveBarry's Bad Habits: A 100% Fact-Free Book (1987)
DaveBarry's Greatest Hits (1988)
DaveBarry Talks Back (1991)
The World According to DaveBarry (1994) includes Dave Barry Talks Back and DaveBarry's Greatest Hits
DaveBarry is NOT Making This Up (1995)
DaveBarry Is from Mars and Venus (1997)
DaveBarry Is Not Taking This Sitting Down (2000)
DaveBarry: Boogers Are My Beat (2003)
His books are available at Amazon.com: Dave Barry