Delnor Wiggins State Park

11135 Gulshore Drive
Naples, Florida 34108
239-597-6196
Delnor Wiggins State Park is one of the most popular tourist attractions in Naples.  The park's signature feature is it's beautiful mile-long expanse of beach.
It's official lengthy name is Delnor-Wiggins Pass State Park.  The beach's white sugar sand is punctuated by stretches of shell.  It is usually voted as one of the best beaches in Florida.
I agree, but may be prejudiced.  This park is only one mile from where I lived for many years, and I was a frequent visitor.
Delnor Wiggins State Park Features
Sand beach on the Gulf of Mexico
Boat Ramp
Fishing
Swimming
Picnicking
DELNOR WIGGINS STATE PARK CAMPING
There is no camping permitted at Delnor-Wiggins Pass State Park. That's too bad because it would be great to camp next to the pleasant music of the surf on one of the best beaches in Florida.
The nearest Florida State Park campground is at Koreshan State Park a few miles north of Naples in Estero.
ABOUT DELNOR WIGGINS STATE PARK
Younger folks may not remember who "Bet A Million Gates" was. John W. Gates lived from 1855 to 1911, and was a famous businessman. He was one of the founders of Texaco, and he was a barbwire millionaire on top of that.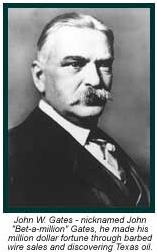 His nickname came from his compulsive tendency to gamble. Needless to say, he was a good gambler and ended up with $ 100 million when he  died.
His favorite niece, Dellora Angell, inherited "Bet A Million's" fortune. She was only 10 years old. When she grew up she married Lester J. Norris. They spent their lives doing good things with the money.
They donated millions for parks, hospitals, community organizations and other charities.
They donated a lot of money to improve the existing park that was previously named Wiggins Pass State Park. The park was renamed in their honor: Delnor, for Dellora Norris. The other half of the name honors Mr. Wiggins, an early pioneer who lived near what is now Wiggins Pass.
Delnor Wiggins State Park is a great name for a park. And now you know the rest of the story.
The beach is popular for sunbathing, swimming, beachcombing, snorkeling, and picnicking. Fishing is allowed at the north end of the park on the beach along Wiggins Pass. Swimming is not allowed in the fishing area.
It's a great place to watch the famous Southwest Florida sunsets.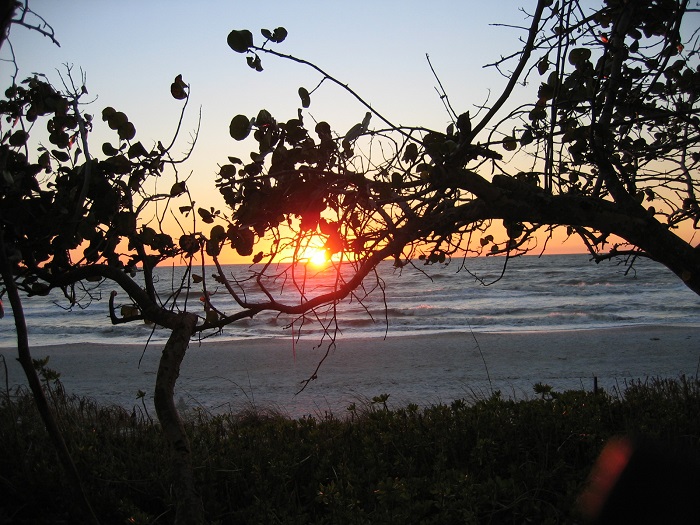 For saltwater or freshwater fishing, boaters can launch their vessels into Water Turkey Bay and travel to the Gulf of Mexico or up the Cocohatchee River.
Kayakers can enjoy paddling through estuaries; scuba divers can explore the hard bottom reef in the Gulf. At the north end of the island, a tower gives visitors a bird's-eye view of Wiggins Pass and the surrounding coastal habitat.
Sometimes Delnor-Wiggins gets overcrowded during the busy winter season. If this happens, the park closes its gates when it reaches maximum capacity.
The State of Florida is considering (as of March 5, 2009) adding a parking structure because this is one of the most popular of all Florida parks.
Like any project involving property in Florida, the public has a lot of input into whether the parking can be added or not. And if so, where it will be located.
PARK FEES
Fees are reasonable.  Check Delnor Wiggins website.
HOURS OF OPERATION
Delnor-Wiggins Pass State Park is open from 8 a.m. until sundown 365 days a year, except if it becomes overcrowded.
An electronic sign at the northwest corner of 111th Avenue and Vanderbilt Road tells you whether the park is open or closed.
DIRECTIONS
Get off I-75 at Exit 111 in North Naples. Head west on Immokalee Road for about 5 miles. When you reach US-41, Immmokalee Road changes names to 111th Avenue. Keep going for another mile or so and you will run into the park.
---
---
---

Our Facebook page has more than 128,577 followers who love off the beaten path Florida: towns, tourist attractions, maps, lodging, food, festivals, scenic road trips, day trips, history, culture, nostalgia, and more.  We post articles every day.  Please check it out and if you like it, we would appreciate a "like" from you.
---
By Mike Miller, Copyright 2009-2023
Florida-Back-Roads-Travel.com
Florida Back Roads Travel is not affiliated with or endorsed by Backroads, a California-based tour operator which arranges and conducts travel programs throughout the world.