DESERET RANCHES

Also Known as the Mormon Ranch
Deseret Ranches is what we long time Floridians call the Mormon Ranch.  At about 295,000 acres, it is one of the largest cattle ranches in the United States.
It is 10 times larger than Walt Disney World and has been in Central Florida a lot longer.

The heart of the ranch is located about 50 miles southeast of Orlando International Airport and 19 miles west of Kennedy Space Center. 
It spreads over three counties:  Osceola, Orange, and Brevard. 

Major highways that cross or abut the property include U.S.-192, State Road 528, and State Road 520. 
The ranch also contains a separate large parcel along U.S.-441 south of Holopaw in the Kenansville area.
Deseret Ranches include several operations raising cattle, growing citrus, and other agricultural enterprises.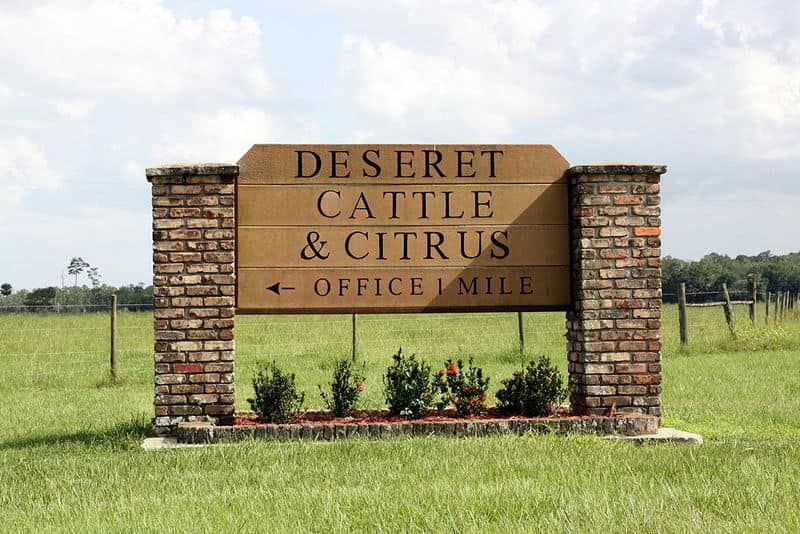 Sign in Deer Park, Florida
By Rcragun - Own work, CC BY 3.0, https://commons.wikimedia.org/w/index.php?curid=7904193
HISTORY OF DESERET RANCHES
The ranch is owned by the "Corporation of the President of The Church of Jesus Christ of Latter-day Saints in Central Florida." 
The church's members are typically referred to as LDS or Mormons. 
It is a "for profit" operation, not part of the church's ordinary religious efforts.  The ranch pays property taxes and income taxes like any other business.
A "deseret" is a term derived from the church's scripture known as "The Book of Mormon."  The scripture describes this as a "honeybee." 
The early leaders of the church liked this term because it signified hard work and industry.  Hard work and industry describe what the Mormon Ranch is all about.
The church purchased the first parcels for the ranch in 1950, and within two years had increased their holdings to over 220,000 acres. 
It was rough Florida land with very little pasture and nothing but sand, wire grass, palmetto, and muddy sand roads.
Over the years they added families with ranching experience to develop the farmland.  Some of the families came from out west;  others were native Floridians, true Florida Crackers.
They purchased cattle, improved the breeds, and have grown to become one of the largest cattle ranches in the United States. 
They also produce citrus, ornamental trees, and have a shell mining operation that provides material for local roads.
Today the ranch has more than 44,000 head of cattle and a work force of more than 90 ranchers and their families. 
A Trip Today Through the Land Around Deseret Ranches
I recently got off the Florida Turnpike and drove east to Melbourne along US-192. 
What was a quiet enjoyable drive only a couple of years now is a congested six-lane highway all the way to the east side of St. Cloud.
Things only begin to quiet down when you get out near the new developments of Harmony and the historic Old Florida community of Holopaw. 
The rest of the drive on US-192 from Holopaw to Melbourne is the Old Florida I remember and feel sad to see us losing. 
The Mormon Ranch is one of the reasons the land is still undeveloped.
Deer Park at the intersection of US-192 and County Road 419 is near the heart of the ranch. 
The intersection is empty these days other than a sign pointing the way to the ranch, but in years past there was an LDS church and some ranch hand residences.
The Future of Deseret Ranches
This huge acreage in the center of fast growing Central Florida has been coveted by large developers for years. 
The ranch has been well managed and has not only preserved the natural resources of the area;  it has enhanced them.
Deseret Ranch management has been working with local, regional, and state government and private parties to develop a long range land plan.
It is estimated that as many as 500,000 people could live in new communities developed on ranch land by the year 2080.
They have supported many regional studies and environmental planning and implementation projects. 
Their goal seems to be to develop their land in the future for sustainability and to preserve as much natural and ranch land as possible.
How to Visit Deseret Ranches
The public is usually able to enjoy tours of the ranch property Monday through Friday at 10:00 am and 1:30 pm and Saturdays at 10:00 am.  No tours are conducted on Sunday.
Tours need to be scheduled in advance by calling 407-498-0388.
The ranch's location is:
Visitor and Information Center
3584 Orchid Circle
St. Cloud, Florida 34773
The ranch has an excellent website, Deseret Ranches of Florida.
---
DESERET RANCHES GOOGLE INTERACTIVE MAP
---
---
---

Our Facebook page has more than 128,577 followers who love off the beaten path Florida: towns, tourist attractions, maps, lodging, food, festivals, scenic road trips, day trips, history, culture, nostalgia, and more.  We post articles every day.  Please check it out and if you like it, we would appreciate a "like" from you.
---
By Mike Miller, Copyright 2009-2023
Florida-Back-Roads-Travel.com
Florida Back Roads Travel is not affiliated with or endorsed by Backroads, a California-based tour operator which arranges and conducts travel programs throughout the world.