Drifters Riverfront Bar & Grill
DRIFTERS RIVERFRONT BAR & GRILL
55716 Front Street
Astor, Florida 32102
Tel:  352-759-2802

Drifters Riverfront Bar & Grill is in Astor on the west bank of the St. Johns River where State Road 40 crosses over on its way from Ormond Beach to Ocala through the Ocala National Forest. 
This quiet river crossing is a slice of Old Florida, and so is this successor to the long popular Blackwater Inn.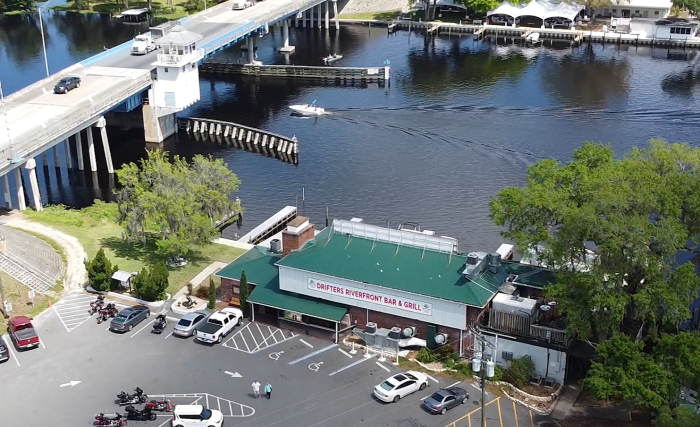 The inn has long glass windows overlooking the river, and is a good place to soak up the local atmosphere while having some above average food.
The first floor is known as Drifters Riverfront Bar & Grill and the upstairs is called McHenry's Pub on the Water .
You can reach Drifters either by car or boat; there are docks to tie off your boat while you enjoy the restaurant.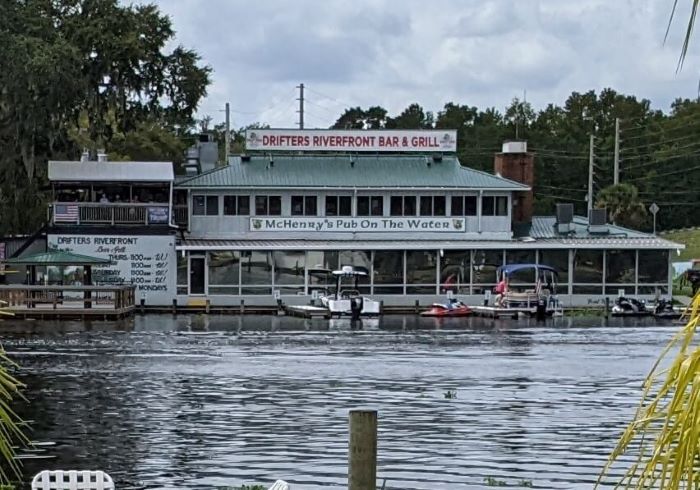 Drifters Riverfront Bar & Grill
This is not a fancy place, no linen tablecloths or napkins, but if you enjoy seafood and a tranquil view of a gently flowing river, you will enjoy the Blackwater Inn.
The surrounding community of Astor has an interesting history.  William Astor from the wealthy New York family bought 12,000 acres and started a town he named Manhattan. 
He built a church, school, sawmill and other public facilities.  He also built the St. Johns and Lake Eustis Railway that headed west to Eustis and Leesburg. 
The name Manhattan never caught on, and when Mr. Astor died in 1892 the settlers renamed the town Astor in his honor.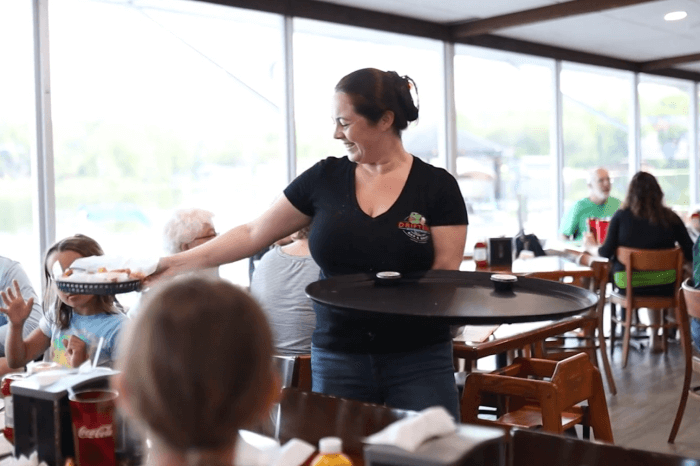 Drifter's Riverfront Bar and Grill
Williams son, John Jacob Astor IV, took over his property but in 1912 he died when the Titanic sank.   The property was then sold and became a pretty quiet place up until the present day.  People love to visit and vacation here, especially for the good fishing.
DRIFTERS RIVERFRONT BAR & GRILL
HAS AN OLD FLORIDA MENU
The menu includes full entrees as well as soups and sandwiches. Fried oysters are a specialty, along with fish sandwiches, shrimp, catfish, grouper, fried clam strips and other fish specials of the day.
You can get peel and eat shrimp, chicken wings, chicken tenders and crab legs. 
Many meals come with your choice of several sides including house or chicken salad, shrimp or mahi salad, coleslaw, fries, black beans and rice, broccoli, and homemade collard greens.
Unusual entrees for a riverfront restaurant include a corned beef and cabbage dinner and a 14 ounce prime ribeye steak.
There are also many varieties of wraps and tacos along with a grilled cheese sandwich.
Kitchen Hours:  Wednesday - Saturday 11am-9pm
                           Sunday - 11am-8pm
Bar Hours:         Wednesday-Sunday: 11am-10pm 

DRIFTERS RIVERFRONT BAR & GRILL WEBSITE
---
---

Our Facebook page has more than 128,577 followers who love off the beaten path Florida: towns, tourist attractions, maps, lodging, food, festivals, scenic road trips, day trips, history, culture, nostalgia, and more.  We post articles every day.  Please check it out and if you like it, we would appreciate a "like" from you.
---
By Mike Miller, Copyright 2009-2023
Florida-Back-Roads-Travel.com
Florida Back Roads Travel is not affiliated with or endorsed by Backroads, a California-based tour operator which arranges and conducts travel programs throughout the world.